The Eastwood Devo Cloud is the Guitar That Should Have Looked Like a Potato
This new, crowd-sourced Eastwood Devo guitar is a heavenly re-creation of Bob Mothersbaugh's original.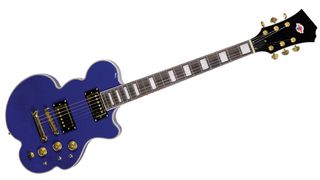 (Image credit: May Yam)
As a gear collector and trader, Michael Robinson lamented that so many cool guitars from the outskirts of the electric guitar's golden era are either rare, unplayable or both.
As the head of the Eastwood Guitar Company, which he founded in 2001, Robinson remedied the situation by creating beautiful and – just as important – excellent-playing re-creations of electric guitars from storied brands like Mosrite, Teisco, and Valco. More recently, he launched Eastwood's Bring It Back program to crowd-source limited-edition re-creations of vintage classics.
Customers request a guitar they'd like to see revived, and if a model makes the list a few times, Robinson lets interested buyers pony up a refundable $150 deposit. If enough deposits are received, the model goes into limited production. Once it's ready, buyers are billed, and the guitars are shipped.
When this Devo Cloud Guitar was proposed, I was among the folks who decided to make it happen. Now that I've got it, I couldn't be more thrilled. Robinson's on-demand system can put a brand-new whack job in your hands. And as whack jobs go, this guitar is pretty awesome.
Weirdo Factor
The Devo Cloud is based on a custom Ibanez created for Devo guitarist Bob Mothersbaugh, a.k.a. Bob 1, in 1979. His spec called for a guitar shaped like a potato, with loads of electronic features, including an onboard distortion circuit. Unfortunately, the finished instrument was blue and looked more like a cloud.
Undaunted, Bob played the so-called Spud guitar – it can be heard in the opening riff to "Girl U Want" and seen in the song's music video – before eventually selling it. While Eastwood retained the original's bizarre-looking body shape, that's the only thing weird here.
Playability and Sound
The Devo Cloud was impressive right out of the box. Its lightweight mahogany body is capped with a maple top, the double-bound maple set neck plays fast and smooth, and it has 22 polished medium-jumbo frets laid into a nice slab of rosewood. The enclosed tuners are reminiscent of Grovers and work smoothly.
The Cloud shipped with GHS .010s, and no setup was necessary. The electronics are where the guitar really shines. The pickups are tapped – pulling the tone knob up splits the coils – and can be played as humbuckers or single-coils and out-of-phase.
Each unit has its own volume control and phase selector, and the active tone control is global. These choices sound great clean or with distortion. The clean tones vary from jazzy and full to a thinner, almost Fender-like sound, thanks to the coil taps.
With distortion, the humbuckers sound like you'd expect. It's in the tapped and/or phased positions that the fun begins, allowing scooped tones somewhere between dual- and single-coil territory. And while Eastwood omitted the distortion circuit found in the original, it did include its WarpDrive, an aggressive treble booster that beautifully overdrove my Vox AC30.
Value
Remarkably for a limited-edition guitar, the Devo Cloud was priced at just $749.95, and it came with a gig bag.
Why It Rules
The Devo Cloud's odd shape makes it stand out, but belies the serious musicality that it offers. Visit Eastwood Guitars to see the guitars currently offered through Bring It Back, and by all means, tell Robinson other vintage dreams you'd like to see re-created. As for Bob 1, you'll be happy to know he and his Spud guitar were eventually reunited.
All the latest guitar news, interviews, lessons, reviews, deals and more, direct to your inbox!