The Cold War Era BPAMI Formanta Solo Two Has a Vibe Unfamiliar to Most Westerners
Weighing 13 pounds and sporting a fuzz circuit, this Soviet-made electric guitar is heavy in feel and sound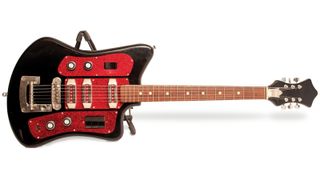 (Image credit: Future)
During the Cold War, anything to do with Western pop culture was strictly forbidden in the U.S.S.R. That included rock and roll music and the equipment required to make it.
The only way for would-be Soviet rockers to get a well-made electric guitar was through the black market.
Unfortunately, the cost of an American, European or even Japanese model was equal to about six months' rent, payable in cash. Then, once you owned the contraband, you ran the risk of having it discovered by the authorities.
As a result, aspiring musicians were left with the only other option: a much cheaper Soviet-made guitar, such as the Formanta Solo Two pictured here.
While the offerings of the country's guitar makers improved over the years, the early builds were atrocious. The Formanta Solo Two was made in Belarus in the mid-Eighties by BPAMI, which stands for Belarusian Production Association of Musical Instruments.
That rolls off the tongue, eh?
Weirdo Factor
It's Russian! BPAMI was one of a couple dozen or so independent companies in the federation that manufactured electric guitars.
The existence of these Soviet-made instruments is odd enough, considering that, in 1956, just as the electric guitar was coming to prominence, Soviet premier Nikita Khrushchev denounced capitalism, telling a group of visiting Western ambassadors, "We will bury you!" (Maybe he meant to say, "We will rock you"?)
What makes these instruments even more unusual is that they have a vibe unfamiliar to Westerners.
The Formanta Solo Two's body shape is tame compared to its contemporaries (look up the Tonika or Roden), but the fancy headstock, the truss-rod cover, the three-panel red sparkle pickguards and the overbuilt steel pickups with matching red sparkle inlays belie the eccentricity at the heart of Soviet electric guitar design.
Playability & Sound
Like so many Soviet-era guitars, it plays just rotten. The back of the neck is squared off, so using it in conventional fashion is like trying to fret a lap-steel guitar. But, as with most things, you can probably get used to it – just check out Mike Dugan's YouTube channel, drowninginguitars.
The pickups are voiced nicely, are fairly musical and can be selected using the trio of black buttons that look like organ rocker switches. Engaging them reveals the guitar has a pleasant rhythm tone, as well as a trebley Tele-like sound.
The vibrato is Bigsby-like, and as you've probably noticed, the output is a five-pin DIN jack, necessitating an adaptor if you plan to amplify it.
But I'll bet you're asking, "How does it sound with distortion?" I'm glad you asked, because it has a built-in fuzz tone, which is what the upper set of knobs control. The sound it produces is reminiscent of the Big Muff Pi pedal – very cool, and perfect for garage rock.
Value
There are a lot of these guitars available online, and most can be purchased for under $200.
Unfortunately, due to their weird necks, DIN output jack and weight (this particular specimen is 13 pounds), the Formanta Solo Two is unlikely to become one of your favorite players, even at budget-friendly prices.
Why It Rules
So if it doesn't play well, why is it worth having? Because it's an interesting historical piece and will adorn your studio wall like no other guitar.
As a collector, I was happy to have the Formanta Solo Two represent yet another country in my international Whack Job posse.
To learn more about Russian guitars, visit sovietguitars.com.
All the latest guitar news, interviews, lessons, reviews, deals and more, direct to your inbox!