Take a Closer Look at Spanish Luthier Ignacio "Nacho" Baños's Meticulous Tributes to Early 1950s Fender
Reimagining Leo Fender's designs by way of Valencia, Spain, Baños pays forensic attention to detail on his custom builds.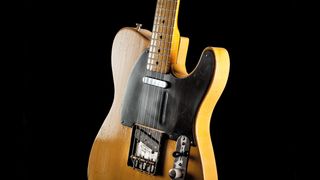 (Image credit: Nacho Guitars)
Ask guitar builder Ignacio "Nacho" Baños why he has such an enduring fascination with the electric guitars built by Leo Fender in the early 1950s and why his company creates such painstakingly detailed tributes to them and he's quick to answer. "I'm just a freak," he says. "I'm very passionate about the things that I love, and I'm just trying to re-create some of the amazing instruments that were made 70 years ago."
Born and raised in Valencia, Spain, Baños became enamored of the Telecaster in his mid-teens. "Most of my heroes were playing Teles," he says. "James Burton with Elvis Presley, Muddy Waters, Albert Collins, Bruce Springsteen, Chris Spedding, Danny Gatton with Robert Gordon… It was the coolest guitar in the world!"
Baños purchased his first '50s Fender, a blackguard 1950 Broadcaster, in 1992 while living in Boston during graduate school. "I saw it listed for $4,500 in Vintage Guitar magazine in an ad from Jimmy Brown's Guitar Emporium in Louisville, Kentucky, and sent away for pictures of it," he says.
"By the time those arrived in the mail, G.E. Smith from the Saturday Night Live band had already bought the guitar, and I was heartbroken. But then he returned it because he thought it was too heavy, and I sold all of my gear to pay for it."
Image 1 of 2
In subsequent years, Baños confesses that he "became totally obsessed" and began purchasing vintage Fenders whenever he could afford to. "I was living in a two-bedroom apartment with another guy, and I moved out to a basement. I was saving about $500 a month on rent, and I never told my family, who were covering my living expenses. So I was spending that money on guitars."
Over the ensuing decades, Baños, who heads a Valencia-based firm that provides marketing materials for beverage companies, amassed a prodigious collection of guitars, and in 2005 even self-published The Blackguard: A Detailed History of the Early Fender Telecaster Years 1950–1954, a massive and meticulously researched coffee-table book that is now highly collectible in its own right.
In 2010, Baños decided to try his hand at building a line of Nachoguitars that paid homage to the blackguards he so adored, and the guitars he had acquired and encountered during his research served as a technical, tonal and, perhaps most importantly, tactile reference for his own instruments.
"I'm not a luthier," he says. "If you asked me to build an archtop or an acoustic guitar, no way. I'm not that talented. But I was passionate enough that, for 25 years, I gained hands-on experience with these guitars."
Produced in batches of 30 by Baños and a team of three builders, Nachoguitars strive to replicate the tone, look, and feel of the solid-body electric guitars from the early 1950s to which they pay tribute. That said, the wood parts incorporate deliberate deviations in routing and dimensions that prevent the parts from being used by any would-be forgers attempting to pass them off as original vintage pieces.
"All it takes is five minutes and a screwdriver for someone to know what's going on," Baños says. The Nacho's pickups and most of its hardware are also bespoke, crafted from materials as close to original spec as possible.
However, Baños is quick to point out that, given mid–20th century manufacturing tolerances and supply chain issues, "original spec" is a term that in the early 1950s could mean different things on different production runs.
"Basically, Mr. Fender had one goal, which was try to make a product with consistent quality that was easy to service, easy to produce, and affordable," Baños says.
"The rest of the equation was secondary, and Leo was using whatever suitable parts he could get, with varying specs. Maybe he was using cold-rolled steel for bridges and then next season he was using brass. Or he was using Alnico 3 magnets in the pickups and then he switched to Alnico 5. He needed to get guitars out the door."
One luxury Leo Fender and his workers certainly did not have was the time to match each guitar body and neck, a process that Baños and his team take great pains to get right.
"We call pairing the right neck and body a 'marriage.' We try to find grooms and brides," he says. "The most important thing is the neck pocket. Even though the wood parts are cut on CNC machines, there's always a tolerance on the specs.
"That means one neck might be a perfect fit on one body but not on the next, even though both necks and both bodies were cut on the same machine on the same day, using the same program. So we spend a few days matching those until we get it right. Once you have that, anything you do on top of that is a plus."
Perhaps it comes as no surprise that an unrelenting attention to detail is also evident in the Nachoguitars' aged finish. Baños uses a proprietary lacquer blend made for him by a local firm to achieve the most realistic hue and feel possible, and every ding, scratch, and crack is based on the real-world aging of the vintage guitars in his collection.
"I think it's very important that you use actual guitars instead of just going through pictures," he says. "Because we're talking about how the instrument feels, particularly the neck, which is the part that you're going to be touching all the time. It has to feel old and broken in."
For added mojo, necks and neck pockets are pencil-marked with fictitious dates from the 1950s and the names of the now-legendary craftsmen, like Tadeo Gomez, who worked on the original Fenders and left their markings for ease of quality control.
The electronics cavities feature the names of the women who did the wiring assembly (Gloria, Barbara, and Virginia), but Nacho customers can select any moniker they chose.
Like all Nachoguitars, the Blackguard that I received for review included a handsome concho-festooned leather bag that contains a thumb drive loaded with beautiful hi-res photos of the instrument, a certificate of authenticity drawn by Nacho acolyte Billy Gibbons of ZZ Top, and a cool booklet featuring scanned reproductions of original Fender cost sheets, marketing materials, and other documents from the early 1950s.
The instrument itself weighed in at a well-balanced 7.2 pounds and featured an updated 9.5-inch fretboard radius, 6105 fret wire, and pickups wired in modern fashion versus the period-correct "dark circuit." The ample and eminently playable neck had a soft V in the lower register that transitioned to a rounder contour in the upper registers.
Within seconds of picking up the Nacho and strumming a few open chords unplugged, I was aware that this particular guitar was "alive," acoustically more resonant than any number of Telecasters that populate my studio.
Played through a Tweed Victoria Fender Harvard replica and a Class A Three Monkeys Sock Monkey combo, the Nacho revealed itself, displaying all of the characteristics that one would desire from a rock-and-blues friendly Tele-style guitar: a healthy midrange growl, nasty but not at all harsh high-end bite, and a tight but powerful low-end kick. In other words, one hell of a bad-ass ride, and a guitar that could easily spark a lifelong obsession of its own.
Image 1 of 2
All the latest guitar news, interviews, lessons, reviews, deals and more, direct to your inbox!