Take a Close Look at Jack White's Insanely Cool Pedalboard
With a penchant for peculiar pedals the White Stripes guitarist has taken stompboxes to another level.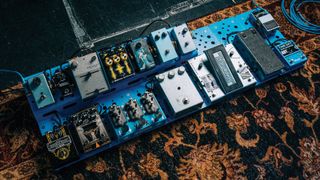 (Image credit: Future/Eleanor Jane)
"There's this one pedal on [Fear of the Dawn] that I bought because it has a little decal of the Japanese anime figure and 'vocaloid' character Hatsune Miku on it, and my son is so into anime and all that stuff," Jack White says, laughing.
"It's called the Miku Stomp, by Korg, and the idea is that you play through it and, using vocal synthesis, for each note you play, Hatsune Miku sings a different syllable in Japanese!
"On the song 'Into the Twilight,' I did an entire guitar solo with it. So I guess I can play in Japanese now."
Quirky and unique pedals are nothing new for White, whose penchant for peculiar pedals began with his iconic use of an original Electro-Harmonix Big Muff Pi – allied with a DigiTech Whammy pedal – during his White Stripes years.
Since then, he has designed and developed his own full line of pedals and other gadgets with small gear manufacturers, distributing them through his Third Man Records and Third Man Hardware companies, based in Detroit and Nashville, and via thirdmanstore.com.
Image 1 of 2
Notable among these are the Third Man Bumble Buzz fuzz pedal, produced in collaboration with Chris Young of Vancouver-based Union Tube & Transistor; the Gamechanger Audio Plasma Coil distortion box; the deliciously weird Third Man Hardware Mantic Flex synth-fuzz; and the CopperSound/Third Man Triplegraph digital octave divider, which features three proprietary, foot-sized telegraph keys, along with an integrated effects loop.
Image 1 of 2
"The Triplegraph and the Bumble Buzz are definitely the heavy hitters on Fear of the Dawn," White says. "Everything on my current board got used at one time or another, but the Triplegraph, Bumble Buzz and Mantic Flex for sure.
"To be part of the design team for a pedal really changed everything for me because I got to finally express exactly what I want in a pedal.
"To be honest, as unique as it is, I was kind of surprised at what a big hit the Triplegraph has become. We can't keep it in stock."
White points to a custom version of the pedal in blue, white and black (see above.)
"On the album, this is what's making the bass guitar sound like a guitar, or making the guitar sound like a bass," he explains.
"It was an interesting process, where I kept checking back to whatever I had written the original riffs on.
"I might write the song with a lower-octave bass sound and then switch the Triplegraph up – flip it to the other side to a higher octave or to a lower octave.
"This way, regardless of what sound I started off on, this would make me rethink how I wanted to do it."
Image 1 of 2
White's touring board is always evolving, but the blue-tinged array for his tour in support of Fear of the Dawn is spectacular for its visual aesthetics as well as its raw power and idiosyncratic sonic colors.
Co-designed by guitar tech Dan Mancini, it's backed by one of Third Man's two-level, aircraft-grade aluminum Holeyboard Pedal Boards.
It includes traditional choices, like an MXR Micro Amp boost, a DigiTech Whammy Pedal and a rehoused Russian Big Muff, alongside a gaggle of Third Man Hardware stomps, including the Bumble Buzz, Triplegraph, Mantic Flex and Plasma Coil.
There are a few rare birds, too, like a Honda Sound Works Fab Delay from Japan and a rare '80s-era Russian-made Spektr-2 Fuzz-Wah (since replaced by a Dunlop 535Q wah), as well as a few smart utility choices, including an ISP Technologies Deci-Mate Micro Decimator noise gate pedal.
Probably not a bad idea to have it slotted in toward the end of your signal chain when you have at least four full-on fuzz destruction devices on your pedalboard.
Order Fear of the Dawn here.
All the latest guitar news, interviews, lessons, reviews, deals and more, direct to your inbox!