Sully's '71 Trella is the New Single-Cut Cool
Meet the Jon Sullivan boutique build that is taking the classic single-cutaway set-neck design to new lengths.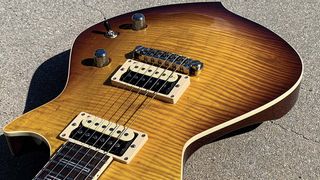 (Image credit: Sully Guitars)
In his career as a guitar builder, Jon Sullivan has likely agonized over a myriad of decisions regarding the form and function of his eye-catching instruments, but what to call them was never up for debate.
"I got my first electric guitar in 1983, when I was 12," he recalls. "It was a Maxitone, from the Matsumoku factory in Japan, that was a very '60s, Jetsons-like bastardization of a Strat. I was very excited about it, and I took a Sharpie and signed 'Sully' on the headstock. So it was always going to be a thing."
Like many guitar-obsessed teens who came of age in the '80s, Sullivan, who grew up in Lombard, Illinois, spent his teenage years learning the licks of hard-rock icons such as Ace Frehley, Eddie Van Halen, Randy Rhoads, and Ratt's Warren DeMartini and Robbin Crosby. He was influenced by not only their playing but also their choice in instruments.
"I was attracted to the newer, flashier, more modern guitars they played, like Robbin's Jackson King V, and guitars built from various parts, like Ed's Frankenstein," Sullivan says. "I didn't care about Fender Strats."
When he wasn't practicing, Sullivan pored over the ads for guitar parts, necks and bodies in the back pages of guitar magazines, and studied the catalogs he received from luthiery supply house Stewart-McDonald.
"And then I would also hang out like a stray cat at my local music store, Park Ave Guitarz. They were Jackson dealers, so they had all kinds of cool custom-shop stuff, and the owner, Steve Harnack, was just so nice to me. I would watch him do repairs and build parts guitars for all of the guys in town, and just ask questions."
In 1990, Sullivan, like so many ambitious hard rockers of the time, moved to Los Angeles with his band to seek fame and fortune on the Sunset Strip. Things did not go exactly as planned.
"I came back to the Chicago area about two weeks before the L.A. riots in '92 with my newborn son, and then a year later I became a single parent with custody," he explains. "So there were a lot of day jobs working in record stores and the like, and then getting a corporate gig. But I always played." Around 2001, Sullivan also began buying parts, building guitars and posting photos of his builds on the web.
"I found the Jackson and Charvel internet forum and through there started making connections," he says. "People would see the guitars I had made and be like, 'Dude, that looks rad! Can you build me one like that?' That was huge for me. And from there I progressed to building guitars from scratch. I finally quit my day job in 2014."
In the seven years since taking the plunge into full-time guitar building, Sullivan, who worked out of his garage until recently moving to a new shop facility in Aubrey, Texas, has built custom guitars for the likes of Mötley Crüe's Nikki Sixx, Buckcherry's Stevie D. and Stryper's Michael Sweet, with whom he has also developed a signature model.
And while many of the guitars in the Sully lineup – like the asymmetric V-shaped Concorde and the Firebird-inspired Raven – nod to some of the "pointy guitars" that he grew up admiring, Sullivan is quick to point out that his goal is not to re-create the guitars of the '80s but to reconnect people with the mindset that made the era so colorful and fun.
"Look, we're all a product of our influences to varying degrees, but I'm not looking to relive the '80s," he says. "That said, it was an era in which rock stars were pretty much superheroes, and I hope to grant people permission to have a little fun and maybe tap into that. People will see a pink, sparkly guitar that I've made and say, 'Oh man, I love that guitar, but I could never pull it off.' And I'm like, 'Of course you can! You just have to decide that you can.'"
For Sullivan, however, the more traditional, single-cutaway '71 Trella is the guitar in the Sully line that most closely reflects his personal aesthetic. The model's name combines his birth year with his mother-in-law's nickname.
"If I could make just one model, it would be the '71," he says. "It's really a guitar that came from dissatisfaction. I always wanted a good Les Paul, and I owned several of them that were all well-made guitars and were perfectly fine, but I never kept any of them. And I finally had the realization that I simply don't like guitars with the shorter, 24.75-inch scale length.
So I decided to create a single-cutaway set-neck guitar with a 25.5-inch scale that would satisfy my desire and would also be very much my own. I spent four years on that design. I would just draw and draw and draw."
It was time well spent. The '71 Trella that we received for consideration shares a certain DNA with the Gibson Les Paul, but it is clearly a distinct species of its own. The bound mahogany body's upper bout features an almost triangular hump, while the guitar's butt curves steeply down to a pointy, mildly demonic tail.
All the controls – a three-way toggle switch, a volume knob and a push-pull tone knob that splits both proprietary Sully Al Pastor pickups to single-coil operation –reside on the guitar's lower bout.
An aluminum wraparound Pigtail bridge leaves much of the guitar's subtly flamed one-piece maple top visible, which is a good thing, as you wouldn't want to obscure any more of the sparkling Glamazon Gold Over Honeyburst finish than necessary.
The two-piece, relatively slim mahogany neck features a hand-shaped volute, a rosewood fingerboard with a compound 12- to 16-inch radius, meticulously finished nickel frets and Sully's signature "Hollow Block" inlays. The neck is sleek and comfortable, requiring little if no periodic adjustment, while the Trella's tidy neck joint provides unfettered access to all 22 frets.
Even unplugged, the '71 Trella feels resonant and alive. Run through a vintage Marshall Super Lead and low-wattage Three Monkeys Sock Monkey, the guitar immediately proves the merits of marrying a single-cutaway, two-humbucker design with the longer 25.5-inch scale.
There's a slight percussive knock, a solidity and a rapidity of response that you won't find in many guitars of this ilk with shorter scales, and thanks to the straight string-travel path from the nut to the Hipshot locking tuners on the three-on-a-side Aero headstock, this is a guitar that stays in tune astoundingly well.
The Al Pastor pickups, which are wound to vintage-output specs, are also a revelation, providing the clarity and responsiveness you'd expect, with enough midrange girth to render them ideally suited for most rock and hard-rock applications.
And whereas many humbuckers produce an anemic "neither fish nor fowl" clank when split for single-coil operation, these sound open, articulate and full. All that said, be cautioned: While a hard-shell case is included in the purchase price, you'll have to bring your own superhero cape to the party.
PRICES: $3,750 as shown with hard-shell case. Aged, $5,799. Price may vary depending on selected options.
CONTACT: Sully Guitars
All the latest guitar news, interviews, lessons, reviews, deals and more, direct to your inbox!