Carlos Santana's Magical 1968 Gibson Les Paul Custom
This holy grail of Santana guitars defined the supernatural sound on 'Abraxas' and beyond.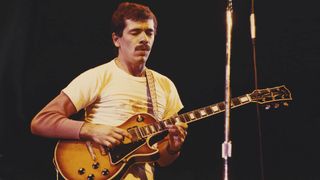 (Image credit: Michael Putland/Getty Images)
How Santana Took Their Blues-Rock Jazz Fusion to Exotic New Realms with 'Abraxas'
This is pretty much the holy grail of Santana guitars. It's the one that generated the fiery leads on "Black Magic Woman/Gypsy Queen," "Oye Como Va," and, indeed, just about everything else on Abraxas, as well as the inspired discs that followed in its wake.
Carlos purchased this refinished maple-top Les Paul at Prune Music in San Francisco in 1970, shortly after his group's breakthrough at Woodstock. It was a replacement for the red Gibson SG he played at the music festival.
"That SG wouldn't stay in tune, so I destroyed it," Santana says. "At the time, if I wanted a new guitar, I had to ask the band, 'cause we were all paying for it. The band didn't want to get me a new guitar, so I destroyed the SG. Then I had to get a new one."
In 1975, Carlos began his relationship with Yamaha, and the Gibson saw less use. However, he notes, "this guitar was my main workhorse for at least seven albums. It's got the tone, the feel. You grab it and it's ready to go."
All the latest guitar news, interviews, lessons, reviews, deals and more, direct to your inbox!