Gretsch's First Solidbody Electric Guitar Brings Vintage Bling to Those on a Budget
This 1964 Gretsch Corvette model 6135 is a B-list beauty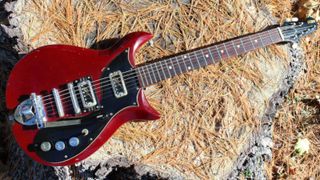 (Image credit: GOLD STRIKE PRODUCTIONS)
Introduced in 1961 as what would appear to be a rather obvious rival to Gibson's Les Paul/SG Junior, the Gretsch Corvette never really graduated to pro-player status like the guitar maker's Duo Jet or 6120 models, but it makes a particularly interesting "B-list vintage" guitar.
Gretsch first used the Corvette name on a guitar in its lower-priced hollowbody Electromatic series of 1954-'59. This was a non-cutaway archtop with a single DeArmond Model 2000 (a.k.a. Dynasonic) pickup in the neck position and relatively modest cosmetics beyond the block fingerboard inlays.
Shortly after, Gretsch headed back to the drawing board to concoct a student model that would be more appropriate for the times, and the new and entirely revamped Corvette fit the bill.
Although Gretsch had unveiled the Duo Jet ostensibly as its first solidbody guitar in 1953, it had a lot of chambering within the body and was semi-solid at best.
As such, the Corvette of the '60s was the company's first solidbody electric guitar, and it embodied a mash-up that was pretty hip to the times, too.
The short-lived first version of 1961 had a more rounded slab body that somewhat echoed a double-cutaway Les Paul Junior of 1958-'61, with more asymmetrical horns. But toward the end of its debut year, the Corvette appeared to represent some blatant effort on Gretsch's part to play catch-up on Gibson's own design evolution.
In came beveled body edges, pointier horns and an overall look that was unapologetically SG-like.
For 1961-'63, Gretsch stuck with its (also rather Gibson-like) three-a-side headstock and retained the odd little trapeze tailpiece for the hardtail models, although the floating rosewood bridge saddle – seemingly a pointless compromise on a solidbody guitar – disappeared after '61.
Even so, Gretsch continued with what was essentially a floating rosewood bridge base with a simple steel bar saddle atop it, which at least gave a little more clarity, bite and sustain to the tone.
By the arrival of our featured example, in 1964, however, the Corvette came more into its own skin, chiefly in the form of the distinctive two-plus-four headstock that was like nothing else on the market.
Whether a semi-nod to Fender, to Gibson's Firebird or simply an entirely original Gretsch concoction, the headstock design really helps these mid- to late-'60s Corvettes stand out and presents an interesting point of design in and of itself.
Around the same time, Gretsch also added a notch at the tail end of the body into which the strap button is set.
Among the other nifty features of the 6135 are the rather unusual vibrato tailpiece, partnered with the rudimentary tension bar and the basic bar bridge.
The former is actually a rather clever design manufactured by Burns London, the maker that famously put guitars in the hands of Hank Marvin and the Shadows in the mid '60s.
It would seem a convoluted trade route, but we can only imagine the Burns was more affordable than a U.S.-made Bigsby. Its use is also something of a coincidence, since Burns would be purchased by the Baldwin Piano company in 1965, which would then purchase Gretsch in 1967.
Although it is designed somewhat differently, with a single sturdy spring placed behind the center of the roller bar and secured within that pyramid-like structure behind it, the Burns vibrato also functions quite like a Bigsby, with a similar easy action and rather limited travel.
The real centerpiece of the Corvette's tone, of course, is in its HiLo'Tron pickups. Although the single-pickup 6132, 6133 and 6134 models are usually more plentiful, the 6135 carries two of these Gretsch-made single-coils, and offers a lot of sonic flexibility as a result.
Gretsch introduced the HiLo'Tron in late 1959 to replace the DeArmond Model 2000 single-coil it had previously been using, and it became standard-issue on several lower- and mid-priced models for several years after.
Although it is often mistaken for a mini-humbucker with one row of adjustable polepieces and is indeed housed in a cover the same size as that of Gretsch's famed Filter'Tron humbucker, the HiLo'Tron employs just one coil positioned to the pole-side of the housing, with a bar magnet on the other side and a steel charge plate linking the two.
Like vintage Filter'Trons, these old HiLo'Trons don't pack a lot of punch, but their meager resistance readings (generally in the 3.5k to 4k ohms range) don't tell the full story.
While they don't have a lot of output compared to many other pickups, they do have a rich, dynamic, chiming tone that can really bite when you apply some overdrive or crank up an old tube amp, and they are definitely another component capable of delivering "that great Gretsch sound."
Sadly, countless original Corvettes have been hacked over the years by owners who have pulled and tossed their HiLo'Trons in search of more output, almost invariably securing inferior tone in the process.
All in all, a Corvette in good and at least somewhat original condition can be a surprisingly solid player and a great-sounding guitar by any measure.
They are also arguably a more viable proposition for contemporary indie and alt guitar styles, and certainly can be had for a lot less cash than many of the more famous vintage hollow and semi-hollow models up for offer.
Essential Ingredients
Asymmetrical double-cutaway design
Solidbody made from mahogany
Glued-in mahogany neck, 24.6" scale length
Brazilian rosewood fingerboard with dot inlays
Two single-coil Gretsch HiLo'Tron pickups
Burns vibrato
Guitar Player would like to thank Shoals Guitar Boutique.
All the latest guitar news, interviews, lessons, reviews, deals and more, direct to your inbox!
Dave Hunter is a writer and consulting editor for Guitar Player magazine. His prolific output as author includes Fender 75 Years, The Guitar Amp Handbook, The British Amp Invasion, Ultimate Star Guitars, Guitar Effects Pedals, The Guitar Pickup Handbook, The Fender Telecaster and several other titles. Hunter is a former editor of The Guitar Magazine (UK), and a contributor to Vintage Guitar, Premier Guitar, The Connoisseur and other publications. A contributing essayist to the United States Library of Congress National Recording Preservation Board's Permanent Archive, he lives in Kittery, ME, with his wife and their two children and fronts the bands A Different Engine and The Stereo Field.