10 of the Greatest Blues Guitar Tones Ever Recorded
Sumptuous sounds from the likes of Stevie Ray Vaughan, Eric Clapton, B.B. King and Jack White.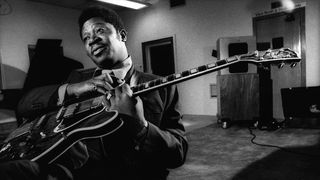 (Image credit: Getty/Estate Of Keith Morris/Contributor)
What is it that makes great guitar tone? Gear, player or performance? Actually, it's all of those things and more. Tone is in the hands, but it's also in the electric or acoustic guitar, the backline, the mic placement, the stage and the pedalboard. It's within this strange brew that we find greatness, and the raw emotions of blues are positively brimming with it.
Here, we've assembled ten of the greatest blues guitar tones ever recorded – truly extraordinary sounds from the many great players we've been privileged to hear. Our list includes everything from past legends to modern greats. But one thing unites them – they've all captured those magical tones that every guitarist strives for.
1. Couldn't Stand The Weather
Stevie Ray Vaughan and Double Trouble
(Couldn't Stand The Weather, 1984)
SRV's 1984 album Couldn't Stand The Weather is a catalogue of riches, showcasing not only the Texan's incredible tone but arguably some of his greatest solos. Flying a blues guitar flag at a time when synths were taking over the mainstream, he put some of his trusted steeds to good use, his wonderfully worn Sunburst Number One Strat being played via an Ibanez TS9 Tube Screamer through Marshall and Fender amps, with Leslie effect coming from a Fender Vibratone cab.
Vaughan purchased the Number One in 1974 from Ray Hennig's Heart Of Texas music shop in Austin. The guitar comprises a '63 body and a '62 neck, though it's sometimes misdated as a '59 due to its pickups being from that year. It also hosts heavier-gauge bass strings (.028, .038, .058) and E flat tuning (one half-step down) for a hefty, fat attack that's not for the faint of finger.
2. Bridge Of Sighs
Robin Trower
(Bridge Of Sighs, 1974)
The most brooding of all electric blues tones? For Bridge Of Sighs, Trower summoned pure drama with his standard Strat, playing a simple recurring E minor pentatonic riff soaked in Uni-Vibe with a boost in front of it. These days, the UK bluesman drives his Marshalls with pedals including a Fulltone Fat-Boost and a custom WahFull for solos. But for the distinctive depths of modulation in this song, he used Fulltone's DejáVibe 2 with a piece of wood wedged in to make sure it stayed in tempo.
But how did he get such breadth from his tone? It was all down to the mic placement at London's AIR Studios. "That's the reason why Bridge Of Sighs came out as such a big noise," Trower told MusicRadar. "Our engineer Geoff Emerick [who famously worked with The Beatles from the mid-'60s] came up with the idea of putting mics down the room to pick up ambient noise, as well as having them quite close. He used U87s, if I remember correctly."
3. Walk On Hot Coals
Rory Gallagher
(Irish Tour, 1974)
This key moment from the Irish Tour album is definitive Rory, the former Taste man giving everything to his blues craft onstage, completely immersed in it. The track also offers a fascinating demonstration of the Fender Strat's expressive potential – the '61 model Gallagher used here, and heavily throughout his career (with the wear to prove it), is said to have been the first to arrive in Ireland.
The Cork-born star took a Tweed Fender Twin on the road for this famous live 1974 run, along with a Vox AC30 Top Boost and a Dallas Rangemaster Treble Booster: the latter was key to bringing added bite to his tone, and was a combo that later influenced Queen's Brian May.
4. Little Wing
The Jimi Hendrix Experience
(Axis: Bold As Love, 1967)
How much can you say in two minutes and 26 seconds? Quite a lot, as Hendrix proved in this sublime Strat moment. The legendary guitarist's sensitive approach to Little Wing is pure majesty – no wonder it's been pawed over by countless players over the years. Clapton, Beck, SRV, Mayer, Satch, Eric Johnson… all have been suitably beguiled by this track to attempt their own takes onstage.
There's debate over whether it was the neck pickup alone or the fact that Hendrix was playing in the fourth position, but the low output of the Strat single-coils here aided the sublime, watery warmth of the solo tone. It was fed through a miniature Leslie speaker built by an engineer from London's Olympic Studios.
5. Hideaway
John Mayall & the Bluesbreakers, Eric Clapton
Blues Breakers With Eric Clapton (1969)
A landmark for blues-rock tone, Eric Clapton's fiery and fluid take on the Freddie King favorite opened minds to a new perception of the electric guitar, and his playing on the record is still spoken about with hushed reverence today. Clapton's search for sustain led him to a 1962 Marshall 'Bluesbreaker' combo, the LP's volume rolled back to tame the overdrive.
The guitar he used on Blues Breakers With Eric Clapton – his first post-Yardbirds album – is widely believed to have been a 1960 Les Paul Standard. Purchased from a shop in London, it was later stolen during Clapton's early Cream days and is still generally regarded as MIA.
6. The Thrill Is Gone
B.B. King
(Live In Cook County Jail, 1971)
Here's a prime example of where the gravity of a tone is amplified by the circumstances in which it's played. With one of his trusty Gibson ES-355 'Lucille' guitars hooked up to a Gibson Lab Series L5 amp, B.B. performed this incredible rendition in front of around 2,000 inmates of Chicago's Cook County Jail – a crowd who no doubt knew the blues all too well.
As King's biographer Sebastian Danchin noted: "The prisoners saw King's visit as an all-too-rare recognition of their humanity." B.B.'s spoken word connections with the audience reveal a master showman at work, but the vocal-esque expression of his licks and the nuanced conversations they have with the horns (in place of the original's strings) speak even louder.
7. Jesus Just Left Chicago
ZZ Top
(Tres Hombres, 1973)
Billy Gibbons owns many wonderful guitars but remains synonymous with his 'Pearly Gates' Les Paul. However, that's not the instrument that shines here – ZZ Top's third album is Gibbons' Fender moment, and the choice adds a bold and steely bite to the sound of the slow blues. So, is it a Strat or a Tele? Actually, it's neither. The often mysterious / mischievous Gibbons revealed in his book Rock + Roll Gearhead that he used a '52 Broadcaster. But there were no original Broadcasters made after 1951. Is he throwing us a blues herring? No, it's a misprint in the book – Gibbons' stunning 1950 Broadcaster went up for sale at Norman's Rare Guitars in 2018.
Regardless of the guitar specifics, it sounds great here and "Jesus just left Chicago / and he's bound for New Orleans" is surely one of the greatest opening lines to a blues song ever.
8. Down In The Flood
The Derek Trucks Band
(Already Free, 2009)
There's an argument that a great guitar player could play through someone else's rig and still sound unmistakable. Here's a case in point to some degree. Derek Trucks was a child prodigy, then became an Allman Brothers Band member before striking out with his own ensembles. Through that time he gravitated to the Gibson SG, but for 2009's Down In The Flood he opted to play a "funky old Airline guitar through the built-in amp in its case".
And he still sounds like Derek Trucks, with singing, soulful slide work that builds masterfully through this Dylan cover – its dynamics pitched perfectly around Mike Mattison's howling vocal.
9. Money For Nothing
Dire Straits
Brothers In Arms (1985)
The blues hits the stadiums. Pushing aside the '80s pop synths and Sting's guest vocal, Mark Knopfler's ZZ Top-influenced guitar hook is unmistakably rooted in the Delta – it could be stripped back to an acoustic guitar and still be true blue.
On the record, its distinctive filtered tone balances rock crunch and clarity, but has a clearly phased, nasal quality; the result of Knopfler's Les Paul (there's conflicting accounts from Knopfler and album co-producer Neil Dorfsman on whether it was a Junior or a reissued '59) through a fixed- position Morley wah into what was likely a Marshall JTM45 amp.
Knopfler also used his fingers rather than a pick, as he often does. But again, the mysterious art / happy accident of mic placement came into play – one of the Shure SM57s in the studio was facing down towards the floor after coming loose. "Whether it was the phase of the mics or the out-of-phaseness, what we heard was exactly what ended up on the record," Dorfsman told Sound On Sound. "There was no additional processing on that tune during the mix."
10. Ball And Biscuit
The White Stripes
(Elephant, 2003)
There's nothing wrong with blues players looking back with respect, but the fire also has to be passed on to the next generation. For that particular role, there's no one better than Jack White, whose respect and knowledge for blues heritage is beyond question.
Neither is his willingness to light the tonal touchpaper. Ball And Biscuit is his most definitive statement to date, a heady mix of 12-bar tradition and lyrics that references the old American folk legend of The Seventh Son. White's firebrand lead work was performed on an Airline Res-O-Glass 'JB Hutto', channelled through an EHX Big Muff Pi and a DigiTech Whammy (set one octave up) into Fender Twin and Silvertone 1485 amps – close mic'd with a Shure 545SD and an AKG D 25.
All the latest guitar news, interviews, lessons, reviews, deals and more, direct to your inbox!
Rob is the Guitars Editor for MusicRadar, handling news, reviews, features, tuition, advice for the strings side of the site and everything in between. Before that he worked on guitar magazines for 15 years, including Editor of Total Guitar, and is a regular contributor to Guitar Player and Guitar World.