Fender American Acoustasonic Telecaster Review
Now available in a fresh range of finishes we take a look back at this groundbreaking design.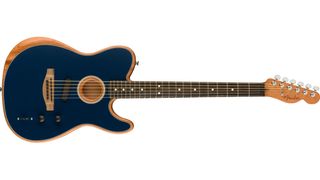 (Image credit: FMIC)
*** The following review originally appeared in the May 2019 issue of GP ***
The Telecaster has always been a versatile guitar, and Fender has upped the ante in that department with the Acoustasonic Telecaster. This hollowbody design features a body with mahogany back and sides and a solid Lutz spruce top (a naturally occurring hybrid of Sitka and white spruce).
The body also has a patent-pending String Instrument Resonance System (SIRS) that's designed to give it better acoustic performance than you'd expect from a thin-bodied instrument.
Look into the soundhole and you'll see that instead of being just a hole in the top, it's more like a short cylinder that extends downward until there's only about half an inch of space between it and the back of the body. Clearly, there's some sonic voodoo going on within this transverse-braced chamber, and the result is a surprisingly open acoustic sound with good volume and sustain.
Place a mic on it and you'd get a satisfyingly recordable sound.
Image 1 of 4
The finish is so minimal on this instrument that it feels like you're touching raw wood. The binding and rosette are cool touches, and there's a forearm bevel on the body for added comfort. All the body edges are rounded off, but one problem area was a sharp piece of body wood rising above the metal plate at the treble side of the neck joint. You could nick yourself on it, and I'm surprised it wasn't dealt with during final assembly and inspection.
The made-in-California Acoustasonic Tele has a new pickup system developed by Fender and Fishman that consists of an N4 noiseless pickup near the bridge, a Fishman Matrix piezo transducer under the bridge saddle and a Z-Axis body pickup. They are routed via a five-way switch to a DSP section that provides models of a variety of acoustic guitars (and two flavors of Tele) that are controlled by the mod knob (which is aft of the volume control).
The system is powered by a rechargeable lithium-ion battery, with the mini-USB charging jack and battery status indicator built into the metal jack plate.
Note that when the mod knob is fully counterclockwise, Fender calls it the "A" setting. When the knob is fully clockwise, it's the "B" setting. Mod positions in between these extremes are a blend of the two sounds. Here's a rundown of how the settings differ, as explained in the manual:
Position Five: (switch closest to the neck) "A" produces a Sitka spruce/rosewood dreadnought sound. "B" is an Alpine spruce/ rosewood auditorium guitar.
Position Four: "A" is an Engelmann spruce/ maple body parlor sound. "B" is a Sitka spruce/mahogany dreadnought" sound.
Position Three: "A" is a Sitka spruce/Brazilian rosewood dreadnought. "B" adds the body pickup to the above for enhanced harmonics and response to hand tapping.
Position Two: "A" is a Sitka spruce/ mahogany dreadnought. "B" blends the electric pickup to the above.
Position One: (switch closest to the bridge) "A" is Fender electric clean. "B" is Fender electric semi-clean.
There is no screen to inform you about any of the above, but after playing this guitar for a while through standard guitar amps (Fender Deluxe Reverb, Vox Mini Superbeetle) as well as a Fishman SA220 rig for a P.A.-like delivery, I found it was easy enough to locate the settings that worked best.
In general, the acoustic guitars on settings five and four are satisfying emulations of dreadnought-, auditorium- and parlor-sized instruments, and the differences between them can readily be heard.
Fair to say that all of the Acoustasonic's flat-top sounds benefit from the phosphor-bronze strings it comes equipped with, and, not surprisingly, playing though the Fishman also enhanced the realism of the acoustic tones.
That said, my favorite sounds began on position three, especially with the mod knob nearer the "B" setting, which brings in the body pickup (located under the bridge) for a response that is much more like playing a real acoustic guitar. And if percussive tapping on the top or other parts the guitar is part of your shtick, this setting is your only option.
I also dug the "B" setting on position two because it adds the N4 electric pickup. This is a pretty cool acoustic-electric dreadnought tone for rocked-up playing, and the neat thing is you can keep the mod knob in "B" and go straight to position one (bridge setting) for an instant segue into a stout Tele tone with a little grind on it. Of course, here's where you want to ditch the wound G with a set of light-gauge electric strings. Now, if Fender would just make a dual-neck version of this guitar…
Besides its bevy of sounds, the Acoustasonic is a great player, thanks to a moderately beefy neck and polished frets on a beautifully figured ebony 'board. The factory setup was good (although there is room to lower the action a bit), and the guitar sounded acceptably tuneful throughout the span of the fretboard. The black synthetic nut was smoothed on the corners to eliminate any hitches, and ditto for the fret ends, which were cleanly finished for an easy ride up and down the neck.
The Acoustasonic Telecaster is an attractive guitar that really delivers on the sonic front. With all the acoustic tones it has to offer, it's certainly a welcome option for those who need to cover multiple parts onstage, and it would be cool for tracking alternate parts in the studio as well. It may not be the equivalent of the Line 6 Variax in the variety of sounds it can deliver, but kudos to Fender and Fishman for teaming up to produce what's quite possibly the most advanced take on a Tele ever.
Click here to visit Sweetwater's full current selection of Fender American Acoustasonic Telecasters.
All the latest guitar news, interviews, lessons, reviews, deals and more, direct to your inbox!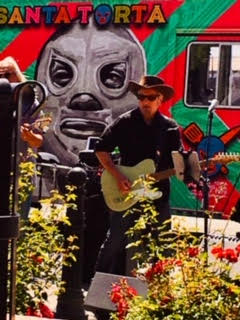 Art Thompson is Senior Editor of Guitar Player magazine. He has authored stories with numerous guitar greats including B.B. King, Prince and Scotty Moore and interviewed gear innovators such as Paul Reed Smith, Randall Smith and Gary Kramer. He also wrote the first book on vintage effects pedals, Stompbox. Art's busy performance schedule with three stylistically diverse groups provides ample opportunity to test-drive new guitars, amps and effects, many of which are featured in the pages of GP.