How Collings Brought an Abundance of Retro Luxury to the Stunning I-35 LC Vintage
Collings took its best-selling electric back in time. The result is the I-35 LC Vintage.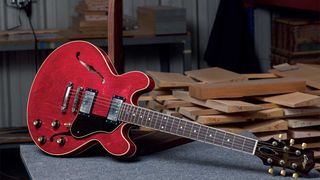 (Image credit: Collings)
As if in some space-time-continuum-defying feat, Collings' latest electric guitar is a reinvention of one of its longstanding models. It's been upgraded by being back-graded, if you will, to more accurately represent a vintage classic of the late '50s and early '60s.
As such, it's undoubtedly new, and the first strum confirms that it's also one of the coolest things going for upmarket guitar releases in the first half of 2021.
The builders at Collings Guitars have been firing on all cylinders lately, and many players who have experienced their wares will tell you that the Austin-based company is turning out some of the finest production guitars of any American maker in recent years.
The late Bill Collings began making guitars in 1973 and established his reputation on the backs of finely wrought acoustic instruments, a foundation that foretold the quality of his electrics when they were added to the stable beginning in 2006.
The new I-35 LC Vintage provides a further reminder of the depth of quality that the company is achieving, while revealing an expressive and inspiring guitar that's simply magical by any measure.
Amid a lineup of solid-body, semi-hollow, and fully hollow-body electrics, the company's existing I-35 LC has traditional laminated-wood construction but is rendered to a slightly more compact 15-inch lower-bout width, rather than the original's 16 inches. It has been Collings' best-selling electric for several years, so why mess with the formula?
"When we're making music, I think we're all striving for the same thing, which is, in a way, emotional and technical efficiency," says Aaron Huff, director of electric instruments at Collings. "And then there's this third component that none of us can really put our finger on. It's like this 'magic' thing.
"Bill Collings could put his finger right on it almost without trying. We learned a lot from everything that he did, and the I-35 LC Vintage is really, I think, an extension of the way that he looked at guitars.
"When you choose a guitar, it's not just about whether that note is on or off; it's a question of; what is the dynamic of that note, and how much control can I exert over that? There's an enhanced third dimension in the music of an excellent instrument, and that's what we were striving for with the Vintage: How do we make a guitar have even better access to the nuance that's available in Bill's approach?"
The result is a guitar that feels a bit looser and more acoustically resonant, with a more dynamic response that translates to the sound in a blend of clarity, character, bite, and girth.
Rather than being tight and firm and immediate – like many modern guitars – there's an ever-so-slight lag to the response that thickens up the notes and, as Huff puts it, helps it "feel like you have room to stick your fingers between the notes." In other words, the I-35 LC Vintage feels and sounds more like a well-played vintage guitar.
The means of achieving this were multifarious: a very slightly thinner neck profile and depth (now .845 inch at the first fret rather than the company's standard .865 inch), a change of truss-rod curve and tension, a new formulation of the body's maple-ply top and back to allow more flexibility and of its maple center block to enhance its vibrational transfer, plus a total change-up of electronics.
Most importantly, Huff tells us, "It is built from the inside out. All of our acoustic work has led to our electric work, meaning that you voice the guitar acoustically first and then you electrically try not to take away from that."
Specs and materials not already covered above are pretty standard from the existing I-35 LC, including a mahogany neck with a bound rosewood fingerboard configured to a 24 7/8–inch scale and attached with the company's extra-long mortise-and-tenon joint, a 12-inch fingerboard radius, a 1.73-inch width at the nut, and an ebony face atop the back-angled "haircut" headstock.
Hardware includes a traditional nickel Kluson ABR-1 bridge, a stop-bar tailpiece, and enclosed Gotoh tuners. Buckle it all together and the entire guitar comes in right around the seven-pound mark, where many semis will hit the scales at closer to Les Paul–style weights.
Collings has used acclaimed ThroBak pickups in many of its higher-end guitars, but they went back to the drawing board with the company to tweak their existing ESG-102B humbuckers to better suit the I-35 LC Vintage. "It's aimed at the early '60s characteristics of some old [PAFs]," Huff says, "but we tried to go a little softer and a little smoother with the bridge pickup than his standard offering."
These are paired with Luxe reproduction '50s Bumblebee tone caps and DiMarzio 500k potentiometers to enable a broader range of control settings, exponentially increasing the guitar's versatility.
"I feel like the guitar begs you to roll it down," Huff says. "Not turn it off but find that spot where you're just barely attenuating the clip and you can really dial in that attack, whether you want it to be super buttery without masking itself, or you need it to be quite articulate and really show its teeth."
The I-35 LC Vintage really looks the part, too, with more period-correct non-grained ivoroid binding and black or gold reflector knobs. The guitar is available in Faded Cherry (as reviewed), Blonde, and Tobacco Sunburst, all in nitrocellulose lacquer, and dressed in what Collings calls its "soft aging" process, which gives a little checking to the gloss finish and some light patina to the hardware.
So how does it all come together in the hand? The I-35 LC Vintage is a very welcome reminder of how inspiring – and how addictive – a really good guitar can be. I've owned and played several Collings guitars over the years, but rarely has the arrival of a test guitar transitioned so quickly and dramatically from "Oh, it's their latest X-inspired thing" to "Holy crap, this is a great guitar, and I have to have one!"
Tested through a custom tweed Deluxe-style 1x12 combo and a Friedman Small Box head and 2x12 cab with a variety of overdrive pedals, the I-35 LC Vintage proved to be one of the most versatile new electrics I've played in a long time.
It's also one of the few that never made me say, "If it were mine, I'd change…" Its core tonality is an enticing balance of elegant, raw, sweet, and nuanced, yet with enough granularity to bark and bite when you need it to.
For jazz, mellow blues, or a broad range of rock and gnarlier roots styles, it delivered everything from rich and lush to stinging, singing, and aggressive tones with ease and grace. Combined with utterly inspiring playing dynamics, the I-35 LC Vintage proved its quality and class with every note.
CONTACT: Collings
PRICE: $6,500 list/street
All the latest guitar news, interviews, lessons, reviews, deals and more, direct to your inbox!
Dave Hunter is a writer and consulting editor for Guitar Player magazine. His prolific output as author includes Fender 75 Years, The Guitar Amp Handbook, The British Amp Invasion, Ultimate Star Guitars, Guitar Effects Pedals, The Guitar Pickup Handbook, The Fender Telecaster and several other titles. Hunter is a former editor of The Guitar Magazine (UK), and a contributor to Vintage Guitar, Premier Guitar, The Connoisseur and other publications. A contributing essayist to the United States Library of Congress National Recording Preservation Board's Permanent Archive, he lives in Kittery, ME, with his wife and their two children and fronts the bands A Different Engine and The Stereo Field.