Classic Gear: 1955 D'Angelico New Yorker
The epitome of the archtop guitar from the golden years of the Jazz Age.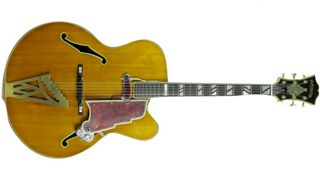 (Image credit: Jay Boone/Emerald City Guitars)
Relatively few guitarists have had the privilege of holding an original D'Angelico archtop guitar; and upon close examination of a D'Angelico instrument – like this 1955 New Yorker – it's easy to see how the storied maker earned his stellar reputation.
From the elegant carve of the woods to the decorative details (that don't look as over the top as they might on another instrument!) to the very feel of the thing – this is a guitar for which the term masterpiece seems barely adequate.
It's the epitome of the archtop guitar from the golden years of the Jazz Age.
John D'Angelico was born in Little Italy, on Manhattan's Lower East Side, in 1905. He studied classical violin making and learned Italian-style flat-top guitar craftsmanship under the mentorship of his uncle, Raphael Ciani.
Eventually, D'Angelico took over Signor Ciani's shop and management of its 15 employees. But, before long, the young luthier decided he was more of a lone craftsman than a manager. In 1932, he opened his own workshop – at 40 Kenmare Street, in his Little Italy neighborhood. There, he pursued a line of archtop guitars inspired by the Gibson template, custom built to order and featuring elaborate and individual detailing. With the occasional help of just two assistants (at most), D'Angelico catered to the elite of the jazz world, turning out about 35 guitars a year at the peak of operations, several years later.
The New Yorker is generally considered the flagship of the D'Angelico line. Examples like this one, display a beautifully rich, complex tone that transports you back to cigarette-hazed nights at Birdland, the Five Spot and the Royal Roost.
Its body is a massive 18 inches wide, across the lower bout, with a single Venetian cutaway. The fully hollow design features an arched top hand carved from solid spruce with X-bracing for optimal resonance. Solid flamed maple is carved to create the arched back, sides and neck.
Just as striking, and perhaps more immediately eye catching, are this guitar's artistically rendered appointments. They include multi-ply binding on the body's top and back, the fingerboard, headstock and even the pickguard and f-holes. There's also a substantial "stairstep" trapeze bridge, a preponderance of pearl (including the fingerboard's block inlays and the headstock's elaborate Empire inlay), an incredible headstock design and many other hallmarks of the guitar maker's style.
Typical of the D'Angelicos that needed to be amplified, this instrument features a DeArmond Rhythm Chief pickup – highly regarded in the jazz community and a collector's item in its own right.
In 1955, when this example was made, a young James D'Aquisto would have been three years into his apprenticeship with D'Angelico. Upon the master's death in 1964, D'Aquisto took over the shop and, after completing several D'Angelico Guitars orders, went on to build instruments branded with his own name.
Alongside his mentor, D'Aquisto would become another of the most-respected archtop makers of all time. Jazz greats Barney Kessel, Johnny Smith, Kenny Burrell and Oscar Moore played D'Angelicos at one time or another – as did Chet Atkins before he signed with Gretsch. The occasional rocker has been drawn to the fold too, with Neil Young, Pete Townshend and Eric Clapton prominently wielding D'Angelicos over the years.
Essential Ingredients
Hand-carved, solid spruce arched top
Hand-carved, solid flame maple back and sides
Multi-ply binding on body, neck, headstock and pickguard
Art-deco "stairstep" bridge
Fully acoustic, single-cutaway archtop design
Fully acoustic, single-cutaway archtop design
Inspired by this original vintage D'Angelico? Check out the electric guitars and acoustic guitars on the D'Angelico website.
All the latest guitar news, interviews, lessons, reviews, deals and more, direct to your inbox!
Dave Hunter is a writer and consulting editor for Guitar Player magazine. His prolific output as author includes Fender 75 Years, The Guitar Amp Handbook, The British Amp Invasion, Ultimate Star Guitars, Guitar Effects Pedals, The Guitar Pickup Handbook, The Fender Telecaster and several other titles. Hunter is a former editor of The Guitar Magazine (UK), and a contributor to Vintage Guitar, Premier Guitar, The Connoisseur and other publications. A contributing essayist to the United States Library of Congress National Recording Preservation Board's Permanent Archive, he lives in Kittery, ME, with his wife and their two children and fronts the bands A Different Engine and The Stereo Field.