A Look Back at Steve Howe's Gibson ES-175
Although he used a number of different guitars throughout the 1970s, the ES-175 remained Howe's main studio guitar and his personal favorite.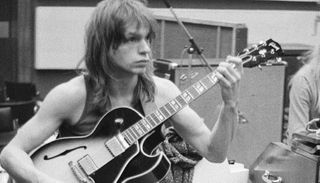 (Image credit: Michael Putland/Getty Images)
In 1964, a 17-year-old guitarist named Steve Howe walked into the Selmer music store in London and special-ordered this Gibson ES-175. A hollowbody electric was an unusual choice for a future rock star, but one of Howe's strongest influences was jazz player Barney Kessel, who played a Gibson Super 400CES hollowbody.
At 16 inches wide, the ES-175 was smaller than the 17-inch L-5CES or the 18-inch Super 400CES, and its body was of laminated maple rather than the solid spruce and maple of the higher-end models. In performance, however, the 175 had the basic necessities: a cutaway body and a pair of humbucking pickups.
Its laminated construction and lack of fancy pearl inlay made it more affordable than the L-5 or Super 400, and by the 1960s it had become the workhorse guitar of the jazz world. Howe put 60 pounds down (borrowed from his father) and paid the rest over the next few years.
The ES-175 proved to be the perfect vehicle for the eclectic style Howe brought to the group Yes in 1970. Although he used a number of different guitars through the 1970s, the ES-175 remained his main studio guitar and his personal favorite. He has taken meticulous care of this guitar, and it shows only a few dings and scratches as evidence of his use.
All the latest guitar news, interviews, lessons, reviews, deals and more, direct to your inbox!
Rich is the co-author of the best-selling Nöthin' But a Good Time: The Uncensored History of the '80s Hard Rock Explosion. He is also a recording and performing musician, and a former editor of Guitar World magazine and executive editor of Guitar Aficionado magazine. He has authored several additional books, among them Kurt Cobain: Montage of Heck, the companion to the documentary of the same name.