Greg Koch's input and Reverend's outstanding quality and consistency have coalesced to create a guitar that walks the line between old-school and cutting-edge in a super compelling way. Well done!
Pros
+

A great playing T-style guitar that sounds dynamite.

+

Fishman P-90-style pickups deliver inspiring tone.

+

And they are dead quiet.
Cons
-

Fret ends could have been dressed a little better.

-

Teardrop hard case has to be purchased separately.
You can trust Guitar Player. Our expert reviewers spend hours testing and comparing guitar products so you can choose the best for you. Find out more about how we test.
Coming on the heels of the bolt-neck Greg Koch Gristlemaster, Reverend's new Gristle 90 is an entirely different animal, courtesy of its Fishman P-90 pickups, Bigsby B-50 tailpiece, and korina set-neck with a 24.75-inch scale, all of which were elements Koch requested for his new signature model.
As he says, "I play different on a Gibson-scale guitar, and that was a big part of why we came up with it. I wanted an instrument that allowed me to have the ergonomics of a T-style guitar with some of the sonic and playability attributes of a Gibson. So I wanted a set neck, a shorter scale, and a pair of P-90 pickups that really did the job with no noise."
A sharp looker with its Venetian Gold finish (also available in Bradford Beach Blue and Midnight Black), our review sample Gristle 90 features a great-feeling neck that has a medium-oval shape and cream-colored binding that extends around the black-faced headstock.
The ebony 'board wears 22 polished jumbo frets and is fitted with a synthetic Boneite nut for smooth string travel out to the Reverend Pin-Lock tuners. Note that the headstock angle on this model negates the need for a string tree. Playability is excellent, and the guitar intonated sweetly along the fretboard.
The bending feel is softer than that of the original 25.5-inch scale Gristlemaster, so the Gristle 90 feels more like a Les Paul in Tele clothing. It's a satisfying guitar under the fingers and very dynamically responsive whether playing with or without a pick. The Bigsby certainly adds its own sonic qualities, and the "soft tension" spring invites using it a lot to add expression and vibe to parts.
"Reverend does Bigsbys the way nobody else does, because they work right," Koch says.
"You can do warbles and the whole nine yards, and it stays in tune. Plus, I just like the sound of a Bigsby. There's definitely a top-loader thing going on that I think is cool. So that was my reason for putting one on this guitar, although I had to remind myself what a nightmare they are to re-string. I've been telling people that, in order to evolve as human beings, you have to know how to change strings on a Bigsby!"
The Fishman Gristle 90 pickups were specially designed for this guitar, and the electronics include a three-way selector, volume and tone controls (the latter with a push-pull phase switch), and a pushbutton midrange boost.
"I've always liked the sound of P-90s, but I've never had many guitars with them, because they're noisy as hell," Koch explains.
"So instead of doing a humbucker version of a Gristlemaster, I wanted a P-90 pickup, but P-90s done right. I wanted all the things I loved about P-90s: that glassy but thick neck-pickup sound, and that weird kind of quacky thing that the bridge pickup does while still sounding girthsome, with a little cut to it.
"Then I also wanted to have that Peter Green–style out-of-phase sound. It's like both pickups are out of phase, but the neck pickup is turned down a little bit volume-wise, which gives it a thicker, more useable tone."
Using Fishman Fluence technology to create a noiseless P-90 that sounded the way Koch wanted took some development time, but the end result is a pickup that balances clarity and fatness in just the right proportions.
Played though a Fender Deluxe Reverb and a Victoria Double Deluxe 2x12 combo, the Gristle 90 delivered all the crispness and gutsy snarl you want from a good P-90, along with a cool boosted-mids option when you push the button that's located between the volume and tone knobs (both of which have a white dot on top for easy reference).
The tone with the boost activated is the bomb for lead playing in both clean and overdriven modes, and I tended to leave it on full time because it thickens the response and gives every pickup setting a little extra presence and punch.
Pulling the tone knob up to put the pickups out of phase also yields a very useable sound that is definitely more chimey and funky but doesn't eviscerate the low end. The electronics are powered by an internal li-po battery that's rechargeable via a port on the jack plate, which also contains a battery-status LED.
I've used a Gristlemaster for several years and battery life has never been an issue, even though it's only occasionally recharged The Gristle 90 is an impressive guitar that combines Gibson and Fender attributes and sounds so cool and organic, it's easy to forget it uses pickup technology that's radically different from any standard coil-and-magnet designs.
Greg Koch's input and Reverend's outstanding quality and consistency have coalesced to create a guitar that walks the line between old-school and cutting-edge in a super compelling way. Well done!
Specifications
PRICE: $1,799 street
NUT WIDTH: 43mm, Bonite
NECK: Korina 3-piece set
FRETBOARD: Ebony, 24.75" scale, 12" radius
FRETS: 22 ( 0.118" wide x 0.057" high)
TUNERS: Reverend Pin-Lock
BODY: Korina with chamber under the pickguard for enhanced resonance
BRIDGE: Tune-o-matic bridge and Bigsby tailpiece
PICKUPS: Two Fishman P-90s
CONTROLS: Volume, tone (with push-pull phase switch), three-way selector, push-button midrange boost
FACTORY STRINGS: D'Addario .010–.046
WEIGHT: 8.28 lbs (as tested)
BUILT: Korea
CONTACT: Reverend Guitars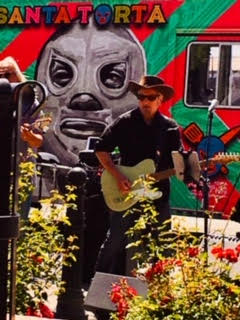 Art Thompson is Senior Editor of Guitar Player magazine. He has authored stories with numerous guitar greats including B.B. King, Prince and Scotty Moore and interviewed gear innovators such as Paul Reed Smith, Randall Smith and Gary Kramer. He also wrote the first book on vintage effects pedals, Stompbox. Art's busy performance schedule with three stylistically diverse groups provides ample opportunity to test-drive new guitars, amps and effects, many of which are featured in the pages of GP.