The many modes of the MXR Tremolo allied to its compact form make it one of the finest tremolo pedals on the market.
Pros
+

Excellent range of tremolo sounds.

+

Very flexible and controllable.

+

Good value.

+

It won't hog pedalboard real estate.
You can trust Guitar Player. Our expert reviewers spend hours testing and comparing guitar products so you can choose the best for you. Find out more about how we test.
It's always nice when a product offers more than meets the eye. MXR's new Tremolo pedal seems straightforward enough at first blush, but this compact pedal is one powerful modulation box, with six tremolo styles that are selected by pushing the gain knob, which also controls the volume of the effect.
The Tremolo carries depth and speed controls – along with input and output jacks and a nine-volt input for the included adapter – but it quickly gets much deeper thanks to a CTR (control) jack and accompanying two-position slider switch that allows the use of an optional foot switch for tap tempo, or an optional expression pedal to blend between two different tremolo settings.
Depending on how the switch is set, there are also three available stereo (TRS) modes: Stereo Input, Stereo Output, and a mode for panning the tremolo effect from one output to another.
Furthermore, you can access an Envelope mode by pressing and holding the gain knob for three seconds. This allows the Tremolo to respond to picking dynamics, and by holding the knob down you can adjust the sensitivity – the picking strength needed to trigger the effect – with the depth knob and the rate of the effect with the speed knob.
Yet another manipulation of the controls allows the pedal to be switched from true-bypass (the default setting) to buffered bypass. These more-advanced functions aside, the Tremolo is easy to use and offers a ton of great sounds.
Each of the trem settings is indicated by either a green or red LED and they're accessed sequentially in this order:
• MXR: Classic MXR M159 sounds (green)
• Bias: A vintage-style bias modulation waveform that emulates the compression of tubes (red)
• Revo: A reverse optical waveform that produces exaggerated peaks and valleys (green)
• Opto: An optical waveform that emulates the smooth pulse of vintage amp tremolo (red)
• Sqr: A square waveform for choppy effects (green)
• Harm: A vintage-style harmonic tremolo with frequency modulation (red)
Running the Tremolo through a Fender Deluxe Reverb reissue and a Mesa Mark 5:25 combo – and with a Gibson Les Paul Traditional Pro V and a Fender American Pro II Stratocaster plugged in – I found the sounds were all excellent and provide plenty of variety to make this pedal useful for a lot of different tastes and applications.
For example, Harm produces a warbly, slightly pitch-shifted effect that contrasts nicely with Bias, which is the go-to setting if you're chasing blackface Fender-type sounds. The MXR setting is a little more pronounced, and also very clear and richly detailed, but it's not quite as jagged as Revo, which has big peaks and valleys that really stand out in a mix.
The effect is a bit more ethereal in Opto, which is great for adding subtle pulse in situations where a more obvious trem sound isn't really desired. For that sort of action, Sqr delivers the helicopter chop and very staccato effects at high depth settings that can make parts leap out with strobe-light intensity.
It's cool that you can adjust the Tremolo's volume with a twist of the gain dial (always handy), and the way this pedal offers so much additional flexibility via its CTR input makes it very customizable to your personal needs.
The Tremolo certainly packs a lot into a footprint the size of a Phase 90, and it earns an Editors' Pick Award in the process. Bottom line: If there's only room for one tremolo on your pedalboard, the MXR Tremolo is a strong contender.
Specifications
PRICE: $159 street
CONTROLS: Gain (push to cycle through modes), Depth, Speed
FUNCTIONS: Six tremolo modes: MXR, Bias, Revo, Opto, SQR, Harm I/O Input, output and CTR (control)
EXTRAS: CTL is selectable for optional tap or expression pedal operation, as well as stereo in/out and other functions. 9-volt adapter included
CONTACT: Jim Dunlop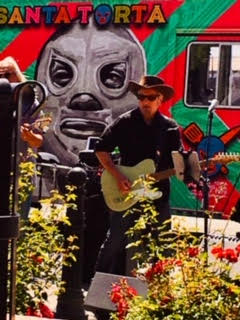 Art Thompson is Senior Editor of Guitar Player magazine. He has authored stories with numerous guitar greats including B.B. King, Prince and Scotty Moore and interviewed gear innovators such as Paul Reed Smith, Randall Smith and Gary Kramer. He also wrote the first book on vintage effects pedals, Stompbox. Art's busy performance schedule with three stylistically diverse groups provides ample opportunity to test-drive new guitars, amps and effects, many of which are featured in the pages of GP.