A great-sounding, updated version of the tremolo-equipped tube combo from 1968, the '68 Custom Vibro Champ has a sweet and natural reverb and some exceptional tones.
Pros
+

Touch-sensitive.

+

Quality digital reverb and tremolo.

+

Compact.
Cons
-

Two-button reverb/vibrato foot switch not included.
You can trust Guitar Player. Our expert reviewers spend hours testing and comparing guitar products so you can choose the best for you. Find out more about how we test.
Introduced in 1964, the tremolo-equipped blackface Vibro Champ was a distant cousin of Fender's Champion 800 and 600 models from the late 1940s, which evolved into the Champ-series amps in their various incarnations during the 1950s.
These popular tweed models – which Duane Allman and Eric Clapton famously used on records such as (respectively) Layla and Other Assorted Love Songs and 461 Ocean Boulevard – were produced until 1964 and had the distinction of being the last of Fender's original tweed amplifiers.
In fall 1964, Fender introduced the blackface Champ and Vibro Champ models. Both retained the single 6V6 power tube running in single-ended Class A but added bass and treble controls and a three-knob tone stack, as well as a "vibrato" circuit with speed and intensity controls on the Vibro Champ.
Equipped with an eight-inch speaker, the new Champs were favored for their warm, clear tones and mild overdrive when cranked.
Debuting in 2021, the '68 Custom Vibro Champ Reverb is a modified version of the old classic that is decked out in late-'60s drip-edged garb, with a silver control panel and a silver/turquoise grille with aluminum trim. On the inside it features a 10-inch Celestion Ten 30 speaker and a foot-switchable DSP hall reverb with a level control.
The amp has a modern-style PCB that grips most of the smaller components, however, the output and power transformers (both from Schumacher, as per original spec), AC switch (which is now on the back and replaces the original's front-panel slider switch), receptacle for the detachable AC cord, and hand-wired ceramic socket for the 6V6 are mounted to the steel chassis. The plywood cabinet is neatly covered in black Tolex, and the amp weighs in at just over 22 pounds.
I tested the Vibro Champ Reverb with a Reverend Greg Koch signature Gristlemaster, and a Gibson Historic '59 Les Paul and '63 Les Paul Junior, all of which sounded terrific through this little dynamo. The Class A circuit delivers a rich tone, with clarity and sparkle to spare, and the two-band EQ facilitates getting great sounds from humbuckers and single-coils in clean and distorted modes.
The amp produces smooth grind that starts at around four on the volume knob and becomes progressively more saturated and sustaining as you turn up. With the volume at around eight, the Vibro Champ Reverb is fun to pummel with a humbucker or P-90, producing a fat, crisp tone that's very responsive to the guitar volume and cleans up beautifully when you roll down.
The sounds have good balance and presence, and the low-end delivery and volume are impressive for the size.
It's bigger sounding than I expected and has more of everything – including gain – than my stock 1965 Vibro Champ. Of course, a lot of the credit goes to the ceramic-magnet Celestion Ten 30, which is an excellent speaker choice thanks to its focused delivery at all levels and detailed presentation when driving it hard.
The reverb also sounds surprisingly sweet and natural. Turning it up to a shade under three was perfect for a classic blackface response that sounded cool with a little grit added from either a Fulltone OCD or a Hermida Zen Drive. And you can wick up the 'verb for a splashier, more reflective sound and the DSP stays clear and noise-free.
Add some juicy pulse of the unique (at least for Fender) tremolo, which uses preamp-tube bias shifting to create a distinctly deep sound over a wide range of speed and intensity levels, and you've got a righteous combination that makes this amp fun and inspiring to play.
The '68 Custom Vibro Champ Reverb could be the most flexible single-ended, true Class-A amp Fender has ever produced, and kudos to them for keeping the old-school charm of this little classic alive. If you've never gotten your vibe on with a Champ, this is a great way to experience the magic.
Specifications
PRICE: $749
CHANNELS: 1
CONTROLS: Volume, treble, bass, reverb, speed, intensity
POWER: Six watts
TUBES: Two Groove Tubes 12AX7s, one Groove Tubes 6V6GTA power tube
EXTRAS: Digital Hall reverb, hand-wired output-tube socket, speaker jack and foot-switch jack (for optional two-button switcher)
SPEAKER: 10" Celestion Ten 30 (3.2Ω)
WEIGHT: 22.3 lbs (as tested)
BUILT: Mexico
CONTACT: Fender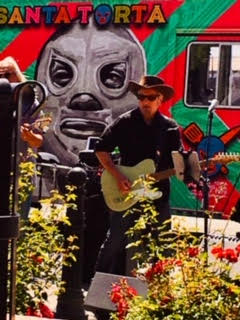 Art Thompson is Senior Editor of Guitar Player magazine. He has authored stories with numerous guitar greats including B.B. King, Prince and Scotty Moore and interviewed gear innovators such as Paul Reed Smith, Randall Smith and Gary Kramer. He also wrote the first book on vintage effects pedals, Stompbox. Art's busy performance schedule with three stylistically diverse groups provides ample opportunity to test-drive new guitars, amps and effects, many of which are featured in the pages of GP.