This model highlights what a great platform the Jaguar is for those who love hot-rodded classic Fenders
Pros
+

Looks killer. Plays great. Switching system delivers a wide spectrum of tones
Cons
-

Heavy. Tremolo lock not functioning on our test model
You can trust Guitar Player. Our expert reviewers spend hours testing and comparing guitar products so you can choose the best for you. Find out more about how we test.
In 1962, Fender rolled out the Jaguar, a new top-of-the-line electric guitar that company literature said offered "faster, more comfortable" playing.
The Jag's offset waist gave its body a look that was very different from a Strat, and it went offroad with a 24-inch scale neck that had a bound rosewood fretboard and pearloid block inlays, a pair of tall single-coil pickups with "sawtooth" shields on both sides of their white covers, and an elaborate switching system that occupied three separate chromed plates and gripped a total of eight controls: two knobs, two thumbwheels, and four slider switches.
Fender was on a roll in 1962, and the Jaguar's eye-popping array of colors, chrome, and controls signaled that a new sheriff was in town. The 60th Anniversary Jaguar adheres to the original format and features a lacquer-finished body and neck, and a faux-tortoiseshell pickguard, and it comes in Mystic Lake Placid Blue or Mystic Dakota Red sparkle colors that look fantastic with the matching painted headstock.
The 60th Anniversary Jaguar series also includes the modernized Ultra Luxe model that has a pair of humbuckers, a 25 ½–inch scale neck with a 10- to 14-inch compound radius, and through-body stringing, with no trem. The 60th Anniversary Jaguar on review here is a time capsule affair that suggests what it must have been like to open the case and revel at the radical new Fender back in the day.
At the time it seemed a perfect bomb to drop on the Southern California surf scene, and was even promoted by Brian Wilson. However, the Jaguar didn't meet sales expectations and lasted only until 1975. But in the '80s and '90s, guitarists like Tom Verlaine, Thurston Moore, Kevin Shields, Kurt Cobain, John Frusciante, Johnny Marr, and PJ Harvey were slinging Jags (which were relatively inexpensive and made good candidates for modding), and this helped the Jaguar enjoy a sort of cult status among alternative rockers.
Fender reissued the Jaguar in 1999 as part of its American Vintage Reissue series, and it has since gone through numerous iterations in the company's Signature and Custom Shop branches, as well as the American Original, Vintera, and Squier Classic Vibe lines.
At over nine pounds, our 60th Anniversary review model finished in Mystic Lake Placid Blue is a heavy guitar, but it feels good sitting or standing, and it's well set up and plays great thanks to the neck's '60s "C" shape and the easy feel imparted by the slightly shorter scale.
The evenly crowned and polished Vintage Tall frets help too, as do the low, buzz-free action and tuneful intonation. The Jag's floating vibrato (or tremolo, as Fender calls it) is incorporated into the tailpiece, which has a section of bent steel rising from it that the strings load into on their way to the separate bridge, with its six threaded-steel adjustable saddles.
The vibrato has a soft feel, and it returned to pitch reliably when worked with the long push-in bar. It adds lovely expression to chords and melodies, and it sure sounds vibey through a blackface Fender drenched in reverb. You can also lock it in place via a mechanical button, although for some reason that function wasn't working on our test guitar.
As per '60s spec, there's a mute that works by pushing a piece of rubber against the strings behind the bridge pickup, for a decidedly "plinky" tone.
True to form, the pickups feature Alnico 5 magnets. They're clear and balanced, and produce a cool variety of tones via the adventurous switching system, which operates as such: With the upper slide switch in the down position, Lead mode is active, and you use the first two slide switches on the lower-cutaway control plate to turn the neck and bridge pickups on and off, controlling volume and tone with the fluted knobs.
The rearmost slide switch activates the bass-cut "strangle" circuit, which makes the pickups sound skinnier and a little more funky when they're on together. With the upper slider switch in the up position, the Jag reverts to Rhythm mode, in which only the neck pickup is active, and you control its volume and tone via the two thumbwheel pots.
The tones in this mode are thicker, a little darker, and cool for jazz and old-school blues, and it's convenient to be able to preset two distinct tones and toggle between them for rhythm and lead. Played clean and overdriven using a selection of grind boxes, and amplified with either a Fender Deluxe Reverb or a Victoria Double Deluxe, the Jag was fun and easily deployable on everything from alt-country to rock, soul, R&B, jazz, and world music.
Kudos to Fender for celebrating the Jaguar in this 60th Anniversary rendition while also providing a different spin with the Ultra Luxe version, which – with its dual humbuckers, 25 ½–inch scale, and no trem – highlights what a great platform the Jaguar is for those who love hot-rodded classic Fenders.
Specs
PRICE: $2,499 street, hardshell case included
NUT: Bone, 1.650" wide
NECK: '60s "C" profile maple with lacquer finish
FRETBOARD: Round-lam rosewood with white binding, 24" scale, 7.5" radius, white pearled block inlays
FRETS: 22 Vintage Tall
TUNERS: "F" stamped vintage style
BODY: Alder with lacquer finish
BRIDGE: Vintage-style adjustable six-saddle with threaded steel saddles. Vintage-style floating tremolo with lock button and push-in arm
PICKUPS: 60th Anniversary Jaguar single-coils
CONTROLS: Lead circuit controls (slide switch down): On/off slide switches for neck and bridge pickups, volume, master tone; two-position slide switch for bass-cut "strangle" circuit. Rhythm circuit controls (slide switch up): Two thumbwheel controls for neck pickup volume and tone
EXTRAS: Embroidered 60th Anniversary case. Available in Mystic Lake Placid Blue and Mystic Dakota Red. Also offered in Ultra Luxe version which has two humbuckers, a 25 ½" scale, and no trem
FACTORY STRINGS: Fender USA 250R nickel plated steel .010–.046
WEIGHT: 9.4 lbs (as tested)
CONTACT: fender.com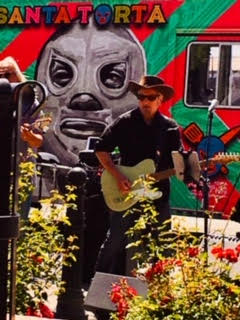 Art Thompson is Senior Editor of Guitar Player magazine. He has authored stories with numerous guitar greats including B.B. King, Prince and Scotty Moore and interviewed gear innovators such as Paul Reed Smith, Randall Smith and Gary Kramer. He also wrote the first book on vintage effects pedals, Stompbox. Art's busy performance schedule with three stylistically diverse groups provides ample opportunity to test-drive new guitars, amps and effects, many of which are featured in the pages of GP.