Outstanding playability and superlative, versatile tones add up to one of the finest examples of contemporary guitar-building on the market.
Pros
+

Five killer tones.

+

Great resonance everywhere on the fretboard.

+

Sharp looks.
Cons
-

Neck may be too thin for some players.

-

Pricey.
You can trust Guitar Player. Our expert reviewers spend hours testing and comparing guitar products so you can choose the best for you. Find out more about how we test.
If you've ever dreamed of a guitar that weaves together the best parts of a Fender Stratocaster and a Gibson Les Paul, you'll surely want to check out the new Ernie Ball Music Man Sabre.
Like many a Strat, the Sabre has a 25.5-inch scale-length fretboard, strings that travel in straight lines to their respective tuners (minimizing friction at the nut), a vibrato bridge, bent-steel string saddles, a double-cutaway body (with a backside comfort cut where it hits your ribs) and a diagonally mounted five-position pickup selector. But then, like many a Les Paul, the Sabre offers dual humbuckers, boosted tension on the higher strings (due to their tuners being closer to the nut), a wide-radius fretboard and a 3 /8ths-inch thick contoured and bound flame-maple top.
Related only in name to the Sabre that Music Man offered in the late '70s and early '80s, this new Sabre is available in four schemes — a range that spans the shimmering Honey Suckle model (lemon burst with chrome hardware) to the decidedly more lethal-looking Cobra model reviewed here.
I dig how the Cobra's dusky hues and obsidian-black hardware team up to project a dangerous rock vibe. The vibrato arm, pickup covers and bridge cover (which makes a nice palm rest) are actually matte finished. They're so black and gloss-less they look and feel like they survived the fires of hell.
Pick up the Sabre and the first thing you'll likely notice is the zippy feel of its slender neck. The simple oil and wax polish on this sculpted hunk of roasted maple is nothing short of superb, as it delivers that coveted ultra-smooth (but non-sweaty) gigged-on-for-decades feel.
However, with its shallow C cut, the Sabre neck is thin, so if you're used to mid-size neck profiles or thicker, it may feel a bit scrawny, particularly near the nut. Measuring with a caliper, I found the strings to be closer together at the nut than on an '08 Stratocaster and '03 Telecaster, and about the same width apart as the strings are at the nut on an '01 Les Paul.
Interestingly, as is the case on other Ernie Ball Music Man double-cutaways, the Sabre's strings splay outward enough that they're slightly farther apart at the bridge than they are on those other three guitars I just mentioned. If you use hybrid picking, you'll likely be a fan of this "fan," because by the time the strings reach your pick-hand fingers, there's plenty of plucking room.
So far, I have performed four Jefferson Starship concerts with the Sabre, running it through either rented Fender Hot Rod DeVille 212 combos or a Gilman Mamba head and cabinet. From the very first soundcheck, I've been impressed by how confidently this guitar sings onstage, and I haven't stumbled upon a single dead spot anywhere on the neck. I credit that boosted sustain not only to the guitar's great materials and solid construction but also, perhaps, to having its pickups mounted directly on the body in the superstrat tradition.
From aggressive bridge-pickup lead timbres to creamy, Clapton-esque tone-knob-all-the-way-down "woman" settings, the Sabre is a versatile tone tool. The two in-between sounds — positions 2 and 4 on the selector — are great, too, and serve up either the two outside or two inside coils of the pickup pair, respectively. When playing clean, these settings are noticeably lower in output than what the full-humbucker sounds deliver, but a little compression — or a lot of distortion — evens things up nicely.
After my first gig with the Sabre I swapped its .010 string set for a set of .009s. It could be my imagination, but with the Sabre's bridge set non-floating (and with zero give during string bends), a .009–.042 set seems to offer more string tension on this instrument than it might on other 25.5-inch-scale guitars, making bends more satisfying. Must be due to that tried-and-true, four-plus-two Music Man tuner arrangement!
The only other accoutrement I'd consider swapping out on this instrument is the volume pot. Call me finicky, but, being a player who rides the volume quite a bit (to clean things up in overdrive situations), I prefer a pot with a more linear taper in the lowest range, because when this Sabre's knob nears zero, the signal suddenly seems to fall off a cliff into silence.
Overall, I am so thrilled with the Sabre's playability and versatility that, well, I ain't done with it yet! When possible, I enjoy the convenience of traveling with just one guitar, and this guitar does just about everything I need it to do — from surf-adelic humbucker-through-reverb-tank textures to searing hot solo sounds to whammy-bar mayhem. I plan to take it on the next run of shows. As you can undoubtedly tell from my enthusiasm for it, the Ernie Ball Music Man Sabre easily earns our Editors' Pick award.
Specifications
CONTACT music-man.com
PRICE $3,199 street, hardshell Music Man case included
NECK Roasted maple
NUT WIDTH 1 11/16"
FRETBOARD Maple, rosewood or ebony; 25.5"-scale, 10"-radius
FRETS 22 high-profile medium-width stainless steel
TUNERS Schaller locking
BODY Polyester-finished maple-bound flame-maple-topped Okoume
BRIDGE Music Man fulcrum tremolo with bent-steel saddles, cover
PICKUPS wo Music Man custom-wound ceramic-magnet humbuckers
CONTROLS Master volume and tone, 5-way blade selector
FACTORY STRINGS Ernie Ball 2240 Regular Slinky RPS .010-.046
WEIGHT 7.5 lbs
BUILT USA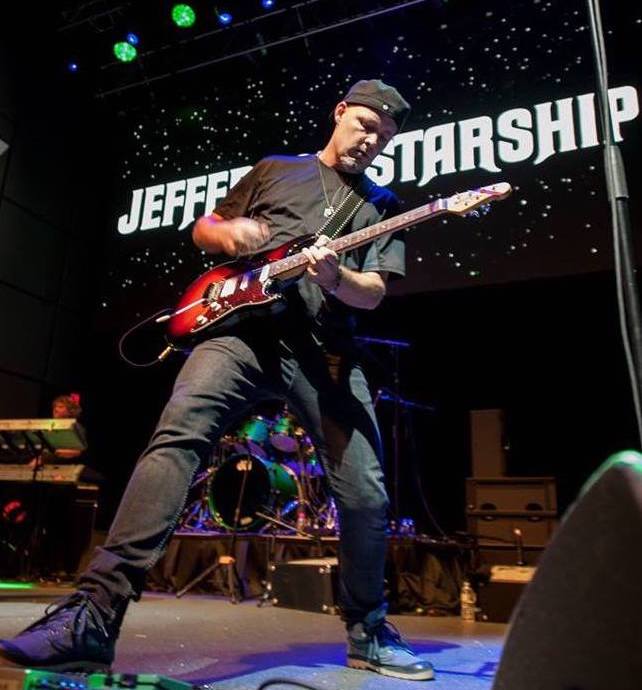 Los Angeles Editor, Guitar Player
Whether he's interviewing great guitarists for Guitar Player magazine or on his respected podcast, No Guitar Is Safe – "The guitar show where guitar heroes plug in" – Jude Gold has been a passionate guitar journalist since 2001, when he became a full-time Guitar Player staff editor. In 2012, Jude became lead guitarist for iconic rock band Jefferson Starship, yet still has, in his role as Los Angeles Editor, continued to contribute regularly to all things Guitar Player.
Watch Jude play guitar here.