This most-welcome cadre of DOD reissues features analog circuitry and true bypass
Pros
+

Overdrive Preamp 250: A good all-around rock distortion box

+

Envelope Filter 440: Awesomely funky auto-wah sounds. Handy voice switch

+

Meatbox Subsynth: Delivers a broad range of low-octave effects
Cons
-

Overdrive Preamp 250: Gain setting determines output. No tone control

-

Envelope Filter 440: None

-

Meatbox Subsynth: None
You can trust Guitar Player. Our expert reviewers spend hours testing and comparing guitar products so you can choose the best for you. Find out more about how we test.
Founded in 1974 by David Oreste DiFrancesco (who contributed the company initials) and John Johnson, Salt Lake City – based DOD became one of the major players in the burgeoning effects market of the 1970s and '80s. The trio of pedals featured here are part of a group of reissues that are underway now that DOD and its high-tech offshoot DigiTech are back in business under the ownership of Korea-based Cor-Tek, which is the parent company of Cort Guitars.
The Overdrive Preamp 250, Envelope Filter 440 and Meatbox Subsynth all feature analog circuitry, mechanical foot switches with a true bypass, input and output jacks, and a nine-volt adapter jack. They can also be battery powered, which is a convenience many pedals don't offer (adapter and battery not included). The bottom plate must be removed to install a battery and there's not much else to see, just the back of the PCB covered by a piece of foam rubber.
I tested these pedals with a Fender Telecaster, a Gibson ES-335 and a new PRS Myles Kennedy signature model equipped with Narrowfield pickups, running them through Fender Deluxe Reverb and Tonemaster Princeton Reverb amps.
OVERDRIVE PREAMP 250
One of the company's earliest products was the Overdrive Preamp, which in time had "250" added to its name. Originally offered in a sheet-metal enclosure, the pedal eventually received a custom die-cast aluminum housing that differentiated DOD pedals from those of MXR, which mainly used Bud box enclosures. The Overdrive Preamp 250 on review here wears a gold sparkle finish and features gain and level controls.
Similar to the MXR Distortion+ but with silicon diodes that increase the output and dramatically change the texture of the gain, the ODP 250 dishes out grind from the moment the gain knob is cracked open and goes into toothy saturation from about 11 o'clock until the knob is maxed, which is where the distortion is the raspiest and the volume is the loudest. The output is dependent on the gain setting here, so this is not a clean booster. The ODP 250 walks the line between fuzz and distortion, and it's a great all-rounder for lead and dirty rhythm, where its responsiveness to playing touch are welcome attributes. You may have to work the guitar's tone control to keep the high-gain grit in check, but it nails old-school rock distortion and is a nice contrast to the tube-style pedals so prevalent nowadays.
The Overdrive Preamp 250 hearkens to a time when designers were trying to figure out how to make solid-state pedals (and amps) that sounded like tube circuits, before Ibanez cracked the code with the TS-808. Ironically, Oreste made his first distortion pedal in the '60s while a missionary in South America, where local guitarists asked if he could build something to give them the "Satisfaction" sound. Since he didn't know about Keith Richards' use of the Maestro Fuzz Tone at the time, Oreste reverse-engineered the FZ-1's sound with a circuit that used cascaded 12AX7 tubes.
Specifications:
CONTROLS: Gain, level
FOOT SWITCH: Mechanical on/off
I/O: Input, output, 9VDC jack (adapter not included)
DIMENSIONS: 4.68" x 2.63" x 2.25" (LxWxH)
EXTRAS: Analog circuit. True bypass with LED. Can be battery powered
WEIGHT: .62 lbs
BUILT: China
ENVELOPE FILTER 440
The sparkle-green Envelope Filter 440 is a two-knob auto-wah that responds to picking dynamics to produce effects similar to working the rocker on a wah pedal. The 440's sounds can be shaped in various ways with the level and range controls, along with a two-position toggle switch that alters the frequency sweep from brighter and more vocal in the up position (where the sound is the most wah-like) to bassier and whooshier in the down position.
Setting the switch up produced tones that instantly reminded me of the Grateful Dead's "Estimated Prophet" (Jerry Garcia probably tracked the funky lines with a Mu-Tron III pedal), while flicking the switch down yielded chewier textures imbued with a "bow wow" inflection that can be cool for rhythm playing, where adjustments in picking can evoke an almost phaser-like swooshiness that sounds great with distortion.
Specifications:
CONTROLS: Level, range, voice switch
OTHER: I/O, dimensions, weight and country of origin identical to Overdrive Preamp 250
MEATBOX SUBSYNTH
The Meatbox tracks well on single lines and somewhat less so when playing intervals, which can induce a little gronkiness to the brew — all part of the fun of analog technology that's represented by this cadre of most welcome DOD reissues
Another remake of a classic, the Meatbox Subsynth debuted in the '90s alongside the Gonkulator ring modulator, Milk Box compressor and others. It produces a subharmonic synthesized note in the 30-60 Hz range. This update sports red paintwork emblazoned with a fly, and four controls: octave (varies the amount of octave sound; full-up is 100 percent wet), low, output and sub (adds subharmonic content).
The effectiveness of the sub control begins around noon, and the sound gets progressively deeper and more rumbling as you turn it up. I liked using the Meatbox with octave and sub both around one o' clock and the low and output knobs at maximum. Pushing it with an overdrive pedal really makes this thing come alive, and I used both a TWA SH9 and the aforementioned Overdrive Preamp 250 to coax grinding, low-down tones that were a blast for low-string riffing.
Specifications:
CONTROLS: Octave, low output, sub, low
EXTRAS: Allows splitting the output into wet and dry signals by using a TRS cable
OTHER: I/O, dimensions, weight and country of origin identical to Overdrive Preamp 250
Visit DigiTech for more information.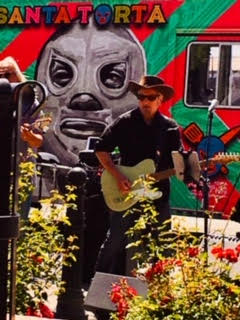 Art Thompson is Senior Editor of Guitar Player magazine. He has authored stories with numerous guitar greats including B.B. King, Prince and Scotty Moore and interviewed gear innovators such as Paul Reed Smith, Randall Smith and Gary Kramer. He also wrote the first book on vintage effects pedals, Stompbox. Art's busy performance schedule with three stylistically diverse groups provides ample opportunity to test-drive new guitars, amps and effects, many of which are featured in the pages of GP.