"You Pick Up a Les Paul and It's Heavy and It Really Means Something – It Means Business": Jeff Beck on His Les Paul Love Affair
Watch His Matchless Technique Up Close in this Jaw-Dropping Performance of the Beatles' "She's a Woman."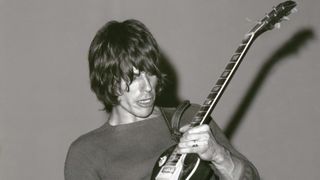 (Image credit: Robert Knight Archive/Redferns)
For years, the Beck-Strat marriage has been fruitful and faithful – can you imagine Jeff Beck's groundbreaking '70s and '80s records without his alternately refined/skunky Strat tones and lithesome whammy bar wizardry?
But you don't have to rewrite history to put a Paul in his hands.
In the wake of Beck's mid-'60s stint in the Yardbirds, he formed the Jeff Beck Group, whose 1968 album, Truth, is a showcase for his brief love affair with the Les Paul electric guitar.
Beck's fuzzed-out fills behind Rod Stewart's vocals on "Shapes of Things" whet our appetite for the main course, which Beck delivers in his subsequent solo. Here, his wailing tone is somewhere between Janis Joplin's boozy alto and an air-raid siren dipped in honey.
A Fender man while with the Yardbirds, Beck turned to the Paul after being impressed by Clapton's stellar Les Paul work with John Mayall.
In the December '73 issue of Guitar Player, Beck said that one of the things he dug about the Les Paul was its robust feel. "Fenders are cheap in feel," he remarked. "You pick up a Les Paul and it's heavy and it really means something – it means business.
"The Fender was nice because you could grip it like a weapon and really chunk out the chords, but when you came to the more subtle stuff it wasn't there. After a while I got so used to the Les Paul, there was no turning back. I picked up my Fender and thought, 'How the hell did I ever play this?'"
Beck eventually found the answer to that one and became disenchanted with Pauls, contending, "I think I can sound more like myself with a Strat." (Blow by Blow, in '75, marked the end of his Paul fling.)
Ah, we'll always have Truth.
Order Truth here.
All the latest guitar news, interviews, lessons, reviews, deals and more, direct to your inbox!
Guitar Player is the world's most comprehensive, trusted and insightful guitar publication for passionate guitarists and active musicians of all ages. Guitar Player magazine is published 13 times a year in print and digital formats. The magazine was established in 1967 and is the world's oldest guitar magazine.
When "Guitar Player Staff" is credited as the author, it's usually because more than one author on the team has created the story.