"You Gotta Really Want to Do This Thing and Do It for the Love of It": Steel-Guitar Pioneer Marian Hall Shares Some Age-Old Wisdom for Musicians
Having played and recorded with the likes of Gene Autry and Merle Travis, the late maestro passed on some hard-earned knowledge in this enlightening interview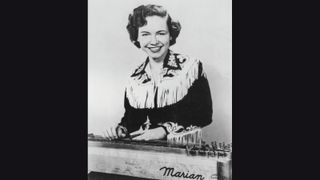 (Image credit: PHOTO COURTESY OF ANDREW VOLK)
Marian Hall was a steel-guitar pioneer. I was introduced to her by my pal, and fellow steel player, Cindy Cashdollar, who was good friends with Marian up until her death in 2006.
Marian grew up in Los Angeles and started playing professionally in her teens with her sister, Joanie. She then branched out on her own and joined the house band of the early country music TV variety shows Town Hall Party and Ranch Party.
Over her more than 30-year career, Marian played and recorded with an impressive list of musicians, including Gene Autry and Rosemary Clooney, Johnny Bond, the Collins Kids, Rose and Joe Maphis, Tex Ritter, Merle Travis, Patsy Cline and many others.
It was enlightening to speak with her about her start in the business and hear the advice she had for young players.
I'm particularly fascinated with women who started out in the music business a long time ago.
It was a lot different then. Nowadays when you look around, there's at least one female in every band on TV or whatever, if not two, but in my day it was really an oddity.
What year did you begin your career?
I got my very first job in 1952. I played professionally from then until about 1985.
How did you start playing guitar?
When I was eight or nine, my sister [Joanie] and I took music lessons at a store down the street. The teacher was Hawaiian, and he taught me how to play a six-string lap guitar. Joanie and I put together an act, and played and sang together. We called ourselves the Saddle Sweethearts.
I had an Oahu six-string with fake mother-of-pearl on it, and a little tiny amp to match. We got on one of the first TV shows. It was really primitive.
Then, when I was 15, I got my big break and my first job on my own, in Alaska. When I got through that gig, I was viable. I came back and had agreed to work for a guy named Tex Wallace, but it was a couple of weeks before that job started, so I went to work for [bassist] Wayne West in a little bar. He liked my playing so much that he offered me $13 a night. Scale was $12 back in those days.
How many sets did you play each night?
Five! And for a while there I would work a double shift on Sunday because they'd have a band in. Sometimes I would work both shifts, and that would mean…
Ten sets!
Yes. Eleven-hour days. Looking back on that, I can't even figure how I did it. The ideal to me is about three sets – the first one to warm up, and the second two to really play. And then after that I think you start fading a little bit, unless it's just something really inspiring.
Of all the musicians you backed up, who left the biggest impression on you?
What probably meant the most to me was when I worked for Tex Williams. Tex was a really elegant guy. [The musicians] got to do anything we were capable of doing. In some situations you're limited; they want you to play within a certain parameter. But with Tex, any bright idea we got, he'd let us do, so that was great fun.
I also loved working with Merle Travis, just because I respected him so much. The man was brilliant. And besides, he was a pioneer, and I have a lot of respect for the first guy who does anything.
What advice would you give to a young person, especially to a young woman who is going into the music business as a performer?
First of all, you've got to want to be a musician. If you could do something else and be just as happy at it, I recommend that you do it. You gotta really want to do this thing and do it for the love of it.
Then, just learn everything that you can learn, and enjoy absorbing all of the knowledge that you can.
And from the female standpoint, don't be a girl. Well, that may not sound very nice in print, but you know what I mean: Don't be high maintenance; it isn't fair to the guys, anyway.
Just be a musician. If you're gonna be a musician, carry your weight, musically and otherwise.
For more information about Sue Foley, visit suefoley.com.
All the latest guitar news, interviews, lessons, reviews, deals and more, direct to your inbox!