Watch Nils Lofgren's Ridiculously Good Acoustic Rendition of "Keith Don't Go"
The Crazy Horse and E Street Band guitarist reveals the roots of his 1975 ode to Keef.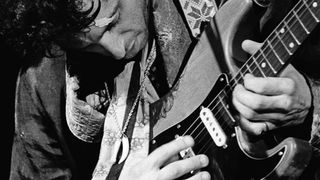 (Image credit: Getty)
"It was a sincere plea to one of my musical heroes to stick around and keep sharing his gifts with the world," says Nils Lofgren, speaking about his driving rocker "Keith Don't Go (Ode to the Glimmer Twin)."
Featured on the guitarist's eponymous 1975 debut album, the song has become one of Lofgren's most enduring tracks (he's never played a show without performing it), and over the years he says the sentiments behind it have grown in meaning.
"Throughout the decades, I have greater appreciation for the people who created the music that inspired me," he says. "And while Keith Richards is alive and well – nothing to do with the song, of course – I'm happy knowing that my tribute to him has meant so much to so many people."
The Lost Recording
The song's origins date to 1973, when Lofgren, a sometime member of Crazy Horse, was part of Neil Young's band for the Tonight's the Night album and its subsequent tour. That record had been made in tribute to Crazy Horse guitarist Danny Whitten and roadie Bruce Berry, both of whom died of drug overdoses.
"When we hit the U.K.," Lofgren recalls, "I kept running into Keith Richards' friends, who were quite worried about him. It was a recurring part of our conversations – they were very concerned about his health. Nobody wanted to see Keith join other rock legends who died way before their time."
Lofgren originally dismissed such worries, but he eventually took them to heart and set about putting his feelings to music.
Armed with a forceful riff he had already laid down on cassette, he seized on a title ("'Keith Don't Go' – that's pretty direct") and quickly wrote out lyrics. "Once I had the concept, the actual writing didn't take long," he says. "The whole thing came pouring out."
At the time, Lofgren was leading his band Grin. They recorded a version of the song with his producer and friend David Briggs, who was also Neil Young's producer, and with assistance from Young himself.
"Neil was passing through town, and he joined us in the studio," Lofgren says. "He sang and played piano on the track, which was great because he doesn't normally play piano on other people's sessions."
The recording was never released, and Lofgren didn't even know its whereabouts until Bob Dawson at Bias Studios in Springfield, Virginia, discovered the master many years later. The track was subsequently included on Lofgren's 2014 box set, Face the Music.
"It's actually my favorite version of the song," the guitarist says. "I like my own recording, but there's something about Neil's haunting voice that gets to me."
"Everything Just Flew"
A year later, Lofgren signed a solo deal with A&M. With Briggs at the helm, and working with the rhythm section of bassist Wornell Jones and drummer Aynsley Dunbar, he set about recording a group of numbers, including "Keith Don't Go."
In pre-production, Briggs worked vigorously with Lofgren and Jones to get the songs down cold. "It was a smart approach," Lofgren says. "When Aynsley joined us, he could respond to two guys who were really confident about the material. Everything just flew."
For the song's raging rhythm tracks and searing lead solo, Lofgren paired a Fender Strat electric guitar with a blackface Super Reverb guitar amp that he bought in the 1960s. "That amp had great speakers," he says. "When you dialed it to seven or eight, it started to saturate and got really warm and ballsy. I loved that sound."
What Does Keith Think?
Surprisingly, "Keith Don't Go" was never issued as a single, but thanks to its lyrical theme, it quickly took on a life of its own and became a fan favorite at shows.
"People really caught on to it," Lofgren says. "I mean, who doesn't love Keith and the Stones? It's amazing when I play it live, particularly in the U.K. People yell out the simple chant. It's always a joyful experience."
As for the big question – has Keith Richards ever mentioned the song to him? – Lofgren laughs. "No, he hasn't," he says. "I don't even know if he's heard it. I've been blessed to have met him a number of times, and he's always been super friendly, but no, it's never come up."
Lofgren balks at the idea of ever mentioning it to Richards himself. "Oh, no, I couldn't do that," he says. "Whatever he feels about it, or if he's heard it, the bottom line is it came from the heart and the words speak for themselves. It was an emotional sentiment to a musical hero, and I would hope it were taken as such, if he ever hears it."
Buy Face the Music here.
All the latest guitar news, interviews, lessons, reviews, deals and more, direct to your inbox!
Joe is a freelance journalist who has, over the past few decades, interviewed hundreds of guitarists for Guitar World, Guitar Player, MusicRadar and Classic Rock. He is also a former editor of Guitar World, contributing writer for Guitar Aficionado and VP of A&R for Island Records. He's an enthusiastic guitarist, but he's nowhere near the likes of the people he interviews. Surprisingly, his skills are more suited to the drums. If you need a drummer for your Beatles tribute band, look him up.