Third Man Records Artist Lillie Mae Reveals How She Ended Up on Jack White's Label
The Nashville multi-instrumentalist talks inspiration and songwriting.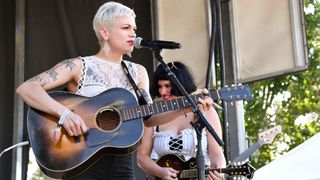 (Image credit: Erika Goldring/WireImage)
There are dedicated music lifers who grind out gig after gig, and then there are musicians who are literally born into the business. Nashville-based singer-songwriter Lillie Mae can lay claim to both. Born with a prodigious musical talent and a busker's hustle, Lillie Mae Rische could strum a guitar before most kids can write their own names.
She honed her chops on the road, traveling with her family in an RV and performing alongside her parents and siblings at churches and makeshift venues around the country. "My style of playing with a pick just developed around playing live," she says of her early touring days. "I play this way because I couldn't keep up, or you could never hear it, so you have to play with a pick as opposed to doing some fingerpicking stuff."
After the family band split, she and her siblings landed a regular gig under the name Jypsi at Layla's Honky Tonk on Broadway in Nashville. They inked a seven-album deal with Sony and charted two country singles – "I Don't Love You Like That" and "Mister Officer" – before the label dropped them.
Lillie Mae kept writing songs and playing live, though, eventually earning a spot in Jack White's touring band. When it came time to focus on her own songs, White signed her to his Third Man Records.
Lillie Mae's songwriting is rooted in traditional country music, but on her latest album, Other Girls, she wraps them in surrealistic melodies and high-desert drama. Recorded with producer Dave Cobb and a small circle of family and friends at Nashville's RCA Studio A, the record finds her leaning into her classic country roots on the yearning shuffle "Blue Heart," and she channels Led Zeppelin's "Babe I'm Gonna Leave You" on the minor-key "You've Got Other Girls for That."
You were born into a traveling musical family. At what point did they put a guitar in your hands?
I was four when I started playing guitar; I was seven when I started playing fiddle. The first songs I ever learned on guitar were "All I Have to Do Is Dream" by the Everly Brothers and "Sloop John B" by the Beach Boys.
Did you become more proficient on fiddle or guitar first?
Fiddle, for sure. Fiddle was my main instrument. I always played guitar for myself, but I didn't record on guitar 'til I was 19. My brother is one of the best guitar players alive, and that's the truth. There was no need for a guitar player in our family outfit growing up, so I just played it for myself.
You busked and had a regular gig on Broadway in Nashville before joining Jack White's band. How did you land that?
My sister Scarlett and I had been called in for a session. They were looking for a female fiddle player and a female mandolin player, so they called me and asked if I could bring my sister. Jack was working on a soundtrack at the time and Blunderbuss, his first solo album [from 2012]. The first thing that we did was for this soundtrack, but they just kept calling, so we did a bunch of session work over there before they asked if I'd go on tour. And I went on to do the next tour, as well.
When did he first hear the songs that led to you signing with Third Man?
When we first started recording, I was always playing in between stuff, just picking and singing. I think that, in one of the first instances, I was literally writing a song or had just written it, and I was trying to play it back. He overheard it.
That led to your solo record, Forever and Then Some, which had a straight-forward country style, with lots of traditional instruments. What influenced the change in direction on Other Girls?
It just happened naturally. I play with lots of people, and the type of music that I've played for ages has a lot of soloing or musical parts. There aren't any solos on the new album, which is very different for me, so it's just particular to that album, I think. It's focused less on musicianship and more on the songwriting, I reckon.
Was there a particular type of album that you were kind of setting out to make?
No, not at all. It never is whatever you expect that you're going to do. It's always a little different. I just had a boatload of songs written. Those are just the ones that made the cut, but there was nothing ideal in mind.
What inspires you in your guitar playing?
My favorite type of guitar playing is Chet Atkins-style fingerpicking. I love that stuff. I do a little bit. I cross-pick a lot. I'm not a very good mandolin player, because my wrist doesn't move very fast, so I started playing that cross-picking style simply because I could never get my wrist to move fast enough to keep up with the fast bluegrass rhythm. I just developed that in-between style. But my heart lies with fingerpicking.
When I really discovered how much I loved guitar, my friend Luke Skidmore, a really amazing fingerstyle picker, sat with me and taught me a lot when I was, like, 16. I recorded with his band on projects for fun. He gave me a Jim Croce album and some other fingerstyle picking stuff, and I remember just sitting there for hours trying to figure it out.
Do you find yourself using that technique for songwriting?
I do a lot at home. I don't ever do it live. But if I'm at home or something, I play with my thumb. That's what comes natural to me.
There is some impressive picking on songs like "Golden Year."
Well, thank you! I wrote it the day before my golden year birthday was over. We were playing at the Refuge, which is an amazing place in Appleton, Wisconsin. Afterward, I remember I was grabbing stuff and carrying it out, and I just heard it. It was like all the parts were being sung to me by angels, and that's the truth. So I was like, Okay, I'll find a pen. My brother had just cleared out of his room, and I sat down on his guitar case and wrote it all out.
But that was one of the songs where all the parts were written with the song, and the ending, especially, was just natural to the song. Usually I write on the guitar, but for this instance I didn't have an instrument. It just came through me so quickly, I had to get it out. I was just imagining the chords in my head.
What guitars are you partial to playing?
The only guitar that I actually own myself is an old Harmony guitar that was given to me by another friend ages ago when I was 15 or 16. For years, I have played my brother's Bourgeois. I've been playing on my boyfriend's 1952 Gibson for this whole tour. Actually, when we were recording I was playing that. It's a little '52 LG acoustic guitar.
I played a Martin Civil War reissue on one song, and I just wasn't in love with it. But Jim Lauderdale dropped a couple of his guitars off at the session, because he knew I didn't have anything at the time, so he swung over a Collings, a couple different choices to play. So I just played everyone else's guitars on the album, which is what I'm doing now. That's always what I do. It's pretty funny.
You may be the first guitar player I've ever spoken to who just plays whatever's there.
I know. I depend on the grace of other people. My boyfriend has a pretty amazing collection of guitars, so I'm really lucky to just get to be around these wonderful instruments. My dream guitar is a Gibson Byrdland, and hopefully I'll have one one day. I love that thin neck and short scale, but they're awful pricey. Maybe I'll get one when I retire. Or a Hofner. I'm a big fan of Hofner electric guitars.
Order Lillie Mae's Other Girls from Third Man Records here.
All the latest guitar news, interviews, lessons, reviews, deals and more, direct to your inbox!
Jim Beaugez has written about music for Rolling Stone, Smithsonian, Guitar World, Guitar Player and many other publications. He created My Life in Five Riffs, a multimedia documentary series for Guitar Player that traces contemporary artists back to their sources of inspiration, and previously spent a decade in the musical instruments industry.