The Next Time Someone Tells You the Age Of The Guitar Hero Is Over, Just Point Them Toward Anthony Pirog
The prolific musical savant takes guitar tone to new extremes.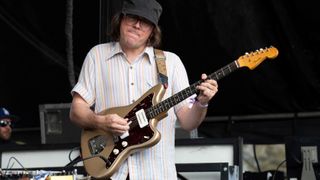 (Image credit: Jim Bennett/FilmMagic)
Although he has chops to spare, Anthony Pirog isn't your prototypical blues-rock virtuoso or metal shredder. Like many modern electric guitar heroes, Pirog is musically multilingual. In his case, this means that he's equally conversant with Danny Gatton-esque country picking, jazz, free improvisation and post-rock experimentalism.
Recently, he's provided plenty of places to point, including three albums released within months of each other. Music from the Anacostia Delta (Cuneiform) features the Spellcasters – Pirog and fellow Telecaster-wielders Joel Harrison and Dave Chappell – whose music demonstrates the wide range of tones available from Leo Fender's revolutionary instrument.
Also, from Cuneiform came the self-titled record Five Times Surprise, a free-improvisation supergroup featuring pioneering avant-guitarist Henry Kaiser, Aquarium Rescue Unit drummer Jeff Sipe, Dixie Dregs bassist Andy West and violinist Tracy Silverman.
Finally, 2019 saw the release of Anthropocosmic Nest, the second album by the Messthetics, Pirog's band with the former Fugazi rhythm section of bassist Joe Lally and drummer Brendan Canty. The recording reflects their cohesion after touring almost constantly since their 2016 self-titled debut.
"We played most of these songs live for close to a year, over more than 200 shows," Pirog explains, "whereas our first record was done after only a handful of performances." As with so many modern guitarists, Pirog is a pedal pusher and, on Anthropocosmic Nest he isn't afraid to use them.
"Touch Earth Touch Sky," for example, displays a drop of distortion and a deluge of atmosphere. "I turned on my Rat pedal and all the ambience for that one: the Boss DD-7 for reverse delay, the EarthQuaker Afterneath reverb, the Moog Moogerfooger MF Delay, as well as Strymon's Flint and Big Sky pedals," he explains. "I'm swelling everything in with my Boss volume pedal."
The guitarist also added a Valhalla Shimmer reverb plug-in to the mix. On the same tune, Pirog revisits some now-retro analog guitar synthesis. "I wanted the end to sound like Tibetan horns," he says. "I played the low notes with the Roland G-707 guitar driving Roland GR-300 and Korg X911 guitar synthesizers. It was the GR-300 again for the higher solo at the end."
Over Lally's catchy bass line for "La Lontra," Pirog solos with some intermittent octave fuzz. "That's the Greer Super Hornet," he says. "It has a momentary octave switch. When I start hitting the first double-stop, I'm tapping the switch with my foot so it spits out the octaves."
The tune "Assignment" offers octave madness of its own. "My DigiTech Whammy pedal is set for an octave up," he reveals. "I start tapping it like a momentary switch, and then loop it with the Electro-Harmonix 16 Second Digital Delay reissue, using its octave slider to make it glitch out."
Having played these compositions live for so long, Pirog found it easy to lay down the initial tracks. But Anthropocosmic Nest is not a live-in-the-studio project. Pirog added various overdubs to create the kind of sonic interest that encourages repeated listening. This begs the question of how the band will now perform the music live.
"I can't bring a 24-pin synth setup out with us to interpret "Pacifica," so I got the Meris Enzo pedal and found a guitar-synth setting on that to play the melodies," he says. "The overdubbed parts won't be played live, but they were just for extra texture. Besides, when I was very young, I decided that a record and a live performance don't have to be tied together. I watched the Led Zeppelin movie The Song Remains the Same a lot, and that didn't sound anything like the records."
The Messthetics and Five Times Surprise albums were made at roughly the same time, resulting in some moments of creative cross-pollination. For example, Henry Kaiser's use of the Red Panda Tensor and Montreal Assembly Count to Five pedals inspired Pirog to use both devices on the Anthropocosmic Nest track "Drop Foot."
"I set the Montreal Assembly pedal to an octave up in reverse, as a quick delay," Pirog explains. "I played a C barre chord and hit the hold button on the Tensor, which was also set to octave and reverse delay. I've been using my Boss DD-7 for reverse delay, but I'll be switching to the Tensor."
When the Messthetics formed, Pirog thought it would be a high-intensity improv group like Five Times Surprise. Instead, the Messthetics began intuitively putting songs together, crafting dynamics and developing group vocabularies. Says Pirog, "We rehearse three times a week and record our rehearsals so we can listen back and spend time on the ideas – whereas Five Times Surprise was 100 percent improvised, aside from our cover of the Mahavishnu Orchestra tune "You Know You Know." We recorded four or five hours of material and Henry edited it into the record. We had specific ideas for improvisations, but they weren't song structures. It was five people going for it."
On both Five Times Surprise and Anthropocosmic Nest, Pirog employed his '62 Fender Jazzmaster with Joe Barden pickups, strung with D'Addario .011s. The former album also saw him play his '69 Fender Telecaster Thinline for overdubs. He used only his '65 Fender Deluxe Reverb for that outing, but he adds a Marshall 2061X with a 1x12 Marshall extension cabinet when recording and playing with the Messthetics.
As for picks, Pirog's plectrum of choice is a BlueChip in an elongated teardrop shape that is custom cut for him. At $35 apiece, the picks are luxury items. "I have three in one pocket at all times, and a case in my other pocket with five more," he says. "It's hard to take them out and see $100 invested in three picks, but I was impressed that the attack noise wasn't as abrasive as the Claytons I was using."
Though Pirog is committed to his various projects, don't expect Five Times Surprise to hit the road anytime soon. "We'd like to play, but everyone lives in a different part of the country," he says. "Still, I think if something came up, we would do a show."
Until then, Pirog can be seen in clubs and theaters around the world with the Messthetics. The band's show at 2019's Big Ears Festival was, for many, the guitar highlight. In a schedule that also featured guitar legends David Torn and Bill Frisell, Pirog's performance felt like a torch was being passed to a new generation.
All the latest guitar news, interviews, lessons, reviews, deals and more, direct to your inbox!