The Gospel According to Taj Mahal Part 2: From North America to Hawaii
In part two of Guitar Player's interview with Mahal, he tells us how the 12-string came into his life, talks slide guitar, Ben Harper and more.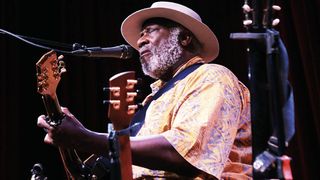 (Image credit: Amy Richmond)
Forget the guy from the old Dos Equis commercials – Taj Mahal is the most interesting man in the world. When he holds court on his front porch, spinning yarns into a tapestry connecting nearly eight decades of singular experience, there's no way all that goodness is going to fit into one short feature.
In part one, we set the stage with the international treasure at his home in Berkeley, California, where he reflected on his remarkable career, trusty Regal resonator in hand.
Mahal can circumnavigate the globe in one lick, from its African origins to Caribbean adaptations, through the American filter and all the way to the Hawaiian Islands, where he amalgamates it all with the Hula Blues Band. He can explain each element, including subtle variations in phrasing, timing and articulation, and tell how a turnaround can vary from one locale to another.
He embellishes anecdotes with affable and often hysterical imitations of everyone from a West African griot to Rastafarians, Bob Dylan and Willie Nelson, all with a generous helping of Hawaiian slang or pidgin. Mahal provides cultural context for the instruments, the music and his story.
Along the way he's developed the ability to play "nearly 20" acoustic instruments. His current ambition is to learn lap slide. At 79 years into the journey of a lifetime, he still has the zeal of a kid that just got his first guitar. Says the maestro, "I could seriously spend 10 consecutive lifetimes playing acoustic music, and still never garner all of it on this planet."
What got you going on the 12-string, which first appears along with the slide on "Stagger Lee" and "Country Blues #1" from 1969's De Ole Folks at Home?
That was because of Blind Willie McTell. Now, I didn't know that Lead Belly had written "Goodnight, Irene." In fact, I'd only heard the name Lead Belly; I didn't know about his connection with Pete Seeger or anything about the Weavers. [Seeger was a Weaver when their version of "Irene" hit in 1955.] I just liked the song.
I didn't know that he played the 12-string guitar or anything about that instrument. I started hearing about the 12-string when I was 19 or 20, working on a dairy farm.
A guy who came to test the cow's milk played a Lead Belly record for me, and the sound of the 12-string stuck in my head. When I finally found one in a guitar store, I realized, "This is some serious shit!" Pardon my French. Then I ran up on Blind Willie McTell – whew! – and Charley Lincoln and Barbeque Bob.
When Leo Kottke chronicled his 12-string roots in the Holiday 2020 Frets feature, he mentioned Barbeque Bob as well as the 12-string's mysterious origin.
Right, so then there's figuring out how Lead Belly got it. The story goes that he left Louisiana for Texas and became the lead man for Blind Lemon Jefferson. He and Jefferson went across the Mexican boarder and wound up in Nogales. Hello [Tejano musician] Lydia Mendoza and guitarra de doce cuerdas, which translates to "guitar with 12 strings."
When Kottke searched his memory, he recalled that his first instrument with coursed strings was actually a bajo sexto.
Yeah, there's bajo sexto [a Mexican instrument with six coursed strings tuned an octave below standard, incorporating octave strings on the lower three and unisons on the upper, like a bass 12-string], bajo quinto [five coursed strings], and then guitarra de doce cuerdas.
And it's tuned down with the lowest string being B, E or A. [Kottke replies: "The only thing I know of Lead Belly is that the octave on his Stella's low string was actually two octaves up. I had a chance to buy his guitar, but it scared me, so I didn't."]
So after you discover the 12-string, you get into Blind Willie McTell, and that leads to "Statesboro Blues"?
Exactly. I came from Springfield over to the University of Massachusetts when the blues was taking off in the Northeast. "Statesboro Blues" is in the American musical lexicon as a result of my finding a compilation called The Country Blues produced by Sam Charters [1959, Folkways].
A bunch of tunes from that album became staples, and I liked the way Blind Willie McTell played on "Statesboro Blues." He was a ragtime player, and McTell played the 12-string with a fingerstyle that sounded like a piano in the way he made his fingers roll through the licks. Jesse Ed Davis started out on piano, and you can hear it in the way he'd roll through guitar licks with a piano style as well.
McTell was an acoustic slide player and you famously cut a version of his "Statesboro Blues," but that's Davis playing the electric slide, correct?
Right. Jesse was the first guy I ever came across that played slide in standard tuning, which is what Muddy [Waters] did. Muddy did both. The way we worked was whoever played the part best got to do it.
I showed Jesse the way I played it, and then he reinterpreted it his way with that [dotted-eighth-note] groove. At first I wasn't so sure, but I eventually realized that was the right thing to do because we took it far enough away from the older style. The rest is history.
So then Duane Allman gets sick, drinks a bottle of Coricidin medicine, listens to your version of "Statesboro Blues" and re-invents bottleneck slide?
Well, the story is in the documentary Muscle Shoals, but here's my pitch on it: Gregg Allman is Duane's younger brother, who he calls "Baby Brah." Gregg convinces Duane to go horseback riding for his birthday. The guy they get the horses from says, "Look, be careful if you take the horses up on the road. They spook when they go off the dirt and onto the tarmac."
So they get up there, and of course the horses spook. [laughs] Duane gets thrown and breaks his arm on his birthday. He's got some kind of fever, and he's pissed at baby brother for suggesting the horseback ride. He's laid up at the house. Gregg hears "Statesboro Blues" on my record [1969's Taj Mahal].
He gets a little grass, goes by, knocks on the door, leaves the record and runs away. Duane finds the record, figures it's Baby Brah, and a few hours later he calls Gregg: "Baby Brah, get your ass over here. You've got to hear this!"
Duane is sitting up in bed with his arm in a sling so he can't… [Mahal makes a motion like playing slide with his arm in a sling. At that moment, a crow comes heckling. Mahal heckles it right back, "Yo' mama too! And yo' other mama!"] Anyway, so there he is with the Coricidin bottle, and that was the beginning of it. Sky Dog could play.
Do you have a slide thought to share right now?
Well, I've always played a bottleneck style, and I'd use either glass or a stainless-steel slide on a resonator, depending on the sound I'm after. But I'd like to be able to play it lap style. My next quest is to get after that, because I absolutely love the sound.
Speaking of lap steel, Ben Harper was the Frets feature in the May issue. How did you come to meet and mentor him?
The first time I heard Ben Harper, I was in a house that they had actually sawed in half. [laughs] Anyway, we had flown in from Europe to play a concert in Claremont, California. I went upstairs and fell asleep. I awoke to the sound of a slide player taking a solo pass in a trio. I was thinking, If it sounds anything like that again, I'm going downstairs to find out who the hell this is.
When I got down there, it was Ben. He said, "Sorry, we didn't mean to wake you up." Okay. Sure guys. At first I didn't realize that I knew his grandparents, who ran the Folk Music Center, but I knew Ben was going to do what he was going to do. He wasn't just playing around; he was playing music. He was filled with the spirit of it. He's also a luthier. You can drop your D-28 off a 20-story window, and he'll come sweep up the pieces and put it back together. He's that guy.
Harper has a profound connection to the Weissenborn and a shared appreciation for Hawaiian music. You went so far as to move there and develop the Hula Blues Band. What's the key to playing Hawaiian rhythms correctly?
[He plays "The New Hula Blues."] Once you play for hula with these very shapely women rolling on the notes, you'll get it right. But my story on Hawaiian music goes back to when I was a kid. Our shortwave/longwave radio had presets tuned to stations in cities around the world, and one was Honolulu.
I remember clearly the first time I hit that button at the right time of day. I can visualize it as if I'm outside my body looking at myself standing in front of the radio. The music coming across is completely in my body, which feels like it's grounded to the Earth.
Many years later in California, I ran into one John Fahey with a Weissenborn across his lap. Hmmm. Next, I realized there was something about a sound in country jazz that I liked, a pedal steel in C6 tuning [C Mauna Loa]. Then around 1979 I heard Ry Cooder with the Gabby Pahinui Hawaiian Band: "Moonlight Lady" blew me away.
When I started getting gigs in Hawaii, I searched for the real music. I eventually discovered [slack-key master] Ledward Kaapana through [steel-guitar wizard] Bob Brozman. Ledward is a monster, but when I played with him, I found out he has no idea about what key you're playing in. He just plays music. When I moved to Kauai, I discovered that the number of musicians per square mile in Hawaii is incredible.
I started jamming with some local players, and I was surprised to find out they were into blues players like Mississippi John Hurt. We were all playing out of the same bag from a different direction. I wanted to bring out more of the Hawaiian music in the blues, and the blues in Hawaiian music.
A Hawaiian luthier named Kilin Reece schooled us in the Holiday 2019 Frets Learn column on the discovery and replication of the historic Martin Kealakai. Are you aware of that guitar?
Oh yeah, I'm working with Kilin right now. You're talking about the acoustic guitar that was the predecessor to the dreadnought. I played it and was like, "Do I need another guitar? Yes, that one!" Peter Rowan and I were just talking about that because we were over in Hawaii for a country-bluegrass thing. Hawaiian cowboys, paniolos, play that kind of music.
Is that where slack key comes from?
Here's some history: Mexican cowboys, vaqueros, were brought over to handle the cows. At night they'd break out their tequila and their guitars, and the Hawaiians would be in the bushes listening. This is how the whole paniolo thing happened.
The Hawaiians didn't know how to tune the guitars. They remembered what they heard, tuned the instruments by ear, and they called it "kī hō'alu," meaning slack key. Some of them learned to play "proper" guitar in standard tuning, but most of it is in open tunings.
What's your take on the ukulele?
The ukulele is a development that came from a small Portuguese guitar, the cavaquinho. It's got metal strings and a short scale. Luthiers from the Azores, an island region of the Portuguese coast, brought this little guitar to Hawaii and started building them there.
Hawaiians were delighted because music from the Portuguese islands is particularly good, and the instrument went from being steel string to nylon string. So the ukulele is a Hawaiian adaptation of the Portuguese cavaquinho.
Do you still have a house in Hawaii?
No, I moved that bunch down to New Zealand. At first they were grumbling, but when this pandemic hit that turned out to be the safest place.
What's in the works now?
I've got a ton of stuff backlogged. Right now we're trying to figure out how to come out of this thing. You can't look where you've been. You've got to look where you want to land.
All the latest guitar news, interviews, lessons, reviews, deals and more, direct to your inbox!