Sting Axe Slinger Jeffrey Lee Campbell's Top Tips for Guitarists
A world tour with the Police frontman taught him these simple rules for playing well with others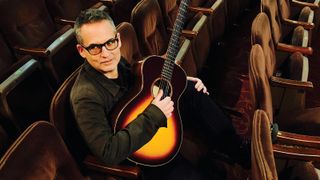 (Image credit: Jeffrey Lee Campbell)
***The following article appeared in the May 2019 issue of Guitar Player***
Jeffrey Lee Campbell was just starting out as a session guitarist in the mid 1980s when he landed the kind of gig musicians dream of: performing on a pair of world tours with Sting. The 15-month, 180-plus-show stint ran from 1987 to '88 and comprised tours for Sting's second solo studio album, …Nothing Like the Sun, and Amnesty International's Human Rights Now! benefit concerts.
Armed with a pair of Zion Strats, a Mesa/Boogie Mark III and a Roland GP-8 rackmount processor, Campbell hit the road, visiting several continents, where Sting and the band shared stages with heavy hitters like Bruce Springsteen and Peter Gabriel.
Along the way, the guitarist was praised in the music press for his searing original solos and solid groove.
Reflecting on his quick rise, Campbell jokes, "I quit music school, moved to New York, started at the top and worked my way down to the bottom."
In fact, it was just the beginning for this A-list Manhattan gun-for-hire.
Following his global circumnavigation with Sting, Campbell logged time with Jon Bon Jovi and Sam Phillips before settling into a series of steady gigs as a Broadway pit musician, rocking such Great White Way stalwarts as Mamma Mia!, Saturday Night Fever, Seussical and School of Rock. He was also tapped for the house band on VH1 Divas Live: The One and Only Aretha Franklin.
Campbell reflected on his time with Sting in Do Stand So Close: My Improbable Adventure as Sting's Guitarist, a light-hearted and engagingly self-reflective memoir published in 2018.
During some downtime following a matinee at the Winter Garden Theater, the amiable and world-wise guitarist graciously shared these lessons from the road…
1. Use Your Ego to Your Advantage
"You'd be hard-pressed to find someone in show business that doesn't have an ego, but your ego can be a healthy thing if you're able to harness if for self-confidence. For example, within a few days of being asked to join Sting's band, I found myself on Saturday Night Live soloing on his version of 'Little Wing.'
"Not only was I being watched by a national TV audience but legendary guitarist Hiram Bullock was sitting directly in front of me. Bullock had played on Sting's recording of the tune and was rumored to be coveting my gig.
"All of a sudden, my heroes had become my rivals. I had to learn to maintain my self-confidence enough to deliver the goods, keep my intimidation and awe in check, and just be cool enough to hang."
2. Work On Your People Skills
"You can go home and practice your scales and sight reading, but you can really only develop interpersonal skills through interaction. Being in a band is like being in a marriage with several different people simultaneously, except there's no make-up sex.
"If you get into a fight, you have to learn how to compromise and negotiate your way back to a healthy positive vibe. Being compassionate, self-aware and just knowing when to stop talking and give people space can really go a long way.
"It was no secret that Miles Copeland – then Sting's manager, and the big brother of Police drummer Stewart Copeland – wanted to send me packing. He went as far as to audition some possible replacements when the tour first came through England. There were certainly better guitarists than me out there, but I'd like to think one of the main reasons Sting kept me onboard was simply because he liked me."
3. Lead By Inspiration, Not By Intimidation
"Because Sting was comfortable with his own musical abilities, he wasn't threatened by anyone else's skill, and that made him a generous leader. He was content to lay back while the other band members – who included heavyweights like saxophonist Branford Marsalis, percussionist Mino Cinélu and pianist Kenny Kirkland – took their turns in the spotlight.
"When it came to maintaining esprit de corps, he was never one to lecture or preach, choosing instead to get his point across in more subtle and, arguably, more effective ways.
"When on one particular night I hit the stage obviously hungover, hiding behind a pair of shades and clearly not playing my A game, Sting didn't chew me out. Instead, during the band introductions, he casually deadpanned, 'Tonight on guitar, we have what appears to be most of Jeffrey Lee Campbell.'
"Message received, boss."
4. Don't Be a Musical Snob
"For the individual bio pages in the …Nothing Like the Sun souvenir tour programs, each band member was asked to confess a 'guilty musical pleasure,' and without hesitation I said, 'Madonna.'
"It was all in good fun, but to the more serious point, it's a pet peeve of mine when people view any music as stupid or something they're intellectually not supposed to like. If you like it, you like it. There's nothing to feel guilty about."
5. Accept That Some Gigs Just Aren't Meant to Be Yours
"Dominic Miller, the guitarist that followed me in Sting's band, has been with him since the early '90s. The way I look at it, he didn't take my gig – he took his gig. I had to come back to Manhattan to find where I permanently fit in.
"I view performing as an interesting cross-section of creating and entertaining, and I found that the older I got, the less desire I had to jump around onstage and entertain.
"I have a theory that, in music, there are cowboys and there are sheriffs. Most rock and roll performers are cowboys. They come into town, turn it up to 10 and whoop it up onstage because they are instinctively comfortable with chaos and know how to surrender without self-consciousness to the moment.
"I've learned over the years that I'm a sheriff. I like law and order. I'm much more at ease with the repetition and known quantities inherent in the studio and the Broadway pit, and finding the right gig is really about playing to your strengths.
"After the Sting tour, I worked with singer/songwriter Sam Phillips and her then-husband T Bone Burnett. Burnett told me he preferred the studio to the stage, and his rationalization was that Picasso didn't paint in front of an audience. You don't necessarily need a live audience to be an artist."
BONUS TIP…
"I'll wrap up by sharing one other story from the book. Not five minutes after being officially asked to join Sting's band, I was invited back to his SoHo loft for his birthday party.
"Because my head was in the clouds, I made the faux pas of arriving without a present. Branford Marsalis handed Sting a gift bag filled with a collection of books. When my new boss unwrapped the offering, he said, 'Thanks man, you can never go wrong with books.'
"I didn't grasp the wisdom of his words at the time, but I came to see the light over the next year. Nothing makes you appreciate a good book like a 16-hour flight."
Order Do Stand So Close: My Improbable Adventure as Sting's Guitarist here.
All the latest guitar news, interviews, lessons, reviews, deals and more, direct to your inbox!