Stephen Malkmus on Stepping Away from the Electric for Muted Psych-Rock and Acoustic Guitar Adventure
The trailblazer who changed indie-rock for good with Pavement is finding fertile ground in unplugged tones.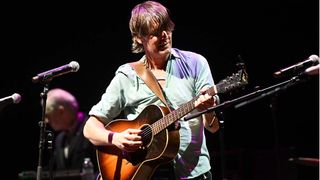 (Image credit: Scott Dudelson/Getty Images)
Stephen Malkmus will always be most associated with the skewed, slacker indie-rock sound he spearheaded – and, if we're being honest, more or less perfected – with Pavement in the 1990s.
But while that outfit called it a day as a recording unit at the close of the 20th century, the now 54-year-old singer, songwriter and guitarist has never stopped creating music.
Since then, Malkmus has released a steady stream of records with his band the Jicks, as a solo artist and as a collaborator with acts like Silver Jews. And in the past three years alone, he's unveiled a trio of wildly divergent albums: 2018's electric-guitar-centric Jicks effort, Sparkle Hard, 2019's synth-and-drum-machine-driven Groove Denied, and now, the hushed Traditional Techniques (Matador/Domino).
This newest release is another left turn for Malkmus. On it, he presents a set of songs focused squarely on his voice and 12-string guitar picking, and adorned with all manner of non-Western instruments from the Balkans, Afghanistan, Nigeria and Persia, including the stringed rabab, the flute-like kaval and percussive instruments like the udu and daf.
Which, to a degree, explains, the album's title. "I'm not saying it's traditional music," Malkmus explains on the phone from his home in Portland, Oregon, "but we do use some traditional instruments. And maybe we're using them to come up with something new."
Indeed, the album, which Malkmus has called a "self-dare" (more on that in a bit), is something new for him.
In addition to his own acoustic guitar playing and the rather unusual instrumentation, the record features the Decemberists' Chris Funk on pedal steel, Dobro, Weissenborn, Moog and autoharp (Funk produced the record as well), and some hot-wire electric guitar leads courtesy of Matt Sweeney, who shines in particular on the very Velvet Underground–inspired first single, "Xian Man."
"I thought that was going to be kind of a Tony Joe White or Gordon Lightfoot song, but Matt's solo was so Velvets," Malkmus says of the song. "So I was like, 'I gotta do some Lou Reed!'"
Beyond that, there's rich, somber strumming on "Cash Up" and "Amberjack," a hypnotic hippie-jam vibe on "ACC Kirtan" and drone-y exotica on "Shadowbanned," among other stylistic indulgences.
Mostly, though, there's Malkmus and his acoustic, which is just the way he wanted it.
"I like actual acoustic music," he says. "I've always played a lot of it. A lot of us do, you know? It has a utility in our lives." He laughs. "You don't want to always have music that's attacking you like a dog or something. It doesn't always have to be, 'Put on Exile on Main St., turn it up and drink whisky!'"
You've called this record a "self-dare." What do you mean by that?
Well, the "dare" part, I guess, was that I wanted to do something that was actually, in its form, acoustic music, not just music played on an acoustic guitar.
You know that thing people say? "If you can't play it on an acoustic guitar, if it doesn't stand up that way, it's not a real song." This isn't that. I wanted at least half the songs to be something you couldn't play on an electric because they would sound stupid. I didn't want to just do a quieter version of what I've always done.
You made this record with Chris Funk from the Decemberists, who also produced Sparkle Hard.
Yeah, and I guess the "dare" part is also related to that. We were doing Sparkle Hard together and he had some acoustics at his studios [Halfling Studios in Portland]. And he was like, "We can make one" – meaning a folk record. "Let's do it!" And, you know, I can just kind of coast along in my bubble of music, which has been great. I have great musicians to play with, and a comfortable routine. But this got me thinking a little differently.
How so?
I changed some parameters in my songwriting, and in some really basic ways. Like, I got an acoustic guitar and I found out what range I sing in and what's different about it when I sing quietly. Because when you're singing in a lower range, you can't project over rock music – at least I can't.
I mean, you listen to some bands like the Deftones, and Chino [Moreno] is whispering over huge music. But I don't really do that. I want the music to sound like how it'd have to sound if I was playing it live.
Was there specific music that inspired you when you wrote these songs?
I tapped into different things from my collection, whether it was British folk music or some private press [small-batch artist-released] records. And when I say "British folk," I don't mean medieval-sounding tunes about your lover dying in the lea or something, but more like Pentangle and maybe even Led Zeppelin III – more that, and less boomer acoustic touchstones like Crosby, Stills & Nash or Jackson Browne.
I was open to records by people who were influenced by those guys, but who were more burned out. [laughs] And there's also some stuff in the style of the Grateful Dead, Rolling Stones and Gordon Lightfoot. But I thought, maybe in my own way, I could update the music that's played that way.
At what point did the idea of using more exotic instrumentation come into play?
That was Chris's idea, and it was early on, when he heard the demos, I think. The songs that those guys play on are the ones that potentially skew you toward something non-Western sounding. I don't know what to call those scales, but they're not the feel-good, happy Grateful Dead scales.
So Chris knew these guys – I didn't. And the amazing thing is he called them and arranged it, and they came down to the studio. And it was so cool! There were these two dudes and his girlfriend, and they're playing, like, mini sitar on the first song. And what you hear on the album is the first take. I was like, "All right, we got this. I'm feeling some momentum."
So you wrote and recorded the songs in demo form before the other instrumentation was conceived or added to the track?
Yeah. I just handed the guys raw demos. Usually, I hand my band demos with bass, drums and maybe keyboard ideas. It sounds like a sloppy mini-band. But this time I just went downstairs and did acoustic guitar on two tracks and maybe doubled some guitar, and that was it. I sent that to the people who were going to be on the record, and they were like, "Yeah, we'll do it."
We fleshed out some of the arrangements with new melodies and things, but overall the songs are pretty simple. There are, like, four chords and a change, or just us jamming on one tone. I consciously kept it that way.
Also, the reality of me playing a 12-string meant it was going to stay pretty basic, because the one I have is a '70s Guild that's kind of hard to play. It has a really wide neck, and I was playing it with my fingers. You can't really shred on that if you're me.
I don't know that you could shred on that if you were somebody else, either.
Yeah. And these days, it seems no one is playing the 12-string. I mean, the only time I've seen one lately is when I watched the Taylor Swift documentary [2020's Miss Americana], and she used to write songs on one. So basically it's her and me, you know? [laughs]
That's the entirety of the 12-string guitar world: Stephen Malkmus and Taylor Swift.
[laughs] Yeah. And she's on this beat-up Ovation, and that guitar sounds terrible. Sorry, Swifties. Don't cancel me!
So what led you to the Guild?
It has kind of a dark tone, and I wanted a darker, more scary sound, rather than a happy 12-string tone. Actually, about a year and a half ago, I tried to sell the guitar back to the store where I bought it in Portland. They said, "We'll give you $200." And I was like, "F*ck you!" I'm not mad at them. That's probably what it was really worth. I mean, it's probably worth $500, but it's beat up.
Well, the store didn't take the guitar back, but you got a record out of it. It worked out.
Exactly! I was like, "I'm gonna show them what this little engine can do with some love!"
In the last three years, you've done three records – Sparkle Hard, Groove Denied and this one – and they're all pretty different sounding from one another. But you've called them "a trilogy of sorts." What is it that makes them hang together?
Time. The fact that they all came out fast. I like to say that it's three records in a short period of time that are hopefully all good. And that shows that I'm good, you know? [laughs] But actually, to me this one and Sparkle Hard feel related because they were both done with Chris at his studio, so sonically they're going to be a little similar.
And I really like Groove Denied, even if it seems other people don't like it as much. But I still think it should be in there with the other two. It's a way of saying, "Yeah, you covered a lot of ground in a short amount of time. Good job, Steve. You've still got it!"
Love them or hate them, the records show that, at this stage of your career, you're still intent on exploring new sounds and styles. Do you think that's what the industry and the fans want from you, or do they just want you to do the Pavement thing?
Well, I think they would like this acoustic record, because people can relate anything in a guitar/songwriter mode to Pavement if that's what they want. Plus, my voice is quieter, and the album has acoustic guitars, and it's kind of chill, and it can fit in people's hypothetical playlist or in a different corner of their lifestyle music world.
So I think people would like this one, as long as it's not, like, a 17-minute song with me singing in pig Latin, or something.
Do you ever feel you're fighting against people just wanting you to do, say, Pavement's Crooked Rain, Crooked Rain album over and over again?
Not really. Based on what I see online – and that's really all I see – I get good feedback. There's a lot of "I was a Pavement fan, and I like what you're doing." And yeah, we lose people along the way. But we probably would have lost them anyway.
To be honest, I don't always keep up with the bands I love, or what they did in their later periods, so I'm one of the ones who knows how much that should hurt. [laughs] I mean, I don't know if the Cure have made any albums lately. And if they have, I don't know what they sound like. And I thought the Cure were incredible.
So I think it's okay if people aren't keeping up with what I'm doing. I just think if your music sounds fresh, that's the most you can do. That's a subjective thing too, but I guess that's what I'm going for.
Stephen Malkmus's new album, Traditional Techniques, is out now on Matador.
All the latest guitar news, interviews, lessons, reviews, deals and more, direct to your inbox!
Rich is the co-author of the best-selling Nöthin' But a Good Time: The Uncensored History of the '80s Hard Rock Explosion. He is also a recording and performing musician, and a former editor of Guitar World magazine and executive editor of Guitar Aficionado magazine. He has authored several additional books, among them Kurt Cobain: Montage of Heck, the companion to the documentary of the same name.