"I Think It's Important to Be Able to Get Things Wrong": Squeeze Co-Founders Chris Difford and Glenn Tilbrook Talk Decades of Writing Hits
The post-punk veterans discuss the art of songwriting and how they make room for each other's creativity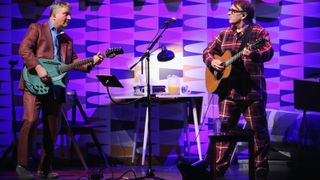 (Image credit: Al Pereira/WireImage)
The following appeared in the December 2019 issue of Guitar Player
Chris Difford and Glenn Tilbrook began writing songs together in 1973, after Tilbrook answered Difford's ad seeking a guitarist for his band. In fact, Difford had no group, but the two men soon formed one together.
Squeeze subsequently went on to become the darlings of the U.K.'s late-1970s post-punk scene, thanks to the group's impressive musical chops and Difford and Tilbrook's effervescent songwriting.
Featuring Difford's incisive and frequently witty lyrics and Tilbrook's stylistically varied music, early Squeeze hits like "Cool for Cats," "Up the Junction" and "Pulling Mussels (From the Shell)" showed off their fluency with rock, pop and R&B while they revealed the group's impressive chops.
"Because we were playing as a band before punk reared its head, there'd already been some pivotal moments for us," Tilbrook relates. "We supported Dr. Feelgood in 1975, and it was so rare for us to see a band playing short songs with so much energy. They were a much more straightforward R&B band than we were. The energy connected with us."
The group's impressive run continued with hits like "Tempted" and "Black Coffee in Bed," earning Difford and Tilbrook comparisons to Lennon and McCartney for their stylistically varied and deliciously tuneful song craft. But the ear-catching chord progressions and engaging lyrics are intertwined with memorable guitar riffs and solos, courtesy of Tilbrook.
"Glenn plays all the confident stuff in the band, and I play all the bluffing bits," Difford explains. "On some of the earlier records, he played all the guitar parts. I always saw the guitar as an oar that got me across the water. It wasn't the engine that drove my paddle steamer. It just took me in the right direction."
Back in 2019, the duo took time out to discuss the art of songwriting and how they make room for each other's creativity.
What inspires your songwriting?
Glenn Tilbrook I'm always inspired by two things: what I listened to up to about 20 years old – which is classic songwriting, where my sense of melody comes from – and a lot of contemporary music, which I listen to as well. I try not to genre hop, but when I hear something that I like, I do think, How can I bring that to what I do?
What's the balance between inspiration and perspiration in your songwriting, and how much refinement takes place after a song comes together?
Tilbrook You get glorious days where something just tumbles out fully formed, but then you get something like "Cradle to the Grave," which I worked on for a week. It came together in an afternoon, but I'd spent a week banging my head on the wall, waiting for the inspiration to strike.
Chris Difford Once Glenn gets the bit between his teeth, it's very difficult to get under the sheets with him on a song. He'll be very determined on a direction, so I'm happy for it to be that way. He likes to work away on something. He can spend hours refining things. I'm not a studio boffin like he is, but I have to say that the last two Squeeze albums sound amazing due to Glenn's work. I like to think lyrics come from inspiration, certainly never desperation.
Do you think it's better if the song comes to you more quickly and requires less work?
Tilbrook I didn't think there's a rule, really. "Tempted" took me a week to write, and it was like climbing up a mountain. The trial and error was very labored, but it ended up with something that really flowed.
Do you stockpile ideas?
Tilbrook I always have a batch of ideas that might not work at the time but might work in the future.
Difford Yeah, we have a cupboard full of great songs that have never been heard. In the coming years, we hope to release them and maybe surprise people by what we were writing when we were younger.
Glenn, do you ever get a set of lyrics where you think there's nothing I can do with that?
Tilbrook Chris has written many great lyrics, but not all of them are going to be great, just like sometimes the tunes I come up with might not necessarily be that great.
Difford And he never asks me about the lyrics. He'll maybe laugh, find them amusing or even change them. We rarely have discussions about the depth of lyrics.
Are you often surprised with what Glenn comes up with after you've presented a set of lyrics to him?
Difford Every time I write a lyric, it's completely different in my head from what comes back from him. Part of the partnership is for Glenn to interpret the lyric in any way he sees fit. I'm constantly surprised by the direction he'll take a song in. That's the beauty of the partnership.
What first inspired you to write music?
Tilbrook I started playing guitar when I was about eight, in 1965. I'd listen to pirate radio in the U.K., and it was very inspirational. I found learning the guitar fun, and by the time I realized that I wanted to do something in a band, I'd already developed my playing to a good standard. The first band I ever saw live was T. Rex. They were amazing. The Faces were my real inspiration for what a band could be, and the Who were inspiring as well.
Difford For me, I was massively dedicated to doing something other than working in a biscuit factory around the corner from where I live. I think there weren't many work options, and obviously, looking at the Who and the Small Faces, it seemed like everyone was having such a great time. I thought that looked like the job for me.
I watched a YouTube interview with you, Chris, where you had to pick the Rolling Stones or the Beatles, and you went for the Stones – which surprised me, given all the Lennon/McCartney comparisons you two have received.
Difford I think I could play Stones songs better than Beatles songs if I had to. In a way, I think the Stones were more dangerous and took more risks. They didn't mind getting things wrong, and I think that's where I come from. I think it's important to be able to get things wrong. I don't want to be challenged all the time about getting things right.
With Squeeze, it's the songs rather than guitar solos that leap out at you. But there are guitars all over the tracks in layers, and some of your solo breaks are really memorable. Do you ever feel tempted to shred, as you clearly could?
Tilbrook I've never really felt that temptation. There was a song called "Sunday Street," where I did shred out a bit, but it isn't really me. My parents were big jazz fans. They took me to see Barney Kessell and Joe Pass when I was about 15. I loved that sort of playing, but I couldn't see any role for it in what I was doing.
But the lovely thing about Squeeze is that we can have a song like "Another Nail In My Heart" or "Black Coffee in Bed" and it allows me to assert my twisted interpretation of what jazz did to me.
Do you write on any other instrument besides the guitar?
Tilbrook If it's not guitar, it will be ukulele or piano. Sometimes I'll try to write on all three to see what develops. I'll often try ideas on the ukulele or piano because they're not my strongest instrument, which means that I'm less likely to go to all the familiar places that I would on the guitar to break out of a rut or find some new twist on an idea.
Guitar-wise what are you playing?
Tilbrook I'm mostly playing a '67 Tele that has been modified with a Parsons/White B-Bender. I'm generally a single-coil guy, but I've been playing a Gibson Firebird a lot live recently. I really enjoy that for a bit of a heavier sound.
Difford I have a Danny Ferrington guitar from the early '90s. It's lightweight and easy to play. I use an early '90s Taylor for acoustic, and I also like Olson acoustics. I recently sold a lot of guitars because I needed to build a shed in the garden to write in, so I'm just starting to buy a few more guitars.
What do you think is the secret of Squeeze's longevity?
Tilbrook Squeeze became slightly complacent before we broke up in the '90s. We thought we knew what we were doing, but what we were doing was slightly dying. Now, though, we've got our best ever lineup, and everything is exciting again. I think the times away from each other help us to appreciate what we've got.
Difford People like Squeeze for a lot of their own reasons. It may be nostalgia, but I'm fine with how our fans enjoy the band. They've bought a ticket, got a babysitter or whatever, so I'm grateful for their commitment, and I really enjoy the time onstage.
Keep up to date on all things Squeeze here.
All the latest guitar news, interviews, lessons, reviews, deals and more, direct to your inbox!
Mark is a freelance writer with particular expertise in the fields of '70s glam, punk, rockabilly and classic '50s rock and roll. He sings and plays guitar in his own musical project, Star Studded Sham, which has been described as sounding like the hits of T. Rex and Slade as played by Johnny Thunders. He had several indie hits with his band, Private Sector and has worked with a host of UK punk luminaries. Mark also presents themed radio shows for Generating Steam Heat. He has just completed his first novel, The Bulletproof Truth, and is currently working on the sequel.