Pat Travers Spills Out the Tale Behind His Classic 1980 Cut "Snortin' Whiskey"
Taking shape in mere minutes, this inspired hit remains a live show staple decades down the line.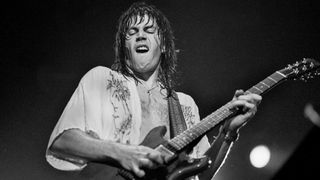 (Image credit: Paul Natkin/Getty Images)
Some musicians have a love/hate relationship with their hit songs. Not so for guitarist Pat Travers and his 1980 flamethrower blues-rock smash, "Snortin' Whiskey."
"I'm totally good with it," he says. "It's a really cool and solid rock song. It's not supposed to be profound. In fact, its silliness is one of the great things about it.
"Plus, it's got a killer opening riff. The second I start playing it, I get an immediate response. What's not to like about that?"
BAD BEHAVIOR
That riff is one Travers had been toying with a few years before he wrote "Snortin' Whiskey." A friend had shown the guitarist a country lick, and over time he added a blues-rock flavor to it.
Several years later, in 1979, Travers and his rhythm section – bassist Peter "Mars" Cowling and drummer Tommy Aldridge – were in a Miami rehearsal studio working on material for his fifth studio album, Crash and Burn.
Hours went by as the band waited for their second guitarist, Pat Thrall, to show. "We jammed on a number of things, including that riff," Travers recalls.
Finally, at 5 p.m., three hours after the appointed start time, Thrall made his entrance with his girlfriend in tow.
"They were both sort of wobbling in and looking pretty worse for wear," Travers says. "I said, 'PT, what have you been doing?' He smiled and said, 'Oh, you know… snortin' whiskey and drinkin' cocaine.' He was just being funny – I don't think he meant it – but I said, 'Hey, that sounds like a song.'"
All at once, Travers jumped on the riff, and the song – lyrics and music – took shape. "It took about seven minutes from the moment we began playing."
FAST AND EASY
"Pat Thrall wasn't there for the main session," he says, "but the three of us went to it. It was fast and easy. We recorded everything live. That's me playing and singing at the same time. After a few takes, we had the song nailed."
Occasionally, Travers would road-test songs live before recording, but he was so intent on capturing the moment that he raced Cowling and Aldridge into Miami's Quadradial Recording Studio.
Thrall overdubbed his electric guitar parts during another session. "His guitar comes in on the second verse, where he starts answering my vocals," Travers notes.
The song contains not one but two fireball solos, the first played by Thrall, the second by Travers.
"I had an idea what PT should do for his solo," Travers says, "but he just took off on this breakdown kind of riff. It became this funky mid-section break, almost James Brown-like. I had no idea he was going to do it, but it came out great."
For guitars, Travers relied on one of his favorite models, a 1960s Gibson Melody Maker he purchased in Sheffield, England, fitted with Gibson humbucking pickups.
Thrall usually recorded with two Strats: one with a whammy bar, the other without. "I'm pretty sure he used the one without the whammy," Travers says.
GOING SIDEWAYS
Travers knew that he had a solid recording, but because of the song's lyrical content, he was concerned about the track's commercial prospects.
"I wasn't glorifying drugs and alcohol," he says. "If anything, the song always seemed silly and goofy to me. Still, you can never be sure how anybody is going to react."
His worries proved unfounded: The track promptly hit number one on numerous FM rock stations, propelling Crash and Burn into the top 20 of Billboard's Pop Albums Chart.
Years later, Travers got word that "Snortin' Whiskey" was to be included in Alexander Payne's 2004 movie, Sideways. Without knowing the plot of the film or how the song would be used, he went to a screening – and was delighted by what he saw.
"The song came on during this really nasty scene with this trashy couple going at it in their bedroom," he says.
"When the one actor runs naked into the street and the song is still playing, oh, my God! I laughed my head off. It was fantastic. I've had a couple of my songs in movies, but this was amazing. And the film was an Academy Award winner. I can't complain about that."
From the time of its release, "Snortin' Whiskey" has remained a staple of Travers' live shows. It ranks second only to his cover of Stan Lewis's "Boom Boom (Out Go the Lights)" as his most-played song.
"I couldn't see doing a show without playing it," he says of "Snortin' Whiskey."
"I mean, on a very basic level, it just wouldn't be right."
Explore the Pat Travers catalog here.
All the latest guitar news, interviews, lessons, reviews, deals and more, direct to your inbox!
Joe is a freelance journalist who has, over the past few decades, interviewed hundreds of guitarists for Guitar World, Guitar Player, MusicRadar and Classic Rock. He is also a former editor of Guitar World, contributing writer for Guitar Aficionado and VP of A&R for Island Records. He's an enthusiastic guitarist, but he's nowhere near the likes of the people he interviews. Surprisingly, his skills are more suited to the drums. If you need a drummer for your Beatles tribute band, look him up.