Need to Hit the Reset Button? Listen to Herby Remington's 'Steel Guitar Holiday'
This vinyl treasure is a high-octane palate cleanser and something positive to binge on.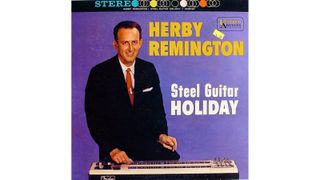 (Image credit: United Artists )
One Sunday in Januray 2022, I watched football for about nine hours straight. The games were fantastic, full of exciting finishes that made for great live television.
That said, I was forced to watch dozens of commercials.
I saw folks meet their romantic soulmates, only to suddenly leave…to get a burrito by themselves. I saw a twosome negotiating who could dip their deep-fried piece of meat into a "cheese" sauce. Mostly, though, I saw dozens of commercials for NFL betting.
Hey, why not bet it all on the 49ers to win the the Super Bowl? It's "risk free"!
After binge-watching football commercials all day, I began to wonder, What exactly are our priorities?
And what's really "good"?
Folks, all this TV watching required a turbo-charged high-octane palate cleanser. Well, kind readers, I found what I needed on Herby Remington's Steel Guitar Holiday.
There are many great records I put on for a single listen, but Steel Guitar Holiday beckons for repeat playings...unlike, say, side two of Abbey Road, a masterpiece that nevertheless leaves me full after one listen.
Despite having an apartment full of LPs, I might happily listen to one record for weeks, and Steel Guitar Holiday is the kind of album I'll play and play and play. It fills my heart with something beneficial to my own kindliness. It's nourishing, abounds with good melodies and joyous teamwork, and is filled with sounds that magnetize my soul.
It's played by master craftsmen who prioritize a people-pleasing aesthetic that, unfortunately, seems long lost.
Steel Guitar Holiday lives up to its name and delivers an escape to wholesome goodness.
It's something positive to binge on.
Originally released as Herby Remington Plays the Steel, by "D" Records in 1959, the album was reissued by United Artists in 1961 in the guise we celebrate here.
It features a stellar cast that includes the jaw-dropping Paul Buskirk on guitar, Clyde Brewer on piano and fiddle, Darrell Raley on fiddle and sax, and the swinging rhythm section of bassist Dean Reynolds and drummer Al Hagy.
Mr. Remington has an impressive bio. He was the house steel player at Gold Star Studios in Houston, where George Jones cut "Why Baby Why," with Herb. He was also a member of Bob Wills' Texas Playboys from from 1946 to '49.
But to me, Herb was most of all a fine writer of catchy and timeless instrumentals. The classics "Boot Heel Drag" and "Remington Ride" are on this album, along with many other great instrumentals he penned.
As far as my own songwriting goes, this LP was by far the most influential. The stylistic variations presented by Herb and company opened my eyes to what boundaries could easily be crossed, and Herb's songs are a template for "go-to" possibilities.
"Sam and Oscar" opens side one, and it's a stunner somewhat reminiscent of Django's "Swing 42." Paul Buskirk's electric guitar solo is an absolute must-hear. He shreds effortlessly while retaining a melodic playfulness.
"Minni Lani" is up next, a warm steel-guitar jazz piece with lovely changes that display heartfelt performances by all. It's followed by "Deep Beat," a cut that combines rock, jazz and swing, and plays like an "odd man out" here, even while it fits in seamlessly.
The next track, "Lonesome," begins with a "Nightlife" turnaround that again showcases Herb Remington's prowess on midtempo steel-guitar jazz. This is enhanced by Darrell Raley's great saxophone contributions.
"Coo-Coo Creek Hop" follows, with the guitar and steel playfully answering what almost seems like sonic mating calls.
Side two opens with my favorite track, "Chime Out for Love." The A section is filled with angelic harmonics that set the table for Mr. Buskirk's solo, which is fantastic. Herb follows Buskirk (not an easy thing to do) with inventive harmonics, all without skipping a beat.
The next track, "Slush Pump," revisits the "Deep Beat" vein, again combining rock, swing and blues.
The LP races to the finish line with Herby's classic instrumental "Boot Heel Drag." Herb knew how to write a hit, and this song is filled with hooks.
The record closes with another classic instrumental, "Remington Ride," featuring a ripping Paul Buskirk solo. If you haven't heard Mr. Buskirk, this LP is a great primer.
If you want some good music, or need something to restore your mental balance after binge-watching hours of NFL commercials, I highly recommend multiple listenings to Steel Guitar Holiday.
It's a tasty vitamin shake for one's humanity.
Special thanks to Joe Goldmark, Chris Clem, Jeff Keyton and the whole gang at the Steel Guitar Forum for their valued information!
Grab a copy of Herby Remington's Steel Guitar Holiday here.
All the latest guitar news, interviews, lessons, reviews, deals and more, direct to your inbox!
Jim Campilongo has 14 critically acclaimed instrumental records available on vinyl, CD and digital download here.