Nancy Wilson on the Genesis of Heart's Sound, Her Fingerstyle Influences, and Paying Tribute To Eddie Van Halen
With her long-running group sidelined during the pandemic, Wilson finally found time to make something she's always dreamed of: a solo album.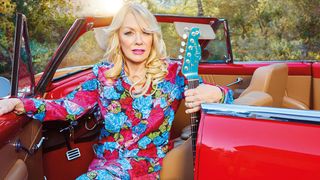 (Image credit: Jeremy Danger)
When the Beatles debuted in the United States on The Ed Sullivan Show in 1964, they helped launch countless bands across the country. Among them, eventually, was the tandem formed by guitarist Nancy Wilson and her singing sister, Ann: Heart.
Although they were female in an era of male-dominated groups, they never gave that fact much thought. Certainly, they found no other female acts from which to draw inspiration.
"I don't think there was anyone like us at all," Nancy says. "Later, we came to learn how much of a novelty we were, and how other people's preconceptions about women in rock could prejudice the way they viewed us as a band, and me as a guitarist in particular."
By then, the Wilson sisters had influenced countless youngsters to become rock and rollers with 1970s hits like "Crazy on You," "Magic Man," and "Barracuda." (And not all those kids were female – male-centric acts such as the Foo Fighters and Soundgarden have noted the group's importance to them.)
Heart's early sound was characterized as much by Ann's powerful, epic vocals as by Nancy's dextrous fingerpicking and driving acoustic rhythm, played to dramatic effect against Roger Fisher's soaring Les Paul–fueled lead lines.
Heart continued to dominate the airwaves from 1985 to 1990, when their videos were in constant rotation on MTV and they scored 12 hits, including the monster number ones "These Dreams" and "Alone." Even well into the 21st century, Heart have enjoyed high album sales and remained one of rock's biggest-grossing live acts.
But with touring cancelled for the past year, Nancy found herself with time to do something she'd never done before: Make a solo album. Titled You and Me (Carry On Music), it features guests like Duff McKagan, Sammy Hagar, and the Foo Fighters' Taylor Hawkins.
Among its dozen songs, the highlight may well be her last-minute addition of "4 Edward," a tribute to the late genius, with a moving story behind it.
Why did it take so long to make your first solo album?
I've wanted to do this for such a long time, and the shutdown, due to the pandemic, gave me the space to do it properly. Being in a band like Heart is like being in the army almost. Everything is so regimented when you tour on the scale that we do, and so much time is spent traveling, which is the hardest part of being on the road.
If you do get a few days off, the last thing you feel like doing is working on music. That's why it's almost impossible to fit working on a solo album into the daily routine of life on tour.
You have some interesting guests on the album. How did you connect with Duff McKagan and Taylor Hawkins?
I moved to L.A. before the pandemic. I was already friends with Taylor, and he'd asked me to sing on a track on his Get the Money album. I moved to Northern California after that, and I was telling him that I was making a solo album.
I asked him if he had any jams hanging around, and he said he'd send me something that he'd been working on with Duff. I really liked it, so I rearranged it and came up with the lyrics. It's the track "Party at the Angel Ballroom," and it's about the angels we've lost in rock and how it's fun to think there might be a hell of a big party going on up there.
The track "4 Edward" is great. It has enough touches of Eddie in it to make it clear who's being referenced. You've told the tale about you giving him an acoustic guitar and him playing something that he wrote on it for you. Was it one of the pieces that later appeared on a Van Halen album?
I wish I knew what happened to it. I hope it did get recorded and will turn up. Maybe his son, Wolf, might know about it. If I ever get the chance to speak to him, I'm going to ask him about it. It was really one of the most beautiful things I've heard someone play on an acoustic guitar.
I was half asleep when he played it over the phone to me. I tried to return the favor and do something in the same vein as what he did, with the classical feel mixed with a rock feel, then end it with a pretty classical feel again.
Were you tempted to do all the guitar parts yourself?
I played all the rhythm guitar parts, but I've got so many people that I love to work with from Seattle and who can bring so much magic to a song that I wanted to use them, particularly Ryan Waters who plays all the lead parts. He knows all about restraint, which is something not enough people work with when they showboat and try to fill up all the spaces.
Are you happy with how it turned out and will there be another solo album?
I'm very happy with it, so much so that I've already been inspired to get songs together for another solo record.
Years back, when Ann asked you to join Heart, was she dissatisfied with the sound of the band at that time?
Yes, because Ann and I had both played in a number of different bands prior to Heart and they were often very acoustic-based. I think we both understood that I could bring a whole new dimension to Heart with the mix of acoustic and electric guitars.
We all loved Zeppelin and perhaps that was also an influence on our sound, as they were a band who could mix acoustic and electric parts freely throughout their albums. We wanted to try to reinvent the wheel a little bit, I guess, and have a multi-dimensional sound.
When producer Ron Nevison came onboard for your first Capitol album, Heart, in 1985, he told you that he thought the band's acoustic-based sound was outdated. Indeed, he thought there was no place for the acoustic guitar in his concept for Heart. Did you feel that he was rejecting one of the band's unique sonic signatures?
That's a really good question. [laughs] In the '80s, according to Ron, the acoustic guitar was really not cool anymore. I'll admit that I really wasn't happy about that point of view. I think his perspective was colored by the fashion in the '80s for cocaine and ego-driven choices.
This was a very different scene from the '60s and '70s, when pot was the drug of choice and the attitude was very much more experimental and open. Of course everything goes around in cycles. People will say rock is dead, and then a few years later it's back alive and kicking. Similarly, acoustic-flavored music is possibly more popular than ever.
Your playing style always seemed to reference the English folk tradition. Who were your fingerpicking influences?
I was definitely trained on folk music even before I played guitar, learning to sing Peter, Paul and Mary songs. Once I started to play, at age nine, it was Paul Simon for me. He was my muse for guitar playing.
I learned a whole bunch of different styles, like country, folk, rock, and blues, although I was never really interested in learning to play jazz. Ann had that gift of a beautiful voice, and I was mainly an accompanist. I wanted to try to sound like a whole band rather than just one guitar. It became almost a percussion instrument for me, and I still play acoustic rather aggressively.
Onstage, you often played an Ovation in the early days of Heart, presumably because of the ease of amplifying it back then. Did you use that in the studio as well?
I rarely used an Ovation in the studio, but as you say, it was perfect for playing live, as you were always trying to battle feedback from a traditional acoustic guitar onstage. I was the poster girl for Ovation. [laughs]
Are you happiest on acoustic or electric?
That's an impossible question, because they're both entirely different beasts. I have a blue '63 Telecaster that I play through a Fender Deluxe, and that is my main man. It can get super loud and distorted, and you can go to a whole different planet with that kind of power.
The acoustic is much more emotional. It is really responsive that way. I just couldn't ever choose one over the other. The guitar gives you back what you put into it. It is such a rewarding instrument.
You must have amassed some great guitars over the years. What are your go-to instruments?
The blue Tele, for sure. The signature Martin HD-35 that I developed with the company is my favorite acoustic, because I helped to design it. I also have a beautiful old Libra Sunrise guitar that was built for me by Ed Myronic in Vancouver in 1976.
He came to see us play a lot back when we were in Canada, and that was why he built me that guitar. I used it on a lot of the scoring work that I've done, and I think of it as an old friend of mine. I've had so many guitars in the past that I've auctioned or given away for charities over the years.
In the early '90s, you got involved in soundtrack work with your partner at the time, Cameron Crowe. You worked on some big movies, including Jerry Maguire, Vanilla Sky, and Almost Famous. Artistically speaking, was that more satisfying than working in a group, where you have to work democratically and make compromises?
That's a good way of looking at it. I was trying to start a family at the time, so I was taking a hiatus from working with Heart for a couple of years. I'm glad that I took a break and that I worked on the films, as it gave me a sense of self and identity again as an individual, rather than as a member of a band.
What's the current status of Heart?
The plan is to tour in 2022. Hopefully, the world will be back to something more like normal by then. The last tour that we did was wildly successful. I think maybe I'd like to take a couple of years and do some kind of final Heart tour. That would be a great way to round off the live side of the band.
All the latest guitar news, interviews, lessons, reviews, deals and more, direct to your inbox!
Mark is a freelance writer with particular expertise in the fields of '70s glam, punk, rockabilly and classic '50s rock and roll. He sings and plays guitar in his own musical project, Star Studded Sham, which has been described as sounding like the hits of T. Rex and Slade as played by Johnny Thunders. He had several indie hits with his band, Private Sector and has worked with a host of UK punk luminaries. Mark also presents themed radio shows for Generating Steam Heat. He has just completed his first novel, The Bulletproof Truth, and is currently working on the sequel.