Nada Surf's Matthew Caws on Friendly Fuzzes, Old Tube Combos and Embracing Creative Freedom in a Live-In Studio
Matthew Caws finds sonic bliss with his '69 Tele and a trove of overdrive pedals on Nada Surf's 'Never Not Together.'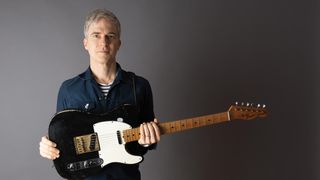 (Image credit: Annie Dressner)
Throughout their 28-year, nine-album career, Nada Surf have often been labeled as power pop, but that simple, slightly sugary appellation belies the depths that a close listening to the band's music can reveal.
Just as form follows function, the more layered and evocative the lyrical themes espoused by singer, guitarist and songwriter Matthew Caws, the more atmospheric the arrangements and production.
There are depths aplenty on the band's latest full-length release, Never Not Together (Barsuk/City Slang Records), on which Caws explores themes of humankind's interconnectedness and the challenge of peering inward to find a path outward.
These foundations provide plenty of musical grist for Caws, bassist Daniel Lorca, drummer Ira Elliot and keyboardist Louie Lino, who get occasional assistance from guitarist Doug Gillard. The effort yields a wide-ranging nine-song set that runs from moody harmonized chordal interplay between Caws and Gillard, to soaring, angst-driven solos.
All in all, it's the kind of music that helps to keep the guitar alive, by applying great hooks, played on real instruments, to beautifully crafted pop-rock songs.
And if it all sounds just that little bit more trenchant in places, consider that Never Not Together was recorded in Rockfield Studios in Wales.
Acknowledged as the world's first residential recording studio, it's where Queen, Echo & the Bunnymen, Simple Minds, Black Sabbath, Iggy Pop, Oasis, the Flamin' Groovies and scores of other legendary artists have logged historic sessions.
As Caws tells Guitar Player, it proved an inspiring location for Nada Surf to tap into the ambience.
Was there much preparation of the new material before taking it into the studio?
The guys very, very kindly came over to Cambridge, England, where I live now, to set up in a practice studio there. I've always written the basic gist of the songs and brought them in to work them up together. But it ends up being a lot more than just writing parts. How they react to it makes me want to change things as we develop the songs together.
What was your approach to tracking?
When we record, it's the four of us - guitar, bass, drums, keyboards - all live. Guitars and keyboards might get changed, or we'll hopefully keep the original and just add a couple more, but we're really looking for that band feeling.
Sometimes we use a click track, sometimes not - depends on the song. But yeah, we're pretty simple and organic in that way, just a band playing in a room. And we always set up so that we're in a circle and can watch each other.
We like to imagine great rock and roll always gets made that way, but it's probably the minority approach in this age of layering up tracks independently from the start. But I'd like to think I can hear it in the final results of the performances on this record.
I know what you mean. That is really interesting. There's a kind of breathing in it that you can almost intuit. You can't put your finger on it.
You've played a 1969 Gibson Les Paul Custom pretty much since the band's early days in New York City. Did you bring that guitar into the studio with you this time?
I tracked the whole record on my '69 Tele, which I've owned about as long as I've owned the Les Paul Custom. I've kind of arrived at that as my main guitar now. I've switched over from the Les Paul. It's great, and I have a Seymour Duncan Little '59 humbucker in it. I had a Hot Rails in it, and it was too hot, but the Little '59 is just right. It breathes a little bit, and it can get very clean if you want it. It's really responsive.
A couple of songs are on a Fender Baritone Special, which I'm really, really deeply into. It kinda looks like a big Jaguar. And I used a weird tuning that I borrowed from [English folk singer and guitarist] Nic Jones, from his classic 1980 album, Penguin Eggs.
It's a modal tuning that's only three notes: [low to high] B F# B F# B C. I used that on "Something I Should Do" and one called "Between the Wars," which didn't make the record. We're going to put that out an EP sometime next year.
Sounds like you kept it pretty simple.
Yeah. For amps, I used an old silverface Fender Deluxe Reverb and a Vox AC30, and then a lot of overdrive pedals: a Lightspeed by Jim Grier, JHS Morning Glory, Analogman King of Tone. We were just switching out a lot between overdrive pedals. It's such a luxurious way to do it!
I'm hearing a cool, swirly rotary speaker sound on "Mathilde."
That was a Leslie at Rockfield. I love that sound. If you have access to the speed switch, it's really fun to speed up and slow down in weird places. Speaking of guitar tone, if I can confess one thing that I think is hilarious: The first solo in "Looking for You" was played through a Yamaha five-watt solid-state amp on my desk at home, with a nice mic into it. Why not, you know?
Doug Gillard, who also plays with Guided by Voices, has been busy with other commitments and isn't joining you on the tour for the album. But I understand he still contributed to some tracks in the studio?
Yeah, he plays the second solo in "Looking for You," the solo in "Crowded Star" and he has some incredible parts on a couple of songs that will be on the EP. He's so intuitive and incredibly melodic.
For example, there's a melody at the very end of "A Ride in the Unknown." The outro was just going to be the chorus repeated forever, but he was putting down the rhythm part, and he picked out that melody on the spot. It was gorgeous.
All of a sudden, I was like, "Oh my god, please do that for two minutes. Do the whole outro!" Then I wrote more lyrics using that melody because I felt it was a big hook.
Recommended listening
Never Not Together – Nada Surf
• "Something I Should Do,"
• "Crowded Star"
• "Looking for You"
• "A Ride in the Unknown"
What's your rig for the tour? Have you still mostly switched over to the Telecaster for live performance as well?
Yeah, totally. The Les Paul's still sitting there in the guitar rack, but I haven't picked it up onstage in, like, a year. I don't know why, but the Tele stays in tune so solidly. Also, I use capos all the time, and I don't know about Les Pauls in general, but mine doesn't love the capo.
I've spent my entire career tuning a lot, and I've found that this Tele doesn't move. I use hilariously heavy strings on it - .012 to .056 - which is really just nuts, but it feels really solid.
For amps, I'm using a Fender Deluxe Reverb reissue combo and a 50-watt Marshall JCM800 head with a 2x12 cab. Live, my main fuzz box lately is one the Caroline Guitar Company makes called the Shigeharu Fuzz, which is amazing. It's like a really focused Big Muff or something. They came by the show and I bought a couple of things from them. I've never heard a fuzz sound so friendly!
All the latest guitar news, interviews, lessons, reviews, deals and more, direct to your inbox!
Dave Hunter is a writer and consulting editor for Guitar Player magazine. His prolific output as author includes Fender 75 Years, The Guitar Amp Handbook, The British Amp Invasion, Ultimate Star Guitars, Guitar Effects Pedals, The Guitar Pickup Handbook, The Fender Telecaster and several other titles. Hunter is a former editor of The Guitar Magazine (UK), and a contributor to Vintage Guitar, Premier Guitar, The Connoisseur and other publications. A contributing essayist to the United States Library of Congress National Recording Preservation Board's Permanent Archive, he lives in Kittery, ME, with his wife and their two children and fronts the bands A Different Engine and The Stereo Field.