"My Dad Lived to Be 95, So I'm Just Getting Started": Greg Koch Talks Making Music in His 50s
With signature guitars, pedals, pickups and amps to his name the Wildwood star is riding high.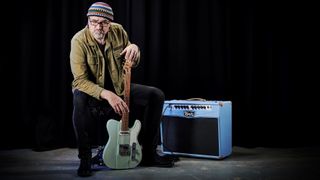 (Image credit: Future)
For a guy who has become a household name on the electric guitar scene for his mindboggling chops and zany humor, Greg Koch is also a badass in the guitar-video business, having made more than 4,000 online reviews for Wildwood Guitars alone.
And that's just a part of it. Peruse his website and you'll find a merchandise line that includes instructional books and DVDs, Skype lessons, his Gristle King and Triple Gristle pedals and signature Fishman Fluence pickups, and, obviously, albums, the latest of his 15 releases being From the Up'Nuh (Koch Marshall Productions), which features Toby Marshall on Hammond B3 and Greg's son Dylan on drums.
They comprise the Koch Marshall Trio, a scary-good group that forges rock, blues and funk into hybridized originals with titles like "Funky Klaus," "A Real Mother for Ya," "Daddy Long Legs" and "Nubby the Hoarder Man."
"My stuff is all over the map, which has probably hindered me from commercial accessibility, but I don't give a shit," Koch says. "I've been able to make a living with these other little spigots of things – clinics and videos and all the other stuff that allows me to pretty much do whatever I want on the musical frontier.
"I'm 54, and I remember, when I was in my 20s, I looked up to people that were older as role models of what to do and what not to do. But at the same time I'd be thinking, Man, they're in their 50s; why do they even get out of bed in the morning?" He laughs.
"But my dad lived to be 95, so I'm just getting started! We've got a lot of interesting music to play, and I certainly love playing it, and I'm very much enthused by the fact that there are all these ways now to reach a crowd of people that are interested in what we do in a very organic way. You don't need to have everybody into your stuff. You just need enough."
You're constantly coming up with new material for all the videos you make. How did that overlap into the songwriting for the new record?
I'm basically fleshing out tunes the entire time I'm doing those videos for Wildwood. [laughs] So I've got these little scraps all over the place that either are congealed into a tune that's ready to go, or something that I might make a demo out of while sitting at my computer.
It's in my iTunes library, so I'll be going for a little stroll, and in my morning perambulation one of those tunes might come out and I'll go, "Shit, I forgot about that one." So the next time I'm with Dylan and Toby, we'll try it out. And anytime we're at a sound check, we're playing new stuff. New grooves are just coming in at will, and a lot of times stuff gels from that.
"The Tussel" was a sound-check tune. "Funky Klaus" was something where Toby had this groove, and I kind of added a riff here and there and a little melody thing. A lot of times Toby will have grooves and chord progressions, and I'll go, "That's cool, what's that?" And then I'll add a melody to it and make an arrangement out of it. That was the case with "Funky Klaus," "Brushes" and "The Tussle."
We assume your new signature Reverend Gristle 90 saw action on the album, but what else did you play?
I didn't have the finished Fluence pickups for the duration of the recording, but I did use that guitar with the original Reverend P-90s on "Daddy Long Legs" "Nubby the Hoarder Man" and "A Real Mother for Ya."
On "Luna Girl," the main guitar part is a '63 50th Anniversary Gibson Memphis ES-335. I have Fishman Fluence humbuckers in it, and it sounds like God. Then I used the Reverend Gristlemaster to do the Tele parts on that call-and-response thing at the end.
On "The Tussle," that's the 335 again, and there's Strat sprinkled in for some rhythm stuff and also a Fender Custom Shop Wildwood 10 '57 Strat, also with Fluence pickups.
What's great about these pickups is they sound like the epitome of what that guitar is supposed to sound like. The Strat was my main stage guitar for a good dozen years, but you've got be MacGyver to keep them in tune, and there are always compromises, sonically. It's like the second position sounds good, but the bridge is a little weak. But with the Fluence pickups, all five positions sound good.
"Funky Klaus" sounds like a composite of different guitars. What slide tunings did you use?
The main guitar part is the Gristlemaster, and I also used a Reverend Airwave 12-string. The baritone parts are a Reverend Pete Anderson Baritone, which sounds amazing. I'm in open E on the slide part. I used my 335 in standard tuning for the "Soul Stroll" slide part, and for "Nubby the Hoarder Man" it's in open G. The 335 is also used for the slide stuff on "Succulent" and "Allore."
It's hilarious that you have a signature amplifier from Koch called Greg. What's the story on that?
Yes it's on the entire album, either the 2x10 combo or the head and a 1x12 bottom. As far as the name goes, there's no relation, but it's no coincidence. We were trying to figure out what to call it, and I said, "Why not just call it Greg, since we've got the same last name?"
So I was at Musikmesse doing stuff for Fishman some years ago, and right across from their booth were the Koch amplifier people. I ended up checking out this TwinTone III amp, and what I remember liking about it was that one of my favorite Fender amps was the Super-Sonic.
I liked that the clean channel had two voices, and then there was the lead channel. But there was also an effects-loop button on the foot switch, and you could take an instrument cable and go from the send and return jacks on the back of the amp and goose it a little bit, so it became like another boost level for both channels.
The TwinTone III functioned kind of like the SuperSonic. It didn't have the same effects-loop scenario, but it had a rhythm master and a lead master for the both channels, and a lead boost on top of that.
The Greg is so full featured that it has controls on the front and on top. Was that to accommodate your tone-control needs, and what specifically were they?
Besides a clean channel that would grind a little more, I wanted a more vivid reverb. Their reverb was good, but it wasn't like a Fender reverb, where you could get lost in it if you wanted to. So they did a three-control reverb, like on a Vibro-King or an old Fender reverb tank.
I also wanted a harmonic vibrato, which was kind of a hard one for them to do, but they figured out a way and also gave it a volume control. Basically, they took the TwinTone voicing and gave me a clean sound and a lead sound and a lead boost.
So that's on the front panel of the amp, and then on top there's a volume and a gain for this OTS feature, which is output tube saturation – it's a half of a power-amp tube that you can overdrive and add to either channel. I can be on the clean channel and hit that circuit, and it sounds like a dimed blackface amp. Then I go to the lead channel, and it sounds like the end of the world!
You know, you come up with an idea for an amp, and when you finally get it, you're like, "I hope I wasn't insane when I requested this thing." [laughs] But never in the five years that I've been playing this amp has it made me think, Yeah, I'm going back to my Super Reverb.
Grab a copy of From the Up'Nuh by the Koch Marshall Trio here.
All the latest guitar news, interviews, lessons, reviews, deals and more, direct to your inbox!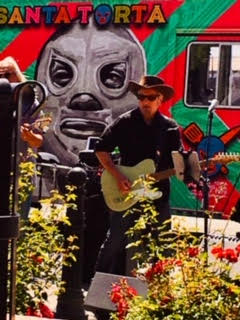 Art Thompson is Senior Editor of Guitar Player magazine. He has authored stories with numerous guitar greats including B.B. King, Prince and Scotty Moore and interviewed gear innovators such as Paul Reed Smith, Randall Smith and Gary Kramer. He also wrote the first book on vintage effects pedals, Stompbox. Art's busy performance schedule with three stylistically diverse groups provides ample opportunity to test-drive new guitars, amps and effects, many of which are featured in the pages of GP.