"More Joe Than Anything Else": Joe Satriani Opens Up On His Adventurous New Album, 'The Elephants of Mars'
In search of new themes and textures, the guitar virtuoso explores the unexpected and discovers new sonic territory.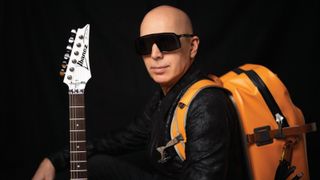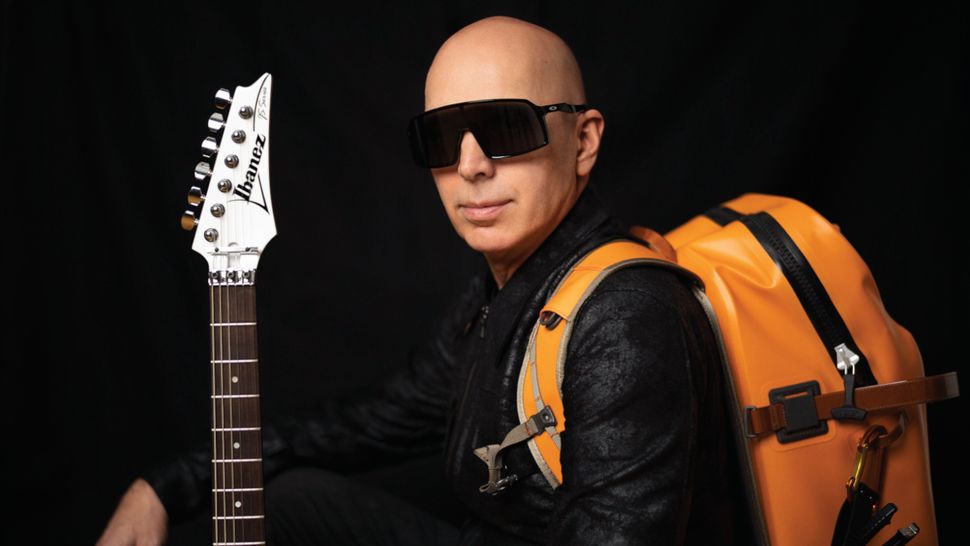 (Image credit: Eduardo Pena Dolhun)
Back in the early spring of 2020, Joe Satriani was conducting business much as he had been for the past 30 years. He had a new record, Shapeshifting, set for release, and his concert schedule was full. "And then the pandemic hit, and everything went upside-down," he says.
The guitarist went ahead with release plans for the album, but he was forced to reschedule all of his 2020 dates. "Not as easy as it sounds," he points out, "because you don't want to be hit with cancellation fees. Fortunately, we had great relationships with promoters and we were able to work things out."
He sighs. "And then we had to do it again."
With the COVID pandemic proving to be a stubborn beast, Satriani was placed in the unenviable position of pushing his rescheduled 2021 dates to this year. And as of this writing, that might not be the end of the tour rejigging.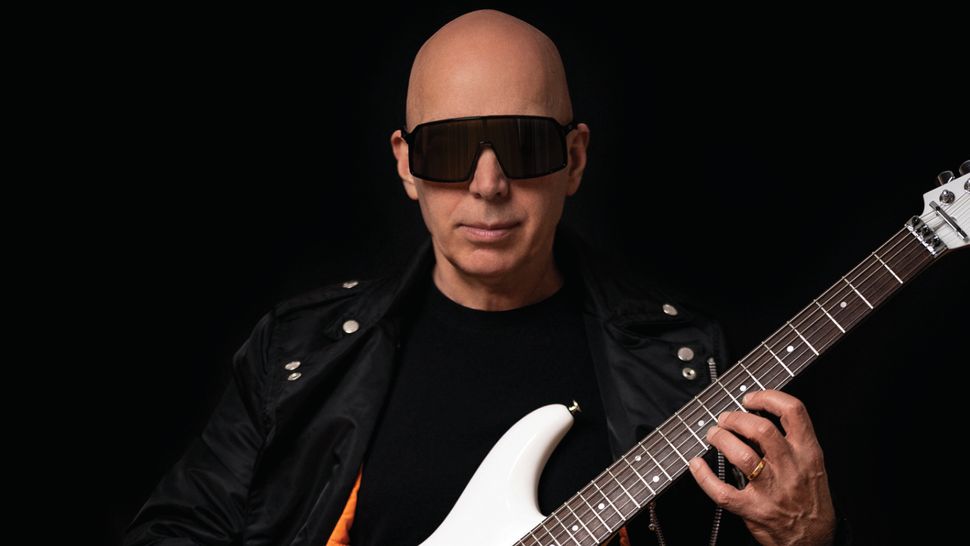 "Everything is in flux because you just can't predict what will happen," he says. "I'm pretty sure COVID-19 is going to become endemic by the end of summer, and we're hoping that we can start the tour in the fall. Everybody's vaccinated and follows protocols.
"The problem is the restrictions on quarantine and what that does to a budget. We're a tight band and crew, and the last thing you want to do is go out on tour and have one person get sick. You can lose a fortune in a week on tour."
He lets out an exasperated groan. "Part of me is so bored with talking about the nuts and bolts of all of this," he says. "I like making music and talking about music, but this is the reality we've been facing. It's been a rough time."
Beyond touring upheavals, Satriani faced a more devastating blow late last year when his friend and manager, Mick Brigden, died suddenly following an accident on his property in Santa Rosa, California.
To say that artist and manager were joined at the hip would be a vast understatement – for the past three decades, Brigden, whose history dates back to working with groups like Humble Pie and the Rolling Stones in the early '70s, represented one client: Joe Satriani.
"There's so much I could say about Mick," Satriani says. "He helped me in so many ways, and he was the kind of guy who made things happen. He was so into music and the artist state of mind, and because of that he made all the work we did fun and challenging. He was the perfect person to guide me, and he was fully involved with everything I did right up till the moment he passed away."
He pauses.
"In fact, the day he died, I told him that I was going to be sending him mixes of the new album."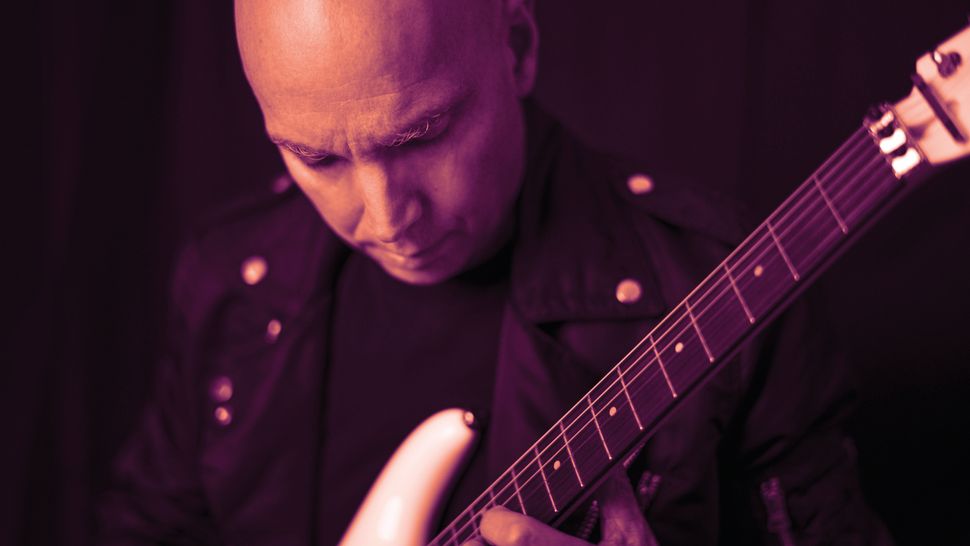 Satriani is referring to his just-issued record, The Elephants of Mars. It's his 19th studio album and his first for the earMUSIC label following his longtime association with Sony.
For Satch, who traditionally favored the collaborative spirit of recording with other musicians in the same room, the safety protocols imposed by Covid dictated a new path: He would record all of his guitar tracks at his San Francisco home studio, while his small group of guest players (drummer Kenny Aronoff, bassist Bryan Beller and keyboardist Rai Thistlethwayte) would beam their parts in from various points on the globe.
Co-producer Eric Caudieux, whose work with the guitarist began on 1998's Crystal Planet, kept things moving remotely from Los Angeles. "Once I got used to the idea that I was going to be stuck at home for a while, I decided to take advantage of the fact that there was no time clock," Satriani says.
"I didn't have to do basics in 10 days and get everybody home. I didn't have to do overdubs in three weeks. I didn't have to mix in just two weeks. We had a blank slate, and in a way that was exciting."
Perhaps due to his homebound status while recording, Satriani sounds more restless than ever on The Elephants of Mars – and that's a good thing. There's an aspirational, almost transformative quality running through much of the album, best exemplified by the progressive showpiece "Sahara" and the cinematic-tinged title cut, on which the guitarist sheds his readily identifiable classic rock tone and embraces a more slippery, exotic tone.
He doesn't forsake rocking entirely – the slinky and swaggering "Blue Foot Groovy" is boisterous stuff – but the emphasis here is on exploring new themes and textures, and Satriani's intellectual curiosity takes him to some unexpected places.
On a trio of cuts – "E 104 St. NYC 1973," "Pumpin'" and "Night Scene" – he folds a distinct jazz-fusion flavor into his blues-rock foundation, and the results are startling. "I wanted to make an album that I hadn't done before in terms of the scope – the kinds of compositions, instrumentation, mixing...all of it." Satriani says.
"Eric Caudieux was part of my last record, and we both felt the same way. The idea was to stretch things out, take our time with the arrangements and try to create a new level of drama.
"As an artist, I never feel like I want to stay in any one lane, but this record really feels like the guardrails have been lifted and all bets are off."
Does the weight of being called a virtuoso or "guitar god" ever feel like too much? Do you feel as if you have to do something amazing on each song?
[laughs] I don't know. I kind of feel like I do that all on my own because of the way music sounded to me ever since I was a kid. When I heard the Dave Clark Five play "Glad All Over," I thought that was amazing.
There are so many songs I could name. But I don't think of it in technical terms; when something's right, it's right. When I hear something that's nailing the message, to me that's the highest level of technique.
I'm so unimpressed by the display of physical technique in the wrong place. I've always felt that way. And that's why I've always been able to enjoy music played by guitar players of any genre, because I'm not really interested in that.
When I'm sitting down and practicing something, yeah, I'll seek out some example from some player that can stretch the way I'm trying to play. But I won't apply that to my music unless I think it's the right thing to do at the right time.
Of course, the concept of what qualifies as "amazing" is so subjective. To some, Neil Young playing a solo on one string is brilliant, while others would opine that it's too simplistic.
Sure. I grew up listening to Neil, so yeah, to me, he's part of my musical fabric. I never questioned what he played, not once. Comparing guitarists… I mean, how can you compare Jimi Hendrix and Jimmy Page? They're both geniuses, and they're both courageous and daring.
At some point you can't argue this case, because if you don't recognize it as a valid argument, then you can't even join in the conversation – it feels absurd. If somebody doesn't understand the beauty in what Neil Young is doing, then it's better just to walk away.
On a lot of this record, you move away from what people consider to be your signature sound. Why?
I'd done it before. There are a couple of times across my catalog where I specifically turned that quality up. With The Extremist, I wanted to make a tribute to my classic rock roots, and every decision we made was based on that. The funny thing was, it came out at the height of grunge.
When I did Shapeshifting, I was thinking the same thing. I just had this idea that these particular songs would benefit from a real nod to some of the classic-rock ways of recording rock guitar songs.
This time around, I thought, No, I'm not going to do that. The songs would dictate how they should sound. I wasn't trying to impose any parameters on the sound.
As opposed to other albums, you recorded this entire record remotely.
Yes, and every guitar part was done in my home studio. It was all recorded DI, and every guitar sound is from the SansAmp plugin.
That must have felt so different to you. You've always said that you love being in a room with other musicians.
I do. I love it. There were many times when I'd take a break from recording this album and I'd play along with some song by Chickenfoot [his former group with Sammy Hagar, Michael Anthony and Chad Smith] to re-live those moments.
There's something so great about recording live in the studio and getting two or three songs done in an afternoon. But then you go, Okay, I did that. Time to move on.
But there's also something great about being left alone so you can play as many stupid ideas as you want and not feel like someone's looking over your shoulder. Doing that opens the floodgates to the emotions in a way that you never experience in a public situation.
Let's talk about some of the new songs. The title track feels very cinematic. Ever thought of doing movie soundtracks?
Hey, I'm ready! [laughs] Sure, why not? The song feels like a movie – it's about giant, sentient elephants roaming a newly terraformed Mars. You should be thinking cinematic. The track took years to put together, and for the longest time we didn't know how it would wind up.
Funnily enough, the guitar solo was one take, and it's just crazy. But that's what you can do when you're left to your own devices and you don't have this time clock going. You can set it up so that you can capture these things, and there's nothing about an exterior schedule that forces you not to do that.
"Blue Foot Groovy" is a completely different animal. It's gritty, raw rock and roll. It would've made a great '70s Rod Stewart song.
Yeah, I think it would! I was thinking of Sammy Hagar when I started writing it. The title started out as "Blue Foot," because I had a series of songs that weren't as complicated as some of the other Chickenfoot songs. Sammy and I were talking about the possibility of eliminating bridges.
Anyway, it was a bit of a nugget that blew up afterward. And then I kept trying to come up with a title and everybody kept saying, "No, 'Blue Foot Groovy' – that's what the title is."
Three of the tracks – "E 104th St. NYC 1973," "Pumpin'" and "Night Scene" – have a lot of jazz fusion in them.
Yeah. Earlier you asked me about dodging the classic-rock thing, and see, once you remove a singular goal in production, you're also removing barriers from what you can write and play.
There's no way to have that relaxed, sprawling, lyrical, yet fusiony kind of improvisation on a piece like "E 104th St." unless you allow that to happen and just write about a vibe and a point in your personal history and how you experienced that.
That track was funny. I had two drum loops in the demo – one was straight and one was swinging – and the combination was so messed-up sounding, but it was so curiously attractive. It was difficult for the guys to figure out how they were actually going to interpret it. Eventually, they made it sound smooth as silk because they're so cool and they're so good at what they do.
But my improv on top of the demo was actually over these two loops that were fighting each other. Should it be straight hip-hop or swing jazz? That was one of the funny things I put out to the guys, and they had to figure out how to rectify straight and swing at the same time.
You play a seven-string on "Through a Mother's Day Darkly." Are you a good seven-string player?
[laughs] Well, as I'm playing I'm always reminding myself, "That's a B string, Joe. That's a B string." So the answer is no, I guess. But I'm a spirited musician. I try to think like Hendrix and Page, because they were so fearless and they went where they wanted. You've got all these incredible performances in all kinds of genres.
I recorded that track really fast. I pulled out my JS6 signature prototype that was turned into a seven-string. I hadn't played it in years; it had been in its case, and the strings were never changed. They were so loose because they'd lost their tension, but I found that interesting. I just wrote the song based on that tactile response and the fact that it was such a weird Mother's Day, in lockdown.
What other electric guitars did you use?
Basically the guitars that I was touring with and keep at home: the [Ibanez JS1CR] chrome signature model guitar, the red MCO and a prototype for a paisley guitar. That's pretty much it. I think there's a sitar on there.
For acoustic guitars, I used a Martin and my JSA model. Usually when I go into a studio, we bring 200 guitars. I don't know why, and maybe there's 15 or 20 that we play. A lot of that has to do with the moment.
It's the same thing with amps. This is the first album I've ever made where I didn't use any exterior amplifier. I have all the amps in the world that anybody should have, but every time I AB'd an amp against the DI guitar going through the SansAmp, the SansAmp delivered more Joe than anything else.
"Delivering more Joe" – we like that.
That's basically what it is. I know that's a really weird thing to come out of my mouth, but that's what it comes down to. At the end of the record, Eric and I were scratching our heads going, "How is this possible?" It's pretty funny.
Pick up a copy of The Elephants of Mars here.
All the latest guitar news, interviews, lessons, reviews, deals and more, direct to your inbox!
Joe is a freelance journalist who has, over the past few decades, interviewed hundreds of guitarists for Guitar World, Guitar Player, MusicRadar and Classic Rock. He is also a former editor of Guitar World, contributing writer for Guitar Aficionado and VP of A&R for Island Records. He's an enthusiastic guitarist, but he's nowhere near the likes of the people he interviews. Surprisingly, his skills are more suited to the drums. If you need a drummer for your Beatles tribute band, look him up.