Marshall Crenshaw Reveals Gene Vincent's Role in His Signature Hit "Someday, Someway"
From '50s rockabilly and '60s pop to '70s punk and '80s new wave, this 1982 smash encapsulates decades of inspiration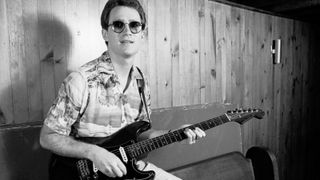 (Image credit: Gary Gershoff/Getty Images)
"I can knock certain songs of mine for one reason or another, but not this one," Marshall Crenshaw says of "Someday, Someway," the irresistibly catchy 1982 pop-rock gem that launched the Detroit-born musician's career and is now considered his signature song by fans and critics alike.
"It sounded good when I released it, and it still sounds good today. People want me to play it at every show, which is fine, because I happen to love it and I'm really proud of it."
Phony Beatlemania
In February 1980, Crenshaw was in Boston for a four-week run of Beatlemania, the musical revue in which he'd portrayed John Lennon for three long years.
"One night, the stage manager gave me a warning: 'You've got to try harder. Look like you're enjoying it,'" he recalls. "I quit the show the next day."
While in Boston, Crenshaw began writing songs in earnest, a creative binge that was sparked by listening to the city's FM rock station, WBCN.
"They played a lot of punk and new wave tunes, and I found them very exciting and inspiring," he says. "I was in my hotel room and I heard the Clash's 'London Calling' for the first time. Those words 'phony Beatlemania has bitten the dust' spoke to me. It was, 'Okay, that's a message I'm getting.'"
At the same time, Crenshaw was channeling the spirit of '50s rock and early '60s girl groups in his writing. He was particularly taken with "Lotta Lovin'," a 1957 rockabilly hit by Gene Vincent and the Blue Caps.
"I started with that same drum beat, and before I knew it a song came to me – the riff, the verse and chorus, the words," he says. "Even the title, 'Someday, Someway' – it was 'first thought, best thought.' Right away, I knew I had something."
Crenshaw dashed off a boom-box cassette demo of the song (which he soon recorded over), then headed to his home base of New York City and made a proper recording of the cut and other compositions at a rehearsal studio where his brother Robert worked.
He shopped his tape around, even leaving a copy with the doorman of producer Richard Gottehrer.
"From Richard, the tape got to Robert Gordon, who started recording some of my songs," Crenshaw says. "He did a version of 'Someway, Someway,' and it became a nice hit for him.
"Then I made a single of it for this little label, Shake Records, and WNEW started playing it. That opened the floodgates, and all the labels wanted me."
Take 28
Signed to Warner Bros., Crenshaw, with bassist Chris Donato and brother Robert on drums, set about recording his debut album, with Gottehrer producing, at Manhattan's Record Plant Studios.
"I was intimidated being in this fancy studio," Crenshaw remembers. "I struggled to get sounds I was happy with."
Gottehrer offered suggestions for arrangements on certain songs, but when it came to "Someday, Someway," the track pretty much stayed as it was.
"I did some cool guitar things on the song," Crenshaw notes, "like I'm playing an E-string harmonic that drones throughout.
"But Richard had me record six rhythm acoustic guitars, which I didn't understand. They're way down in the mix."
The guitarist doubled all of his electric guitar parts, relying on his main sunburst 1966 Stratocaster that he played through a Fender Pro tube amp.
The basic tracks went smoothly, but even so, the group performed it 35 times to get the right feel. Crenshaw credits second engineer Jim Ball, with zeroing in on take 28 as the keeper.
"Jim played it for us and said, 'Listen to this one,' and sure enough, it was there," he says. "My brother really nailed it on the drums, and that's something I keyed into."
Don't Change That Dial
Because "Someday, Someway" had enjoyed success from its earlier versions, Crenshaw balked at it being the lead single from his eponymous album.
But Warner Bros. insisted, and he relented. "Thank goodness they talked me out of my stupidity," he says.
Released in May 1982, the song hit number 32 on Billboard and was hailed by critics as being one of the year's best.
"It's a really cool record," Crenshaw says. "When it comes on the radio, I don't change the station."
When asked to name a song of his that causes a different reaction, he laughs and says, "That's a detail I'll save."
Browse the Marshall Crenshaw catalog here.
All the latest guitar news, interviews, lessons, reviews, deals and more, direct to your inbox!
Joe is a freelance journalist who has, over the past few decades, interviewed hundreds of guitarists for Guitar World, Guitar Player, MusicRadar and Classic Rock. He is also a former editor of Guitar World, contributing writer for Guitar Aficionado and VP of A&R for Island Records. He's an enthusiastic guitarist, but he's nowhere near the likes of the people he interviews. Surprisingly, his skills are more suited to the drums. If you need a drummer for your Beatles tribute band, look him up.