"Any Idiot Can Play It… I Just Happen to Play It Better Than Anybody": Leslie West Explains Why "Mississippi Queen" Is a Stone-Cold Classic
Remembering the guitar legend on the anniversary of his passing with this insightful interview about how he made Mountain's 1970 breakthrough hit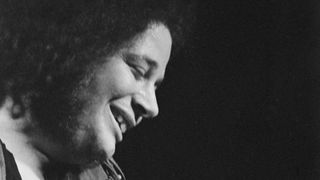 (Image credit: Archive Photos/Getty Images)
Leslie West is decidedly modest when it comes to "Mississippi Queen," the rock behemoth that put his band Mountain on the map when it was released in 1970.
"The song's got three chords," he says. "Any idiot can play it." He chuckles, then adds rather immodestly, "I just happen to play it better than anybody."
West admits that the track "has just everything you need to make it a winner. You've got the cowbell, the riff is pretty damn good, and it sounds incredible. It feels like it wants to jump out of your car radio. To me, it sounds like a big, thick milkshake. It's rich and chocolatey. Who doesn't love that?"
"Mississippi Queen" was the opening track on Climbing!, the debut album from the four-piece, which included West, bassist/producer Felix Pappalardi, drummer Corky Laing and keyboardist Steve Knight.
As West points out, the song doesn't wear out its welcome. "The whole thing is two and a half minutes," he exclaims. "It's over before it starts. People ask me, 'Why didn't you make it longer?' What would be the point? At two minutes, you don't get bored."
The "Bedroom Sound"
"Thanks to my first record company check, I had this huge apartment on Park Avenue," the New York City native explains. "I thought, Now that I have this place, I'd better do something to keep it. So I was messing around with this riff and these chords.
"I had this thing I used to do – it was my 'bedroom sound.' I'd put this little amp on my bed and position it so it was shooting right into the pillow. I cranked it up all the way, and it sounded like a truck. It really worked with this new idea I had.
"Corky had some lyrics written down, and a friend of his, David Rea, came up with some lines for the chorus. So when Corky heard my riff and chords, he showed me what he had. I said, 'Okay, I think this can be something. Let me work on it.'
"That was all we had when we went into the studio. We never actually played the song 'till we recorded it, but I had a sense that it would come together."
Got a Fever for Cowbell
"There's this story on Wikipedia that we did all these takes," West says. "What a load of crap. We did maybe two takes. And the story goes that Corky got bored, so he started playing the cowbell. Also crap. The cowbell was always in there.
"The first time we played it, Felix said, 'Count the fuckin' song off!' Corky had a cowbell on his kit, and that's what he used to count it off. After that, we were in.
"It's only one guitar track on the rhythm – a Les Paul TV Jr. into a 50-watt Marshall that went into a Sunn 12-inch cabinet. I knew how to make it sound extra fat.
"I overdubbed the leads, and we were done. It was simple. Felix stuck a little piano on the track, which I always hated.
"I never looked at it like it was a hit, but we thought it sounded pretty good. We recorded at Studio A of the Record Plant, and Jimi Hendrix was in Studio B. I played him some of the album we were making, including 'Mississippi Queen,' and his eyes got wide. Seeing how impressed he was made me feel like we were on to something."
It Keeps on Giving
"When we released the song as a single, we put 'Mississippi Queen' on both sides so DJs couldn't get creative and play the flipside instead. The single only got to number 21, but I think it could have gone a lot higher. I don't know how they decide these charts. I mean, radio stations were playing the hell out of it.
"Live, the reaction was always enormous. People freaked out the second we started playing it. We stretched it out a bit onstage, because two minutes is pretty short, and we usually saved it for the encore. I learned a long time ago to go out on a high note.
"It's a song that keeps on giving. A lot of people have covered it. I like most of the versions, but I really like the one that Ozzy Osbourne did. I even played on it. The song has been sampled something like 2,000 times.
"Every time I hear it, I call my accountant."
Order Mountain's Climbing! here.
All the latest guitar news, interviews, lessons, reviews, deals and more, direct to your inbox!
Joe is a freelance journalist who has, over the past few decades, interviewed hundreds of guitarists for Guitar World, Guitar Player, MusicRadar and Classic Rock. He is also a former editor of Guitar World, contributing writer for Guitar Aficionado and VP of A&R for Island Records. He's an enthusiastic guitarist, but he's nowhere near the likes of the people he interviews. Surprisingly, his skills are more suited to the drums. If you need a drummer for your Beatles tribute band, look him up.