John Sebastian: My Career in Five Songs
Sound-effects records and Mussorgsky! Sebastian reveals what went into a handful of amazing tracks from his long, hit-making career.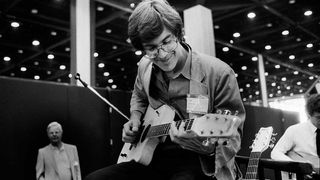 (Image credit: Paul Natkin/Getty Images)
February 9, 1964 launched an untold number of rock bands in the U.S., one of them being the Lovin' Spoonful. That night, folk guitarist John Sebastian dropped by the Greenwich Village apartment of his friend Cass Elliot to watch the Beatles on The Ed Sullivan Show.
Elliot, who would soon rise to fame in the Mamas & the Papas, was something of a North Star for local musicians, and she introduced Sebastian to another young guitarist, Zal Yanovsky.
"Cass liked pairing people up. It was just one of the talents that she had," Sebastian recalls. "That night, I played guitar with Zally, and we clicked immediately. Cass took Zally aside and said, 'What do you think?' He said, 'John's a really great fingerpicker.'
"She asked me what I thought of Zally, and I said, 'Man, he's such an unusual player. He's smearing Elmore James and Floyd Kramer and the Buckaroos all into the same box.' It was obvious that we should do something together."
A year after their first meeting, Sebastian and Yanovsky, along with bassist Steve Boone and drummer Joe Butler, were on the charts with the Lovin' Spoonful's first hit, "Do You Believe in Magic."
The shimmering and exuberant track (which, unbelievably, was turned down by every record label in town) kicked off what would be a string of mid-'60s pop-rock radio smashes for the band. One after the other, they included "You Didn't Have to Be So Nice," "Daydream," "Did You Ever Have to Make Up Your Mind?," "Summer in the City," "Nashville Cats," "Darling Be Home Soon," and "Six O'Clock."
"It was an amazing time. We definitely had a good period when we were on the radio a lot," Sebastian says. "Being famous had its benefits, and we were fortunate to be friends with a lot of people in that higher echelon of fame. But to me, the best element to being in the public eye was that it was a conduit to putting more songs out there. The acceptance and fame stimulated us, but we put in the work, too. This stuff doesn't just happen on its own."
Tracing his musical influences, Sebastian brings it all back to playing acoustic guitar at summer camp as a kid.
"You have to start with learning to play 'Tom Dooley,'" he says. "Getting into the Kingston Trio was huge. I was very naïve about American music before I discovered them. And then I have to mention Johnny Cash: 'I Walk the Line' was an important record for me, not just because it was cool and dark but because that song taught me the relationships between tonic, dominant, and subdominant chords. When I played it, I said, 'I think I discovered something.'"
After the Lovin' Spoonful folded in 1968, Sebastian embarked on a successful solo career, releasing more than a dozen albums that continued to span the waters of pop, rock, folk, and blues. He had something of a surprise hit in 1976 with the good-natured "Welcome Back," his theme for the TV Series Welcome Back, Kotter, which reached Number One on Billboard.
Throughout his career, he's distinguished himself as an ace multi-instrumentalist, equally adept on piano, organ, harmonica, autoharp, and guitar. Rating his own six-string skills, he says modestly, "I usually know what a song needs. I'm kind of a trencherman guitar player. I love playing big figures, but I also understand support. It's one of the things I do well."
Lately, Sebastian has been collaborating with guitarist Jimmy Vivino (known to TV audiences for leading Conan O'Brien's house bands) on a series of projects. "I can't figure out why Jimmy is using me," he says with a laugh.
"He keeps asking me to play lead guitar on these things, and I keep telling him, 'No, no, you're the lead guitarist.' But he's singing, so he keeps asking me to play more. It's kind of comical, but it's very enjoyable."
"Do You Believe in Magic" – The Lovin' Spoonful, Do You Believe in Magic (1965)
"It was the first song that we recorded, and it's the song that got us turned down by every record company in New York. I wrote it one night after the Spoonful played a gig at the Night Owl Café.
"We had been playing the place for a while; our audience was mostly old Italian men playing cards and drinking espresso. But we started to get more electric and bought bigger amps, and girls started coming in. This one night we played the place, and in the back of the club I could see this young girl dancing to us.
"That was the moment when it started to come together, seeing that girl dancing. The next time I sat down, I had the song pretty much written. I had been fooling around trying to play 'Heat Wave' on the autoharp, and I realized, Oh, these climbing chords… They could do other jobs. There it was: 'Do You Believe in Magic.'
"The recording came together quickly. It didn't hurt that [session drummer] Gary Chester, who happened to be in the building, played tambourine on the track. He kept us from speeding up. I played my Les Paul on the song, but I also played autoharp, which covers a lot of mistakes. We really thought we had a hit, but no one else did. It took this little label, Kama Sutra, to hear what was there.
"Pretty soon, everything changed. We went to California to play our first West Coast gigs. The moment we got in our rent-a-car, the song came blaring over the radio. Yanovsky just started hitting me – 'Listen to that!' It was brilliant."
"You Didn't Have to Be So Nice" – The Lovin' Spoonful, Daydream (1966)
"We spent a week playing this nasty topless club in San Francisco. Each night, we went back to our cramped living quarters – we weren't rich enough to have our own hotel rooms yet – and it seemed like half of the women from the club would come back with us to be entertained by Yanovsky.
"Steven and I went off to a corner with our guitars, and he said, 'I've got something. It's not a song yet.' He played me the rudiments of what he had, and I said, 'Whoa!' I filled in the words, and in half an hour we had a song.
"This was another song that was a breeze to record. We had these very well-defined Duane Eddy-ish guitar parts that worked so well, especially the way they moved one phrase to the next. I again used my Les Paul through a Fender Super Reverb.
"It's funny – Yanovsky was hard to maneuver into position in rehearsal, but in the studio he became a force. He saw this set of orchestral chimes that were waiting to be picked up from a previous session, and he said, 'We've got to try those.' They were such a perfect overdub for the guitar parts.
"So now we had our second hit. We didn't have a lot of time for patting ourselves on the back, because we had Kama Sutra as our big force and we had to compete with bands on Columbia. We were moving fast, and we accomplished a lot in just a few years."
"Summer in the City" – The Lovin' Spoonful, Hums of the Lovin' Spoonful (1966)
"I wrote this primarily with my brother, Mark. He played me this song about summer in the city, and I was struck by how it went from one subdominant to the next. I wanted to create tension, so that's how I wrote the piano figure in the beginning. It was like [Modest Mussorgsky's] 'Night on Bald Mountain.' It was dark. 'At night it's a different world' – the words started coming out.
"For months, Steven would play this keyboard figure on the black keys, and we'd go, 'Steven, that's not a fucking song. Get off that thing.' Suddenly, though, that silly keyboard figure was perfect for this song. It became what the Beatles would call their 'middle eight.'
"The sound of the song had to be tough. It wasn't a pop sound. As usual, I played my Les Paul, but I might have put it through a Magnatone. The record was very involved. Zally was a running dialogue of ideas. He said, 'The snare can't sound like a snare. It has to sound like a garbage can falling down a set of cement stairs.'
"Our producer, Roy Halee, miked the snare on an eight-story metal stairwell to create this enormous backbeat. And then we went bananas with a trunk full of sound-effects '78s – car horns, jackhammers...you name it. It was wild.
"The song really worked. It came out in the summer of '67 and spent three weeks at Number One. I still didn't think we were pushing anything on the scale of the Beatles – that's unfathomable. But we were doing the day-to-day work of being in the game, and with this song we hit it at the right time."
"Face of Appalachia" – John Sebastian, Tarzana Kid (1974)
"Lowell George and I had been trading home tapes. He had found a radio compressor – it wasn't meant to be a guitar effect – but he used it to compress the sound of his acoustic guitar beyond belief.
"He sent me a tape of something with that guitar effect, and I said, 'Man, that is cool! That has mystery. It sounds like the face of Appalachia or something.' And he said, 'Yeah, that's it. Write that.' The music was pretty much done. My musical contribution was as a lyricist.
"On that level, it was a hard song to write because it was a complicated subject, and I wanted to get all the thoughts in. My grandfather used to talk about walking the Appalachian Trail, and I got all excited about it. Those first couple of verses are about that – 'Dreadful sorry, my beloved. Such a promise could not keep. All my dreams of Appalachia are just an old man's memory.'
"I recorded it with Lowell. He played a white Stratocaster with a motorcycle wrench for slide. It's just a festival of slide prose – there's Lowell, Ry Cooder, and David Lindley. It was just incredible. I played a Gibson J-45 on it, but I was really the foundation-type player. When Lowell would start those long phrases of his, the sound was like butter. He had such delicious tone."
"Grumpy Little Christmas" – John Sebastian, Grumpy Little Christmas (2015)
"This is one of my most recent songs, so I'm partial to it. I was working with Happy Traum, who, as many people know, is a tremendously positive force. When he gets a solstice show going, they're just the happiest Christmas songs you ever heard. So I had my own reaction to them, and I called it 'Grumpy Little Christmas.'
"Recording it was very straightforward. I played guitar on it, but I was intelligent enough to bring David Grisman in and have him do his thing. I love working with David. We go back to when we were 18 together. I've always enjoyed his humor and his approach to guitar playing. You never need to give him any kind of direction. He instinctively knows what to do, and it's better than anything you could think of.
"In fact, I was given some direction. At one point, I remember looking at the engineer, and I asked, 'Could I be a little louder in my phones?' He looked at the console, then turned back to me and said with a big smile, 'Play louder!'"
All the latest guitar news, interviews, lessons, reviews, deals and more, direct to your inbox!
Joe is a freelance journalist who has, over the past few decades, interviewed hundreds of guitarists for Guitar World, Guitar Player, MusicRadar and Classic Rock. He is also a former editor of Guitar World, contributing writer for Guitar Aficionado and VP of A&R for Island Records. He's an enthusiastic guitarist, but he's nowhere near the likes of the people he interviews. Surprisingly, his skills are more suited to the drums. If you need a drummer for your Beatles tribute band, look him up.