John Petrucci Discusses the Limitless Potential of Progressive Music and Unpacks the Philosophy Behind His Style
In reuniting Liquid Tension Experiment, the prog guitar virtuoso welcomes an old friend to the writing room, and finds new modes of expression within instrumental music.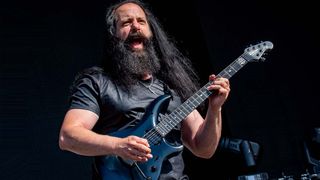 (Image credit: Francesco Prandoni/Getty Images)
Dream Theater had to cancel their 2020 tour due to Covid-19, but rock and metal's leading progressive guitarist stayed busy, first with a solo album and more recently by rejoining his Liquid Tension Experiment bandmates Jordan Rudess, Tony Levin, and Mike Portnoy for Liquid Tension Experiment 3, their first studio release since 1999.
What might a listener get from Liquid Tension Experiment that is different from Dream Theater?
They're both a collective experience musically, but in Dream Theater, you know... there's vocals. [laughs] But because of that, it's also a different sort of sonic aesthetic. Since there's no singing, each instrument is taking turns acting as the main voice. Plus, what we do in Liquid Tension Experiment is very, very improv-based. So it has its own identity.
Does that identity change what you might do guitar-wise?
I'm not sure that it changes too much. If anything, it's in the writing, because we're not necessarily thinking in terms of verses and choruses. The instrumental part of it just kind of keeps moving along, and there's this baton that gets traded back and forth to keep the music propelling forward.
Mike Portnoy played drums on your 2020 solo record, Terminal Velocity, but this is the first time you've worked together in a writing capacity since he exited Dream Theater under less-than-amicable circumstances a decade ago. How was it getting back together as creative partners?
First of all, it was so cool to have him play on my solo album. He did an awesome job and it was a great experience. But then to reconnect creatively and compositionally for Liquid Tension Experiment was a lot of fun, too. And he'd say the same thing – it's like we didn't miss a beat. It was the same magical chemistry.
What does the term progressive music mean to you?
I've always said the same thing: It's where there are no boundaries. You can stylistically do whatever your creativity can bring to the table. And that can be on so many levels – song length, lyrical content, tone, sounds, concepts. There aren't the normal confines in terms of thinking that a song has to be this or that.
What do you focus on to make your style and sound so unique?
An important aspect for me is making sure the guitar tone is spot-on. The other thing is the expressive side of it. There are so many guitar players of varying ages that can play incredibly proficiently. So that's not a thing anymore – where you're identified just because you can do something fast or technical.
The bar has been raised too high. So for me, the real identity comes from how you express the melodic side and the phrasing side. What separates guitar players are the smaller details – your vibrato, your bending technique, how you slide in or out of a note, your pick attack, your dynamics. That's your thumbprint, you know?
To one of your points, there are so many talented progressive guitarists today. But I would argue that you might be the most recognizable arbiter of this style, and that you have been for decades. Is there pressure in holding that position?
Well, the biggest sensation I get from a statement like that is a humbling feeling. Knowing that there are so many brilliant, ridiculously talented guitar players out there, I think that to receive any sort of recognition is overwhelming. And I think you could actually turn the word pressure into inspiration.
It's a positive pressure, where you want to make sure you're always on your game. It drives you not in a competitive way but in a way where you feel like it's important to maintain at the highest level that you can, and not be complacent or lazy. So it's inspiring. It keeps me wanting to be better.
Liquid Tension Experiment 3 is out now via Inside Out.
All the latest guitar news, interviews, lessons, reviews, deals and more, direct to your inbox!
Rich is the co-author of the best-selling Nöthin' But a Good Time: The Uncensored History of the '80s Hard Rock Explosion. He is also a recording and performing musician, and a former editor of Guitar World magazine and executive editor of Guitar Aficionado magazine. He has authored several additional books, among them Kurt Cobain: Montage of Heck, the companion to the documentary of the same name.