John Petrucci Announces New Solo Album, 'Terminal Velocity'
By Jackson Maxwell published
The new LP, Petrucci's first solo effort in 15 years, will arrive in the fall.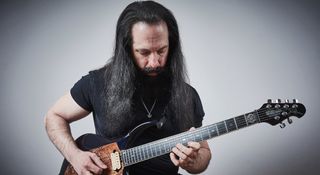 (Image credit: Olly Curtis/Future)
Though Dream Theater has dependably cranked out an album every couple of years since their formation in the late '80s, it's been a long, long time since we last saw a solo effort from their guitarist, maestro John Petrucci.
The long wait, however, will soon be over.
On Instagram earlier this week, Petrucci revealed that his next solo album, titled Terminal Velocity, will be released in the fall. The new effort will be his first since 2005's Suspended Animation.
For now, we don't have a whole lot to go on - just the cover art and an all-too-brief snippet of music - but we'll keep you updated as we find out more.
For more on all things Petrucci, head on over to johnpetrucci.com.
Get the latest news, reviews and product advice straight to your inbox.
Thank you for signing up to The Pick. You will receive a verification email shortly.
There was a problem. Please refresh the page and try again.