Joanne Shaw Taylor Opens Up About the Challenges She Faced as a Young Female Guitarist
With her new long-player 'The Blues Album' due out next month we look back at the British blues sensation's formative years.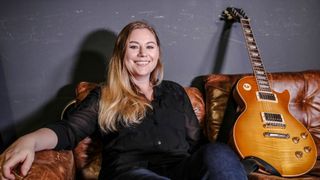 (Image credit: Christie Goodwin)
In November 2008, I was on the road in Europe with a 22-year-old guitarist named Joanne Shaw Taylor. By that time, she had been a touring pro for more than six years after being discovered at 16 by Dave Stewart of the Eurythmics.
What immediately struck me about Jo was the earthiness of her sound and her persona. Her Strat tone is huge and meaty, and her playing style borders somewhere between her British blues-rock roots and the deep American South.
As a chick, she's about as real as it gets – a true-blue player. Jo released her sixth album, Reckless Heart, in 2019 and her seventh – the Joe Bonamassa/Josh Smith-produced The Blues Album – is set for release next month. In our interview, she spoke about her early years and the various challenges she faced as a young female guitarist.
How did you get started playing guitar?
My father was a guitarist and a harmonica player, so there were always guitars around the house. My brother played as well. Being from Birmingham, England, my dad loved Led Zeppelin, Slade and all those heavy-metal bands, so I knew about electric guitar music from a very early age. I got my first Fender for my 13th birthday.
Did you always know what you were going to do?
I knew as soon as I saw a Stevie Ray Vaughan video. My studies went out the window. I tried my best to keep up, but I was practicing until I fell asleep at 4 a.m. and then trying to get up for school.
When did you actually start playing guitar professionally?
I started gigging when I was 15. What made a big difference was I learned about Jonny Lang. That was the first time I realized that you didn't have to be a certain age to play the blues, and that I could try and make a living from it. There was a review in The Times that said he had gotten his first band and recorded his first album after playing for only three months and then left school, so I thought that was the benchmark. I think there was no one else like that – a professional musician in the blues at 15 and playing clubs. I started having a mild midlife crisis at 15 because I hadn't left school yet.
Were you more concerned you'd be discriminated against for being young than for being female?
Absolutely. I didn't even really consider the female factor until I got out of my teens and thought, 'Yay, I'm not a teenager anymore, but I'm still a girl!' That was like another layer that I would have to get through. But in a lot of ways, it's been a bonus. I've always said, if you hear a guitar and shut your eyes, what does it matter if it's a 60-year-old man or a 16-year-old girl?
I think you still don't see enough women doing it, though. I used to show Stevie Ray videos to girls my own age, and I was like, "Jesus, look what I've discovered! This is going to change our lives." But they would look at it and say, "But it's just a bloke playing guitar."
I've always been a tomboy anyway. That's probably why it never occurred to me that I'd face discrimination for my sex, because I always felt like one of the boys. I think I play more like a man, and maybe that's because that Texas style influenced me. One of my favorite things is football, and I play it pretty much the same I do guitar.
You've got to play hard and give it your best, and if you break some shins along the way, bonus.
You can pre-order Joanne Shaw Taylor's new LP The Blues Album directly from Joe Bonamassa's label KTBA Records here.
Joanne Shaw Taylor will be touring the U.S.A. later this year. Visit her website here for more information.
All the latest guitar news, interviews, lessons, reviews, deals and more, direct to your inbox!