Jane Getter on Creating Her Own Scales and Chords and Taking a Step Into the Unknown with an Adventurous Sound
Getter's singular sense of scales lends mystery to her fusiony new album, Anomalia.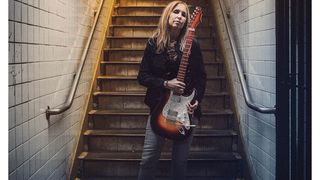 (Image credit: Press)
The great Persian philosopher Rumi once spoke of a metaphorical field beyond notions of right and wrong where the soul would be fulfilled beyond words. If such a place had a soundtrack, it could very well be Anomalia (Cherry Red Records), the imaginative new album by Jane Getter Premonition.
Anomalia is a phantasmagoric trip that twists and turns between King Crimson–esque sturm und drang, heavy funk, psychedelic blues, lyrical anti-folk, and melodic pop rock.
At its center are Getter's formidable talents as a guitarist, composer, and vocalist. Joining her for the ride are keyboardist Adam Holzman, second guitarist Alex Skolnick, bassists Stu Hamm and Mark Egan, and drummers Chad Wackerman and Gene Lane.
What were the challenges of making an album during a global pandemic?
I essentially work with two rhythm sections – the West Coast one of Stu Hamm and Chad Wackerman, and the East Coast one of Mark Egan and Gene Lane. Thankfully we'd finished all the basic tracks with sessions on both coasts just before the pandemic shut everything down.
The overdubs and guest appearances by guitarist Vernon Reid and vocalists Chanda Rule and Randy McStine were going to be recorded remotely anyway. The mixing by Junichi Murakawa and mastering by Andy VanDette was also done remotely, so it was fortuitous that we were able to get the live tracks down when we did.
What was your main rig on Anomalia?
I mostly used my Peekamoose guitar that was custom-made by Paul Schwartz. It's a Strat shape with humbucker pickups that have a coil-split option, a rounded neck, and medium-sized frets. I also used a '71 Fender Telecaster on a few things.
I used a '70s Martin D-28 for all the acoustic parts except for the solo acoustic tune "Safe House." That was tracked on a mid-'80s Ovation nylon-string I have, although I'm not sure of the model. My main amp is a Fuchs Full House 50, which is where I get my distortion sound. I used a Vox wah and a Diamond Vibrato pedal, but all the reverb and delay came from plug-ins.
The nine tracks on Anomalia are a mix of vocal tunes and instrumental tunes. Do you tend to write the music first and add vocals later?
I'm a guitar player first and foremost, so the music comes first. As I'm playing around with a riff or a chord progression, I'll know straight away what kind of melody I hear with it and whether I hear it as a vocal song or an instrumental song.
Once I decide what songs I'm going to sing on, I'll go and come up with the words. I wrote all the lyrics on the album, except "Disappear," which was adapted from a poem by my friend Beth Muller.
"Alien Refugee," "Answers," and "Queen of Spies" start with acoustic guitar before blossoming into full-band arrangements. Were they written on acoustic?
Actually, I pretty much wrote everything on electric, then decided certain things would work better on the acoustic as we were putting the arrangements together.
Do you ever use any open tunings?
No, not really. Maybe drop-D on occasion, but open and altered tunings are something I never really explored.
You do seem to employ a lot of unusual chord voicings though, like at the beginning of "Dissembler" for instance.
The beginning is just me and Alex playing similar chords. Then the keyboards come in a little later. Sometimes when I translate guitar chords onto the written keyboard chart, I'll make them slightly different to create a more layered sound.
To be honest though, most of the chord shapes I play are based on me just messing around until I hit upon something that sounds cool. I'm guided more by my ear than by any theoretical formula. I'll also create my own scales based on note groupings that I think sound good together.
Can you give an example?
Sure. A few years ago, I spent two months in India and a friend showed me a certain raga that I really liked, but I didn't think I would be able to translate it into the world of Western music. My solution was to take some notes out that didn't work, then add some I thought would work. Eventually I came up with a six-note scale voiced 1 - b2 - 3 - 4 - 5 - b7, christened the Chennai scale after the city in India.
Recommended Listening: Anomalia
• "Kryptone"
• "Lessons Learned"
• "Queen of Spies"
• "Still Here"
• "Safe House"
You can hear it on "Kryptone" starting at around 1:12, when I'm trading lines with Adam in the key of E. This would make the pitches of the scale E, F, G#, A, B, and D. In regard to the scales I create, I am aware that some may already exist with a different name. I'm still not aware which of my scales exist theoretically elsewhere, but it's not important to me to find out.
What does matter is the process I went through to create them, and there are a lot of ways you can do this. For example, sometimes I'll take a traditional scale and just add a dissonant note to it; sometimes I'll take a traditional scale and simply leave notes out to give it a more open sound; and then sometimes I'll pick two triads and weave their notes together to create a new scale.
I actually have a course online at Truefire.com where I go into detail about all the different scales I use and how I create them.
You definitely do your share of shredding on Anomalia, but you also turn the center-stage spotlight over to Alex Skolnick and Vernon Reid in places too.
Alex plays rhythm on many tracks. He also takes the main solo toward the end of "Kryptone" and some of the distorted lines in the verse of "Dissembler," and we trade solos in "Still Here." When I perform live, Alex and I will play a lot of layered parts, playing in different octaves and that sort of thing. He'll sometimes hold down the rhythm when I'm singing. Vernon is a guest soloist on "Dissembler," and his playing is just so unique. It was a great element to add.
What instrument is playing the initial melody on "Queen of Spies"?
That's Adam on one of his vintage Moogs. Then the guitar comes in and we play it together.
"Queen of Spies" reminds me a little bit of the middle section of Metallica's "Master of Puppets," and "Still Here" seems like it nods to the Mahavishnu Orchestra's "Meeting of the Spirits" a bit. Were these direct inspirations at all?
These weren't deliberate nods, but certainly those artists are on my radar, especially John McLaughlin. I'd say that, on this album, I was also really influenced by Porcupine Tree, Allan Holdsworth, and Jeff Beck, among others. The switching from loud riffy sections to softer picking things probably comes from King Crimson, and the more metal riff–type things were inspired by bands like Opeth and Animals as Leaders.
Your influences seem rather wide-ranging though. "Lessons Learned" is kind of a dark song that has something of a pop hook with bright layered vocal harmonies for the chorus.
That's actually the single the label is promoting, so I guess they think so too!
How will you work around not being able to go out on the road to support the new album?
Well, until concerts come back fully, we're all just doing the best we can. I'm going to be hosting some Facebook live events, and I've already done a few livestreams. It is pretty surreal playing and not having audience feedback though. Suffice to say, I can't wait to play in front of a live audience again.
All the latest guitar news, interviews, lessons, reviews, deals and more, direct to your inbox!