"It's the Basis for Everything I Do Because it Tells the Truth": How Joan Jett Combined Punk Toughness and Ear-Candy Pop Smarts on "Bad Reputation"
The rock icon reveals how a stint touring with the Ramones inspired one of her most enduring hits.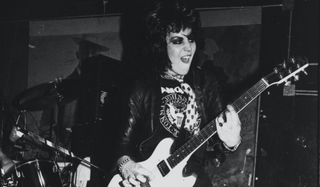 (Image credit: Lynn Goldsmith/Corbis/VCG via Getty Images)
Joan Jett is unequivocal about "Bad Reputation," the rebellious pop-punk anthem that kicked off her post-Runaways career in 1980.
"I love the song and am very proud of it," she says. "It's the basis for everything I do because it tells the truth. Too many people held this negative view of me because I played electric guitar. They said I was mean because of how I looked. I had this supposed 'bad reputation' because I was doing exactly what I wanted to do. It's what my parents told me I could do, and I believed them. I addressed it all in the song."
Owning Her Story
Following the breakup of the Runaways in 1979, Jett, along with her manager, Kenny Laguna, and producer Ritchie Cordell, set about recording her debut solo album on the cheap (and by calling in numerous favors) at the Who's Ramport Studios in London.
Friends like the Sex Pistols' Steve Jones and Paul Cook assisted, along with members of the Roll-Ups: guitarist Lea Hart, bassist Jeff Peters, and drummer Paul Simmons. After recording on and off for a year, Cordell opined that the record was one song short. As it turned out, Jett had an ace up her sleeve.
"There was this one riff that I had sitting around," she says. "It was a fast, straight-up Ramones kind of thing, and I thought it was pretty good. I had just come off from playing with the Ramones, so that kind of style was in my head – fast and hard."
At the same time, Jett talked to Laguna about her career and what she saw as misconceptions about her in the press.
"The writers were always trying to make me out to be bad, or wrong – you know, not feminine," she recalls. "To them, I was 'the other,' whatever that is. I decided to embrace it, and Kenny and I set about codifying it in words."
A One-Day Wonder
The song they worked up was tough enough to feel authentically punk, but filled with ear-candy pop smarts. "That's the combo you get with me and Kenny," Jett says. "With me alone, you wouldn't get that."
Laguna says a key moment occurred when his friend Marty Joe Kupersmith (of Jay and the Americans fame) heard the line "I don't give a damn about my reputation." "He said, 'That's it! That's a song!'" Laguna says. With that encouragement, he and Jett finished the lyrics. (Kupersmith shares writing credit on the song with Jett, Laguna, and Cordell.) Finances were shot, and Jett had one day of studio time left.
"We recorded the song lean and mean," she says. "It was pretty close to one take. I played all the guitar parts on my white Melody Maker. I think I went through an Ampeg amp, but it could have been a Music Man or a Vox. The sound was great. It was absolutely what we wanted."
Soundtrack Sensation
Jett felt as if "Bad Reputation" had all the makings of a hit. "It was catchy and something people could relate to," she says. "I loved it right off the bat."
The song was the lead track on her eponymous debut album, released independently in 1980, but it failed to chart. It wasn't until a year later, when she formed the Blackhearts and was about to issue her breakthrough album, I Love Rock 'n Roll, that the song picked up steam.
Her debut album was re-released by Boardwalk Records as Bad Reputation, and the song became a favorite with DJs across the country.
"Even so, it was never released as a single," Laguna says. "It became this underground hit. When iTunes came along, however, the song became a Gold download. It went wild."
Over the years, "Bad Reputation" has been a staple in Jett's live shows, and it's become a go-to pick for film and TV music supervisors who have featured it in shows such as Freaks and Geeks and American Chopper, as well as the movies 10 Things I Hate About You and Shrek, among others. (It was even used this year in a self-deprecating ad for Folgers Coffee.)
Jett was particularly pleased in 2019 when Nike unveiled a spot featuring 10-year-old soccer phenom Makena Cook playing with her heroes in advance of the Women's World Cup, all to the soundtrack of "Bad Reputation." "That was a really great one," she says. "I think a lot of women and girls hear the song and say, 'Yeah… it's telling my story.'"
All the latest guitar news, interviews, lessons, reviews, deals and more, direct to your inbox!
Joe is a freelance journalist who has, over the past few decades, interviewed hundreds of guitarists for Guitar World, Guitar Player, MusicRadar and Classic Rock. He is also a former editor of Guitar World, contributing writer for Guitar Aficionado and VP of A&R for Island Records. He's an enthusiastic guitarist, but he's nowhere near the likes of the people he interviews. Surprisingly, his skills are more suited to the drums. If you need a drummer for your Beatles tribute band, look him up.