"I've Tried to Get a Modern, Less High-Gain Version of that Natural Sound that Clapton Had in the '60s": Gary Moore Details His Latter-Day Guitar Rig
In this candid 2009 GP interview, the late guitar legend discusses how the sounds of Clapton, Peter Green, Albert Collins – and his own hard-rocking touch – shaped his setup.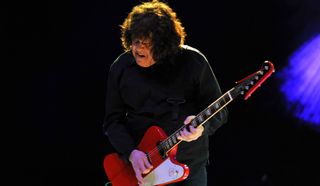 (Image credit: C Brandon/Redferns)
This interview with Gary Moore was originally published in the February 2009 issue of Guitar Player.
Plenty of guitarists have received more acclaim in the rock arena than Gary Moore. Others have gotten more nods from headbangers. And certainly there are bluesmen with more cachet than Moore. But good luck finding a single guitarist who has garnered the kind of critical acclaim and commercial success that the Belfast, Ireland, native has had in all three genres.
While still a teen, Moore caught the eye of Fleetwood Mac guitarist Peter Green. Besides becoming a seminal influence on the young guitarist, Green helped Moore's then-band Skid Row (no relation to the '80s hair metal band) seal a record deal. He also sold Moore his famed "out-of-phase" '59 Gibson Les Paul that would become his main guitar for years to come.
Shortly thereafter, Moore's eclectic side emerged. He started his own trio – taking up vocal duties in the process – before serving several stints with Thin Lizzy, appearing on an album by classical composer Andrew Lloyd Webber, and adding licks to projects by drummer Cozy Powell and bassist Greg Lake.
In the early '80s, he issued a series of metal-tinged albums full of impressive guitar work before turning back to his roots with his 1990 masterpiece, Still Got the Blues. Though it featured guest appearances by heavyweights such as Albert King, Albert Collins, and George Harrison, it was Moore's tasty tones and incredibly lyrical lead work that won the album accolades worldwide.
In 2008, Moore released, Bad for You Baby, one of his gutsiest and most compelling blues statements in years.
Did you have an overarching goal in terms of feel or tones when you began this project?
"I wanted to capture more of the energy of my live playing. We were touring all last year, finished in November, and, by January, I was back in the studio. If you record after a tour, your playing is strong, your chops are up, your energy is up, your inspiration is there, and you've got ideas for songs. So the best thing to do is get in and make a record as soon as possible – before that post-tour energy dies off."
Throughout your career you've employed numerous traditional blues forms and progressions, but your tone usually has a lot more gain and bite than that of traditional blues guitarists.
"Absolutely. And I'll tell you why. I played rock for a long time, and then I made Still Got the Blues in 1990, starting off very quietly, and going back to the early Fleetwood Mac kind of format. Then I realized, 'Man, if I play like this, everyone is going to think I'm faking it. It's not going to sound like me.' So I decided to keep more of the rock guitar sound.
"I've tried to get a modern, less high-gain version of that natural sound that Clapton had in the '60s. And I've pretty much done that ever since – except for Blues for Greeny [Moore's 1995 Peter Green tribute], where I emulated Peter's tone as much as I could."
What gear did you use for Bad for You Baby?
"I didn't use my '59 Les Paul at all. I played a goldtop Gibson Vintage Original Spec Les Paul on 'I Love You More Than You'll Ever Know' and 'Trouble Ain't Far Behind,' and a '61 Gibson ES-335 on 'Did You Ever Feel Lonely' and 'Holding On.' I played the ES-335 through a little brown Tolex Fender Vibroverb reissue from 1989, because I wanted a very old-fashioned sound on those two songs.
"I used a '68 Fender Telecaster on 'Down the Line' – the fast country-blues one – and 'Walkin' Thru the Park.' I had played that Tele on the first track of Still Got the Blues, called 'Moving On,' but I'd never used it for playing lead before. Somebody changed the neck, so I don't know what year it is, but it plays great, and it has a very aggressive, Albert Collins-type vibe."
Did you plug into any other amps?
"I used a Fender Dual Showman head, which is what Peter Green used with Fleetwood Mac. The original cabinet had two 15-inch JBLs, but I never liked those, so I use it with a Marshall 4x12 cab loaded with Celestion Vintage 30s. I used that and a custom German solidbody with Bare Knuckle pickups – which are kind of out of phase to give you a Peter Green vibe – on 'Someday Baby.'
"I just ran both pickups up full, and I went straight into the amp for that song. I used a Marshall DSL 2000 for a couple of things, and I used the ES-335 through a Marshall 1959 SPLX head – which is basically an old 1959 with an effects loop – on 'Did You Ever Feel Lonely.' That amp has a very dirty sound – almost like it's about to blow up.
"I used DSLs from about 1996 until last year, but now I'm using two Marshall 1959HWs – the handwired reissues – onstage for a really nice, big, round sound. They have more presence and a rawer sound than the DSLs, with a feel that's closer to that of the amps Cream and Hendrix used.
"I'm also having a signature Marshall built that will try to incorporate all those qualities. I'm going for a 100-watt head like the old 1959 Super Lead – with a spring reverb and the four inputs – but it will have a switch that links the inputs internally so you don't have to jumper them. It'll also have a half-power switch, and a boost with just enough gain to give a lift to solos."
What effects are you using these days?
"I use a DigiTech reverb pedal because the handwired Marshalls don't have reverb. I used a Roger Mayer Stone Fuzz on the opening track, and I really like the T-Rex Moller, which has a clean boost on one side and an overdrive on the other. I also use the T-Rex Mudhoney distortion/overdrive and Replica delay pedals on 'All Your Love' and '30 Days' to get those rockabilly-type sounds. The Mudhoney has a nice, warm tone. I'll also be using a T-Rex chorus on the next tour."
"Preacher Man Blues" has sort of a Booker T. & the MG's/Steve Cropper feel to it, and you really lay back and take a backseat to the rhythm and harmonica.
"The whole song has a very held-back feel, so you have to really pull back on the solos and not rush ahead. When you get to those solo breaks, you have to play them really dirty, and then pull right back. That very thin, hard sound is a red Gibson Firebird I picked up in Finland last year. That guitar has a nice twang to it, and it really brings out the twang from the spring reverb. I played the harmonica myself, which I've never done before."
How did you get into singing?
"I began singing when I couldn't find a singer and had just given up trying. I got sick of the singers I was working with because there were always problems. I hated singing rock, though. It wasn't until I discovered the blues that I started to enjoy singing. I brought the song keys down a bit, and I didn't play rhythm guitar through every song, so I was kind of answering myself with the guitar, which made it a lot more interesting."
You've dabbled in a lot of styles over the years, but you've stayed largely in the blues-rock realm for the last stretch. Are your experimental days behind you?
"No, I would never say that. Otis Taylor, who I play with, wants me to do an acoustic album. He had me playing banjo and lots of acoustic instruments this year, so that is a possibility. I'd also like to make a cover album of songs from when I was growing up in the '60s, but I'd do my own versions, rather than trying to capture the original sounds. That would be experimental by nature, because that era was so psychedelic.
"I just saw Jeff Beck last week, and he got me thinking about sounds on the guitar again, because he was using so many different tones. He had ring modulators and lots of reverbs and delays, and they really worked for him. He had a beautiful sound, and it made me realize that sometimes you should be a bit more sonically adventurous."
All the latest guitar news, interviews, lessons, reviews, deals and more, direct to your inbox!
Guitar Player is the world's most comprehensive, trusted and insightful guitar publication for passionate guitarists and active musicians of all ages. Guitar Player magazine is published 13 times a year in print and digital formats. The magazine was established in 1967 and is the world's oldest guitar magazine.
When "Guitar Player Staff" is credited as the author, it's usually because more than one author on the team has created the story.