From Satan to Jesus, Skip James Played Through Shadow and Light on These Five Essential Tracks
Mississippi Delta bluesman Robert Johnson may have sung about having a hellhound on his trail, but Skip James sounded like the one on the run.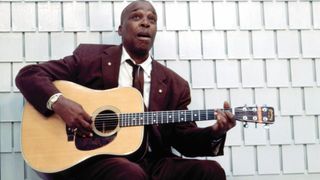 (Image credit: Getty)
During his lifetime, James alternated between shadow and light in his performances, ranging from the wrenching "Devil Got My Woman" to the rolling gospel "Jesus Is a Mighty Good Leader."
Favoring Gibson and Martin acoustic flat-tops, his D-minor tuning and high, ghostly singing style gave these compositions gravitas as his fingerstyle blues guitar technique propelled them forward, all while never committing to a definitive structure for any of his songs.
James traveled from Bentonia, Mississippi to Grafton, Wisconsin in 1931 and recorded 18 sides for Paramount Records, but after his recordings failed to sell, he found his way to the ministry and became a preacher like his father.
When he stepped back onstage in 1964, his music found rapturous audiences and he re-recorded many of his early songs, along with a few new cuts, for the albums Today! (1966) and Devil Got My Woman (1968).
Musically, we're left with two portraits of the artist: the first in 1931, when he was 29, and the second in the mid 1960s, near the end of his life.
Ryan Lee Crosby, an accomplished fingerstylist, songwriter and student of Jimmy "Duck" Holmes, the last remaining Bentonia bluesman, has studied both eras of James' recordings and performances.
"Those Paramount recordings have so much urgency, and he plays really fast," says Crosby, whose album Winter Hill Blues comes out in May 2022. "It's almost like he puts the brakes on the momentum of his playing [in the 1960s], or he'll stall things and let a bass note pop out in a way that I feel is really different from his early playing."
Here, Crosby offers insights into five essential Skip James songs and how his performances evolved over the decades…
"DEVIL GOT MY WOMAN"
"Devil Got My Woman," sometimes referred to as "Rather Be the Devil" after its opening line, is one of James' best-known songs. The tension he builds in the descending riff resolves at the end of each line, but James hangs onto the chord while he sets up the next line with similarly structured licks.
"When I think of Skip, it's his really articulate, complicated fingerstyle playing," Crosby says. "There's a particular kind of articulation to how he plays that I feel is directly related to using multiple fingers, a little bit of an alternating bass.
"The 1930s one I think is a little more driving, yet a little more syncopated, and he emphasizes the rhythm in a way that is different from any other version I've heard. On the '66 recording, I feel like he lets things breathe a little bit. There is a freer quality to it. It's more spacious."
"HARD TIME KILLIN' FLOOR BLUES"
One of the earliest and best-known riffs in the blues canon, "Hard Time Killin' Floor Blues" sounds as desolate and dark as a windswept winter night.
Although Willie Dixon served as the inspiration and origin for some of Led Zeppelin's early work, Jimmy Page echoes James' minor step-down here on "Dazed and Confused" from Led Zeppelin I, a motif that resurfaces again and again across the hard-rock and metal canon.
"When you hear Jimmy ['Duck' Holmes] and Jack Owens play 'Hard Times,' or 'Hard Time Killin' Floor,' you can hear how connected they are," Crosby says. "But Skip's way of playing it is really quite different.
"Skip has entirely different melodies, and the harmonic qualities of it are different. He has a bass line in his version, and he voices the chords differently. He has these almost suspended-sounding chords when he's singing in the early version, and he slides between the notes in a way where it's almost like he's speeding up and slowing down the feeling of time. He was his own person within the tradition."
"I'M SO GLAD"
One of the most joyous songs in James' catalog, "I'm So Glad" anticipates the return of a lover while, underneath his singing, James scurries along the fretboard with fleet finger work.
"'I'm So Glad' is a great example of how he's doing these complicated articulations of octaves and chords," Crosby says. "Skip used his fingers in a way where you might almost say it shares a little more with Piedmont style than some of the Mississippi Delta stuff.
"You get these articulations of chords that have different rhythmic feelings and like a rolling quality, and that's really on display in 'I'm so Glad.' 'Illinois Blues' has some of that too, and certain ways in which he will roll his thumb across the strings."
"CYPRESS GROVE"
In the version of "Cypress Grove" on Today!, James played in a more relaxed manner and his note choices sound less urgent and more whimsical than on the Paramount recording. His rhythm swings. His voice doesn't sink under the weight of his lyrics, but seems to rise, confident and no longer burdened. Crosby explains how he got there.
"Typically in the blues, you'd have a flat third and a flat seven," he says. "In the Bentonia style, the guitar is tuned to the minor tuning, and there is that kind of oscillating between the major and minor third.
"But in 'Cypress Grove,' Skip hits a natural seventh in the main riff of that song where he's playing between his singing, and that gives it, to my ear, a little bit of an Eastern thing. He's in the minor tuning with the natural seventh. I can't think of too many other blues songs that sound like that."
"SPECIAL RIDER BLUES"
Although not a particularly famous cut, "Special Rider" stands out in James' oeuvre for its open-G tuning, a rare departure from his other work in D-minor. His rhythm, Crosby explains, has a different groove, as well.
"A lot of the cross-note stuff, especially on the 1931 recordings," he says, "to me feels weighted. There's that forward momentum and a driving and an urgency to the cross-note stuff. But it feels really heavy to me, too.
"'Special Rider' has a little bit of a lightness and a jagged, sort of pointed quality to the riff. You see in 'I'm So Glad' he's playing a lot of octaves and he's moving them across the fretboard, and pairing octaves with open strings. But in 'Special Rider,' he's doing some straight barre chords. It's just got a completely different tone, different groove, and another angle on the fingerpicking."
Browse the Skip James catalog here.
All the latest guitar news, interviews, lessons, reviews, deals and more, direct to your inbox!
Jim Beaugez has written about music for Rolling Stone, Smithsonian, Guitar World, Guitar Player and many other publications. He created My Life in Five Riffs, a multimedia documentary series for Guitar Player that traces contemporary artists back to their sources of inspiration, and previously spent a decade in the musical instruments industry.