From Hair Metal to a Sgt. Pepper's Tribute, Andy Timmons Reveals the Five Songs that Have Defined His Career
The guitar great reflects on his time with Danger Danger, tackling the Fab Four's magnum opus, and how some kind words from Steve Vai made him re-think his recording approach.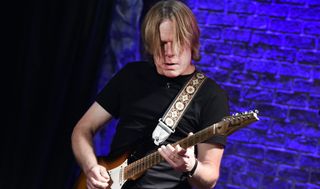 (Image credit: Debra L Rothenberg/Getty Images)
In a varied career that is now more than three decades old, Andy Timmons has made his mark in genres ranging from glam metal and pop to hard rock and jazz fusion.
He first came to prominence with the hair-metal band Danger Danger, which scored a handful of hit singles and albums between 1989 and 1992. His guitar solos were always a highlight of the band's work, combining dazzling technique with hooky riffs, but the musical format was limiting.
Timmons found much more room to stretch out after he left the band in 1993 and returned to his previous role, playing fusion with the Andy Timmons Band. He released two essential instrumental rock albums, Ear X-Tacy, in 1994 and Ear X-Tacy 2, in 1997, with the best tracks from each combined for the compilation That Was Then, This Is Now: The Best of X-Tacy, released in 2002 as his debut on Steve Vai's Favored Nations label.
Timmons spent almost 15 years in the unlikely role of musical director for Olivia Newton John's live band and continued to work on a variety of sessions, while also recording with Simon Phillips and delivering one of his strongest albums, Resolution, in 2006. But undoubtedly the greatest demonstration of his ability to wring the maximum expression from his instrument was highlighted on the 2011 release Andy Timmons Band Plays Sgt. Pepper, where he conveyed the essence of the various melodies, harmonies, and bass lines of one of pop music's landmark albums with just one guitar and no overdubs.
Timmons recently released Electric Truth (Timstone Records), which – with its combination of rock, funk, and fusion sounds – perfectly encapsulates the essence of his style.
"I think that's true," he tells Guitar Player. "My foundation is as a rock player, but my love of jazz informs everything that I do. I studied music for a couple of years at University of Miami, but even before that, my first guitar teacher when I was 16 – and I was already playing rock in bands by that time – was a huge Joe Pass and Barney Kessel fan.
"He started giving me records to check out. I think that even though I'm playing rock, my note choice and feel comes from a jazz influence, and of course I also love blues. I think that's the same for any player: What resonates for them and filters through them comes out in their own playing.
"I had the benefit of an older brother. He was 12 when I was born in 1963, and he exposed me to so much great music: the Kinks, the Beatles, the Yardbirds, and the Dave Clark Five, and then Jeff Beck and Elvis Costello in the '70s."
Timmons adopted a new approach for the recording of Electric Truth, recording quickly with a group of studio musicians pulled together by blues-rock guitarist, singer-songwriter, and producer Josh Smith.
"It was fun, because it was a little off the beaten path for me," Timmons says. "I'd really enjoyed seeing a lot of things Josh had done on YouTube. He told me that he'd just finished building a recording studio in L.A. and suggested that I come out to record. I was going out for NAMM 2020, so I went out three days early to cut the tracks at his place. I always love the feel of the bands that he puts together, so I knew it would be great.
"We did the whole record in two days, then added overdubs on the third day. It was a really fast way of working."
The first track to be showcased from the album was "EWF." "It is pretty funky. It's very much a tribute to Al McKay and Earth, Wind & Fire," Timmons explains. "That was all live from start to finish. That's the only way to really get that feel. The quality of the band that Josh put together made it really easy to find that groove and make the track work."
Although he's known for his instrumental work, Timmons is a fan of John Lennon's and Elvis Costello's voices and hints that a vocal album may be on the horizon.
"I do write a lot of songs with lyrics, but I am never tethered to a particular word when I'm composing a melody," he says. "A lot of songs are inspired by emotions rather than something that could be expressed verbally. Having said that, I've got a lot of songs that I've written and a lot of unfinished songs that I'm planning to complete, a lot of which could well be in a vocal-and–acoustic guitar style."
Timmons took time out to speak with Guitar Player about his extensive catalog and tell the stories behind five essential tracks from his long career.
"Beat the Bullet" – Danger Danger, Screw It! (1991)
"As a career highlight, Screw It! is right up there. It was my first album and such an exciting time. Growing up, I dreamed of making records. By the time we hit with Danger Danger, I'd almost given up on that idea. I was in my mid 20s and already thinking that I wanted to become a great player and be a session guy.
"Next thing I knew, we were opening shows for Kiss, touring the world and selling a couple of million albums. Danger Danger had bigger hits, but 'Beat the Bullet' is a favorite of mine. I really like its feel and my own playing on it. It's got some interesting flavors with the jazzy, Spanish kind of intro and outro.
"Even though I was in this kind of pop-metal band or hair band or whatever, I'd already been down the path of playing fusion, jazz, and classical guitar, so coming back full circle to Danger Danger was great.
"I'd started off as a '70s rock kid who loved Kiss, Ted Nugent, and Rush. I worked on this solo with my four-track cassette player, playing the section over and over to work out exactly what I was going to play. Those songs provided a very small moment to make a big melodic statement, and at that time you really wanted to inject a bit of flash – some guitar pyrotechnics – into your solos.
"Ultimately, you want to create something that really serves the song and lifts it a notch. I think I did it with this one."
"Cry For You" – Andy Timmons, Ear X-Tacy (1994)
"I had the Andy Timmons Band before I joined Danger Danger and had recorded my first demo, which was an instrumental rock guitar track. Most of those songs ended up on my first solo record, Ear X-Tacy, which featured 'Cry for You.'
"Like every other serious guitarist, I'd take whatever work I could get with a guitar in my hands. I was in cover bands, I was freelancing, and I was completely happy doing that. It was basically what I got back into doing after Danger Danger broke up. I think the live version of this song that I did with Simon Phillips, which is on YouTube, is the significant version of this track.
"I was working with his fusion band, and he got asked to take part in the 90th anniversary concerts for Hoshino. We played with some of the other guys there, like Paul Gilbert. We did some of Simon's tunes, and I was asked to pick one of mine, which was 'Cry for You.' I remember the gig vividly, because there were so many of my friends and heroes there, like Paul and Steve Vai. Knowing they were watching added an extra edge, and I knew that I had to really step up.
"Also, the video was professionally recorded, and although it was never officially released, some bootlegs snuck out on to YouTube and that became a way that a lot of people got to know me after Danger Danger. Once that video got out, it really raised my level of exposure."
"Deliver Us" – Andy Timmons Band, Resolution (2006)
"I picked this because it's one of my favorite tracks from Resolution, my second album for Steve Vai's Favored Nations label, and it was a real change in the way that I approached recording.
"The previous album had been a compilation of things that I'd done earlier [2002's That Was Then, This Is Now]. There was one new track that I recorded for that compilation called 'Falling Down,' which was just the one guitar all the way through. Steve had said to me that he liked the way that track sounded, where he could hear the one guitar, the fingers on the frets, et cetera.
"So after finishing the basic sessions for Resolution, I started to think that it was very much like so many other solo guitar albums, with layers of guitars and whatever. I started remembering what Steve had said about just using the one guitar, and I wondered if I could do the whole record like that, with no overdubs. So I scrapped everything that I'd recorded, re-learned solos and ideas that I'd come up with, and then recorded each track with just the one guitar part.
"I gave myself the permission to compose every note on the album, though. I didn't worry about the fusion mindset that I had, where I thought you needed to improvise like Steve Lukather or Larry Carlton. The thing then is to focus on the tone. If there's just one guitar, then that tone had better be pretty strong if it's going to carry the ball.
"I took a lot of time on that album. I think I spent a couple of weeks really getting my sound right. Everything was mic placement and hands. I had to reinvent how I was doing things as I'd become inspired to try this new approach. I think the encouragement from Steve really sparked that new direction."
"Strawberry Fields Forever" – Andy Timmons Band, Andy Timmons Band Plays Sgt. Pepper (2011)
"In some ways, this track was the next logical step after Resolution, as I carried through what I'd learned from making that album.
"Initially, it was just a one-off idea to do an arrangement of 'Strawberry Fields Forever.' I can't even remember now what inspired me to do it. I think I just found the chords one day as I was playing. We started doing it live, and I was on a tour in Italy, and the promoter said to me that it was getting such a strong reaction that I should think about doing a whole night of Beatles songs the next time I was there. I thought, Are you kidding? [laughs] It was hard enough to pull off just that one song!
"But the suggestion got lodged in my head and set off a spark. I began to wonder if I could do it the way that I did Resolution, with just the one guitar part. Having done this track, the next song I thought of trying was 'Lucy in the Sky', which had that great intro. That led me to thinking, What if I could play the whole Sgt. Pepper's album on one guitar?
"Not with any intention of recording it – this was just for my own entertainment and satisfaction. It became almost like a hobby for a couple of years. I was always wondering how I could incorporate in one linear fashion the chords, the melody, the string lines, and the sound effects. I didn't sit down with the record working things out; it was literally from my memory, reasoning that all the moments that needed to be in place to capture the spirit would be what I could remember.
"I think that's what made it interesting, rather than copying the record note for note, which has been done before."
"Grace" – Andy Timmons, Electric Truth (2022)
"Although I love playing all kinds of music, ballads give me the big emotional release that I like to have in a show or on a record.
"The title 'Grace' and the inspiration for this came after I went to see one of the Experience Hendrix tours and got to hang out with a lot of great players. Billy Cox was on the tour, and I got the chance to spend a lot of time with him. He's a wonderful, sweet cat, and I really had a vibe with his wife, Brenda. She's a very sharp, soulful lady.
"In our conversation, it came up that they'd been married for over 50 years. I asked what the secret was, and she said, 'Grace.' I was thinking about them when I wrote this. The Hendrix feel on the guitars is very deliberate. I played this on an old, white '65 Strat, trying to get that flavor that Jimi would have had when he first went to London. I believe he was playing a white '65 Strat at that point.
"When I bought it, it had a really bad red refinish, plus a lot of other issues that made it much more affordable. [laughs] It just happened to sound great, so I had it resprayed. I sent the track to Billy and Brenda, and I was really pleased that they felt the spirit that I intended."
All the latest guitar news, interviews, lessons, reviews, deals and more, direct to your inbox!
Mark is a freelance writer with particular expertise in the fields of '70s glam, punk, rockabilly and classic '50s rock and roll. He sings and plays guitar in his own musical project, Star Studded Sham, which has been described as sounding like the hits of T. Rex and Slade as played by Johnny Thunders. He had several indie hits with his band, Private Sector and has worked with a host of UK punk luminaries. Mark also presents themed radio shows for Generating Steam Heat. He has just completed his first novel, The Bulletproof Truth, and is currently working on the sequel.