Four Reasons Danny Gatton Remains a Guitar Legend
Known as "the Humbler" and "the Telemaster" he was adored by his peers.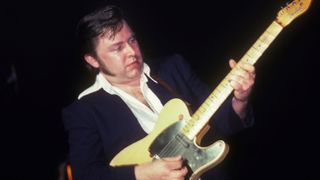 (Image credit: Ebet Roberts/Redferns)
Born in Washington, D.C., in 1945, Daniel Wood Gatton Jr. began playing guitar at age nine, inspired by players like Les Paul and Hank Garland. Bringing dazzling virtuoso technique to down-home styles, Gatton distilled blues, rockabilly and country into a twanging brew he called "redneck jazz."
Here are four reasons he remains a guitar legend…
1. Versatililty
By the mid '60s, Gatton was working sessions in Nashville, where he recorded on tracks by Roger Miller and Robert Gordon, among others. In 1975, he began cutting his own records that showed off his stylistic proficiency. According to John Previti, who played bass with Gatton for 18 years, the guitarist referred to himself as "a Whitman sampler of music" for his versatility in many genres, as heard on albums like his 1991 major-label debut, 88 Elmira Street.
2. The Humbler
Gatton worked his remarkable talents on a 1956 Gibson ES-350 and a 1953 Telecaster electric guitar customized with Joe Barden pickups. In the process he earned himself many names, including "the world's greatest unknown guitarist" and, thanks to his choice of instrument, the Telemaster.
But he was best known as the Humbler, a moniker bestowed upon him by guitarist Amos Garrett for Gatton's skill in head-cutting sessions. "The biggest humbler to me, of all time, would be Lenny Breau," Gatton demurred. "He was the best I have ever seen."
3. Slide Wizardry
A wickedly talented slide guitarist, Gatton preferred a 6L6 vacuum tube or Alka Seltzer bottle to a standard slide. Onstage, he would invariably use a bottle of beer, much to the delight of his audience. Due to early training as a steel guitarist, he played slide overhand.
4. Peer Recognition
On October 4, 1994, Gatton locked himself in his garage and took his own life with a gun. He was 49. He left no suicide note, but it's believed he suffered from depression for years. He remains, by anyone's estimation, one of the greatest electric guitarists of all time. Noted Steve Vai, "Danny Gatton comes closer than anyone else to being the best guitar player that ever lived."
Browse Danny Gatton music here.
All the latest guitar news, interviews, lessons, reviews, deals and more, direct to your inbox!
Guitar Player is the world's most comprehensive, trusted and insightful guitar publication for passionate guitarists and active musicians of all ages. Guitar Player magazine is published 13 times a year in print and digital formats. The magazine was established in 1967 and is the world's oldest guitar magazine.
When "Guitar Player Staff" is credited as the author, it's usually because more than one author on the team has created the story.