Five Reasons Lenny Kaye is a Guitar Legend
The renaissance man who helped spark the punk revolution.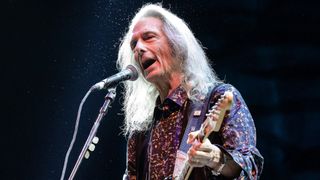 (Image credit: Mauricio Santana/Getty Images)
Lenny Kaye popularized garage rock with his groundbreaking Nuggets anthology, helped launch Patti Smith's music career and produced Suzanne Vega's breakthrough hit. Salon, the online arts and culture magazine, has called him "one of the most influential men in rock history, even though most people have never heard the name."
Here are five reasons he is a guitar legend…
1. Garage Rock
Lenny Kaye has spent much of his career behind the scenes in support of other artists. He was born in Manhattan on December 27, 1946, and raised in Queens and Brooklyn. Though he started out on accordion, Kaye had switched to electric guitar by the time he began attending Rutgers University as a history major in the 1960s.
While there, he launched his music career by strumming a cherry-red Gibson Les Paul Special in the Vandals, a garage-rock frat-house band whose motto boasted they'd be "Bringin' down the house with your kind of music."
2. Link Cromwell & The Zoo
Kaye's first break came in 1966 courtesy of his uncle Larry Kusik, a professional songwriter whose credits include the movie ballads "A Time for Us" from Romeo and Juliet and "Speak Softly, Love" from The Godfather.
Hoping to score a hit in the pop market, Kusik wrote a teen-beat anthem called "Crazy Like a Fox" and recruited his nephew to sing it. Released under the name Link Cromwell and the Zoo, the song got good reviews in the music-trade press. Although the record failed to become a hit, Kaye and the Zoo parlayed it into a steady gig, playing the college circuit between New York and Pennsylvania.
3. Nuggets: Original Artyfacts From the First Psychedelic Era, 1965–1968
By the early 1970s, Kaye was writing record reviews for the nascent rock press while clerking at the Village Oldies record store on Bleecker Street in New York City. In his spare time, he hunted down the garage-rock records of his youth, unearthing rare sides by obscure acts from the mid to late 1960s. He anthologized his findings in the two-album set Nuggets: Original Artyfacts From the First Psychedelic Era, 1965–1968.
Released in 1972 on Elektra Records, Nuggets celebrated what Kaye called in its liner notes "the bizarre splendor of the mid-'60s, a time when nobody seemed too sure of what was happening but never let that get in the way of enjoying it to the fullest." The compilation introduced a new audience to classic cuts like the Electric Prunes' "I Had Too Much to Dream (Last Night)" and the Standells' "Dirty Water" and inspired a generation of budding punks.
4. Patti Smith
Around the time that he was compiling Nuggets, Kaye met poet and aspiring musician Patti Smith, who was also working for the local alternative music press. Impressed by an article Kaye had written about a cappella music for Jazz & Pop magazine, she hunted him down at Village Oldies.
Soon, he was visiting her at the apartment she shared with photographer Robert Mapplethorpe, and improvising guitar music while she read her poetry at St. Mark's Church in the Bowery. There was no template for them to follow.
"Basically, I would watch how she breathed, I would listen to the timbre of her voice, the inflection, and basically try to go to the door and have it open so she could rush through," Kaye told Rutgers Magazine in 2017.
"It was very organic. We didn't really know where it was heading or why it was heading, but we knew that there was a sense of fascination from the audience when we played, and we kept following it."
By 1975, they had formed a band and signed a record deal that resulted in Smith's Arista Records debut, Horses. Released in November 1975, a full five months before the Ramones' celebrated debut, Horses was punk's first howl and is regarded as the catalyst for the movement. The band released three more hit albums before Smith briefly retired from music to raise a family.
5. Author and Producer
In the years following Smith's retirement, Kaye continued to write and work in music, co-authoring Waylon Jennings' autobiography, launching his own band and producing records for Soul Asylum, Kristin Hersh and others, including Suzanne Vega's 1987 hit single, "Luka."
He and Smith reunited in 1995 and have recorded and performed together ever since, continuing the musical partnership that sparked the punk explosion.
Buy Nuggets: Original Artyfacts From the First Psychedelic Era, 1965–1968 here.
All the latest guitar news, interviews, lessons, reviews, deals and more, direct to your inbox!
Guitar Player is the world's most comprehensive, trusted and insightful guitar publication for passionate guitarists and active musicians of all ages. Guitar Player magazine is published 13 times a year in print and digital formats. The magazine was established in 1967 and is the world's oldest guitar magazine.
When "Guitar Player Staff" is credited as the author, it's usually because more than one author on the team has created the story.