Here's Why 'Never Mind the Bollocks, Here's the Sex Pistols' Remains a Vital Record
The punk masterpiece continues to hit all the right spots.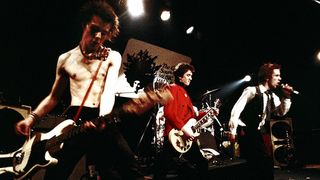 (Image credit: Rick Diamond/Getty Images)
Never Mind the Bollocks, Here's the Sex Pistols was released on Virgin Records in 1977, at the height of the disco craze. It was the same year Saturday Night Fever was released, Jimmy Carter was sworn in as president and Star Wars hit theaters.
The songwriting on Never Mind the Bollocks, Here's the Sex Pistols shouldn't be overlooked. Its merit was undermined by the group's notoriety, as well as by the band members, who never presented their work as anything of artistic worth.
The songs are credited to the entire band – Rotten, guitarist Steve Jones, bassist Glen Matlock and drummer Paul Cook (two songs trade Matlock for his replacement, Sid Vicious). Tracks like "EMI," "God Save the Queen," "No Feelings," "Anarchy in the U.K." and "Pretty Vacant" have great hooks, interesting chord changes and lyrics as rhythmic as anything Chuck Berry wrote.
It is believed the electric guitar and drums were recorded first and the bass added afterward, not by Matlock but by Jones. This makes perfect sense because the rhythm section sounds superglued, while the band hypnotically bulldozes through the changes with a monolithic focus.
Jones was absolutely rock solid, and his sound on Never Mind the Bollocks is ferocious, thick and powerful. This, in part, was achieved by overdubbing multiple rhythm tracks, but the performance retains the intimacy of one guitar, one voice.
There are also fascinating overdubs – feedback manipulated via the toggle switch, unison cinematic militaristic background vocals and occasional unearthly guitar sounds – so subtle that they border on subliminal and psychedelic.
When checking back with this record, many find it still sounds timeless, vital and devoid of deceitful vanity. Never Mind the Bollocks, Here's the Sex Pistols jars the artistic palette and puts things in perspective when caught up with technical overthinking, or believing music must offer hope and solution.
Some say the human brain is part human, part monkey and part crocodile. If so, this record is entertainment for all three.
Browse Sex Pistols music here.
All the latest guitar news, interviews, lessons, reviews, deals and more, direct to your inbox!
Jim Campilongo has 14 critically acclaimed instrumental records available on vinyl, CD and digital download here.