Erick Walls: "Playing in Church is Real-World Experience, and it Helps You Develop Good Sensibilities. You Recognize Early on What Works Versus What Doesn't"
The first-call session guitarist discusses the usefulness of the Kemper Profiler, the power of his ultra-funky thumb-pick attack, and the versatility of his Grosh Retro Classic.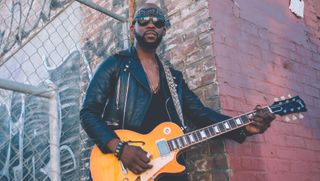 (Image credit: Eric Williams)
Watching superstar rapper Nas perform a medley of his biggest songs on this year's Grammy Awards telecast, it was all but impossible not to notice his badass backing band.
Dressed head to toe in white and led by renowned musical director and bassist Adam Blackstone, the 12-piece group – replete with a full horn section and a grand piano – was more hip-hop orchestra than band. And if you were a keen-eyed guitar aficionado watching, your eyes surely gravitated toward the cool guitarist stage right, wearing shades and rocking a Paul Reed Smith Silver Sky through two Fender amps.
Ironically, of the 10 million or so viewers watching the live broadcast that night, probably only a few had any idea that the guitarist behind Nas had twice as many Grammy wins – two – as the artist he was backing. That guitarist is Erick Walls, and this was just another night in his busy life working alongside the world's top pop, R&B, and gospel stars.
The roster of artists who have hired Walls over the past two decades spans from Michael Jackson, Janet Jackson, Toni Braxton, Dave Matthews, the Isley Brothers, Kanye West, Mariah Carey, Beck, Rihanna, and Jay-Z to Jennifer Hudson, Alicia Keys, Michael McDonald, George Duke, the Chicks, and gospel greats Kirk Franklin, Beverly Crawford, and Shirley Caesar. And those Grammy wins? Walls got them for his session work on huge albums by Beyoncé (Lemonade) and John Legend (Bigger Love).
Walls' guitar odyssey started around age six, in church. "Actually, drums were my first instrument," he reveals. "Next came piano. I zeroed in on guitar at about age 10, when I got my first electric – a cheap Fender Squier Strat with a humbucker in the bridge. I soon outgrew it, but it put me on the path of having that humbucker there. My number one guitar nowadays is the Grosh Retro Classic I've had for years, and it has that same HSS pickup arrangement."
Walls' early musical education came from being around his father, George Walls, who was a gospel singer, recording artist, and preacher. "All my earliest memories are of watching my father rehearse and going with him to the studio and everywhere else," Walls says.
"When I was a kid, the guitar player in my father's band was an amazing young guy named Jackson Russell, who was really rooted in the gospel quartet tradition. The rhythm part of what he did is what really got me excited. I'd watch Jackson do that rhythmic hybrid-picked stuff and be like, Oh, man, that looks like fun. And that's what really drew me into guitar and started me on my journey. Jackson is still around. I talk to him from time to time."
Walls has always felt that the guitar is as much a percussion instrument as it is a harmonic one, and his dedication to becoming adept in both these realms has paid off in wonderful ways. It's landed him and his thumb pick (a hallmark of his style) on superstar stages and studios around the world, allowed him to build a great home studio and helped him raise his family. In other words, the guitar has given Walls everything – everything, that is, except maybe two days off in a row.
I discovered your playing after seeing a YouTube video of you performing at Kevin Wilson's 2011 Guitar Summit. I was immediately struck by the way you combine tasteful vibrato-bar moves with a funky thumb-pick attack.
"I still play and record with flat picks from time to time, but my first guitar was an acoustic, and seven-year-old me couldn't quite hold onto the pick when I was playing hard. Naturally, the pick would fall into the guitar, and I couldn't get it out. But being from Durham, North Carolina, where there is a bluegrass scene, I remember going to a bluegrass festival and seeing some guys playing with thumb picks and thinking, That will solve the problem. So I started using them myself.
"As I've progressed, though, the thumb pick has become more than just a practical solution to that pick-dropping problem. It has become a really cool tool that allows me to play more dynamically, especially when I'm doing a hybrid-picking part that uses both the pick and the fingers.
"The cool thing about thumb picks is that while they do have a darker tone than, say, a Fender Medium, they're brighter than the sound of your fingers. So the contrast between the snappier pick downstrokes and darker-sounding finger upstrokes is very interesting. As for the bar, I try to use it in a subtle way. On the Grosh, the bridge is floating quite a bit, which can allow for extreme vibrato, but I just add a touch of it here and there. I get in for a second, then out."
How did you end up moving to Los Angeles?
"My first stop was to do some studies at Berklee in Boston, but my goal was always to get to L.A., because when I was growing up, a lot of the music that I was into – the gospel stuff and everything else – was produced out there.
"I was a big fan of Quincy Jones' stuff and a lot of pop music from the '70s and '80s, and being someone who would always read the credits, I started noticing that everything was being made in L.A. I'd start seeing the same names over and over – studios such as A&M and Sunset Sound, and players like Larry Carlton, Ricky Lawson, and Paul Jackson, Jr. I began to realize that L.A. had something special going on. So I knew I had to get here.
"I jumped at the first L.A. opportunity that presented itself, and that was when I linked up with some people back home who had a label deal with Atlantic Records. I came out and ended up working on an album by Sunshine Anderson called Your Woman. She had a hit on that album ["Heard It All Before"], so it sold about 800,000 copies.
"That was a nice introduction to the music business for me, because we were out of the '90s, and things were good. Budgets were huge in that era, and the glitz and glamor of it all was amazing."
Why did you run two amps at this year's Grammys?
"I like stereo effects, which is why I had those two Deluxes up there. I brought my big pedalboard that night so I could do a couple ambient guitar things. I particularly love the Eventide H9 pedal. The stereo spread on it is pristine, and it has so much depth. The Carnegie Hall reverb, for example, has tons of detail and is just breathtaking. And running the analog delay with a stereo ping-pong setting is great.
"The H9 is super easy to program, too, using the H9 Control app on your phone via Bluetooth. And each time Eventide updates it, it's basically a new pedal! It's probably the most useful multi-effects out there.
"The Grammys was a wonderful opportunity for me. Adam Blackstone put together a terrific band featuring lots of great New York jazz guys – Robert Glasper on piano, Keyon Harrold on trumpet, Terrace Martin on sax, to name a few – and I was running real amps. And we actually performed live. I think we were one of the few acts that did."
You do a lot of sessions with big artists in big studios. Do you find that producers nowadays don't necessarily expect you to bring in a big tube rig to mic up?
"Really, at the end of the day, it's about efficiency and doing things fast. So, yeah, you want the guitar to sound great, but you also may not have the luxury of taking tons of time to mic up an amp, which is why a tool like the Kemper Profiler is so brilliant. Not only is it always going to sound good, it also gives you the option to swap out a whole rig with the turn of a knob.
"In times past, switching to a new rig would've taken a bunch of precious studio time. Lately, I've been using the Kemper at a lot of sessions – everything from the new John Legend album we're recording to film dates, which I do a lot of – and it works well. I really like the profiles created by Michael Britt. I use those often."
How are your pickups wired on the Grosh?
"The pickups are all Lindy Fralins – two Blues Special single-coils, and, I think, a Pure P.A.F. humbucker. Not only is the humbucker splittable on that guitar but Don Grosh wired it so that, instead of a second tone knob, there's a blend pot that brings in the neck pickup. That knob allows you to get a lot of cool tones, like the neck/bridge combination. It's a versatile guitar. If I'm bringing only a Strat-style guitar, that one covers a lot of ground."
It often seems like the best musical education a guitarist can have is to grow up playing in church. It seems like that teaches you to play all the right stuff and none of the wrong stuff.
"At its highest level, church music is all about the feel. It's a spiritual thing, yes, but it's also a feeling. Not to bag on any other form of learning, but, as far as I'm concerned, church is the greatest musical foundation and schooling one could ever have. If you're too young to go to a club, well, you're not too young to play in church. [laughs] And church has plenty of other good stuff to offer as well.
"I'm friends with [blues fusion guitarist] Josh Smith, and we often talk about how there's a parallel between playing in church and playing in a blues club – in order to move people in either place, you have to be playing something of substance. Otherwise, what are you doing? So, when the people start jumping and up and down and are responding to what you're playing, you know you're onto something meaningful.
"Playing in church is real-world experience, and it helps you develop good sensibilities. You recognize early on what works versus what doesn't. And everyone around you helps you out. If you're loud and wrong, well, somebody will probably tell you, 'Nah, maybe don't do that.' [laughs]."
All the latest guitar news, interviews, lessons, reviews, deals and more, direct to your inbox!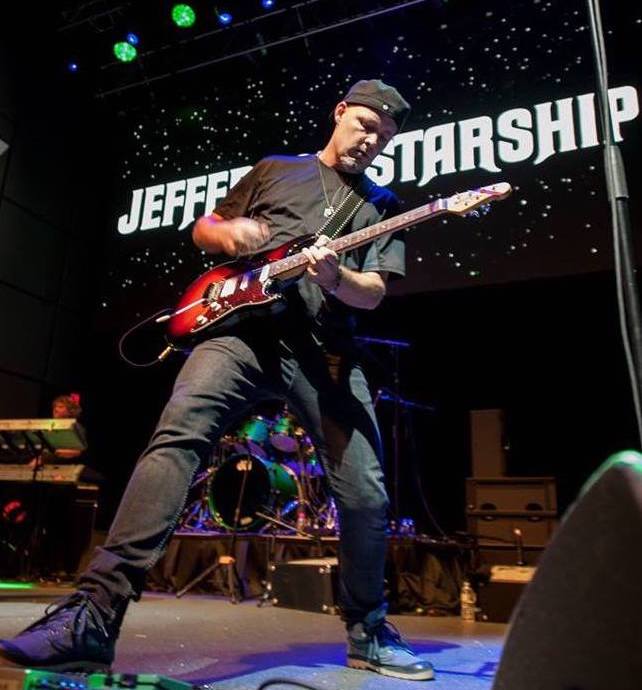 Los Angeles Editor, Guitar Player
Whether he's interviewing great guitarists for Guitar Player magazine or on his respected podcast, No Guitar Is Safe – "The guitar show where guitar heroes plug in" – Jude Gold has been a passionate guitar journalist since 2001, when he became a full-time Guitar Player staff editor. In 2012, Jude became lead guitarist for iconic rock band Jefferson Starship, yet still has, in his role as Los Angeles Editor, continued to contribute regularly to all things Guitar Player.
Watch Jude play guitar here.