Eric McFadden Talks Acoustic AC/DC Covers and Playing Mandolin with P-Funk
The virtuoso multi-instrumentalist explains how he wowed George Clinton and scored a bunk on the P-Funk bus.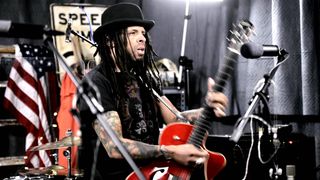 (Image credit: Paul Aiken/Digital First Media/Boulder Daily Camera via Getty Images)
"I'm always looking for an element of the uncommon," Eric McFadden says. Perhaps that's why he's still something of a mystery to the mainstream after a quarter century plus of virtuosic playing with George Clinton, Eric Burdon, Stockholm Syndrome, Anders Osborne and countless others.
McFadden's fantastically broad range makes him difficult to pigeonhole, and he's equally interesting on either side of the acoustic guitar/electric guitar equation. It takes a truly unique cat to blaze a career path from playing gypsy mandolin with P-Funk to strumming flamenco-inspired nylon-string with the Animals, right up to his largely electric blues affair Pain by Numbers, released in 2018 on Tab Benoit's Whiskey Bayou Records.
What early life events shaped your acoustic outlook?
I wanted an electric guitar when I was a kid because I was into the Beatles, Stones and Zeppelin. But the first guitar I got was a nylon-string acoustic at age 11, so I wound up learning to play that material on that guitar. When I eventually got serious about playing acoustic guitar, I had a steel-string for a while, but I gravitated back to the nylon-string for a few reasons.
For one, I love flamenco music, especially Paco de Lucía. Willie Nelson was also a big influence, and I figured if the nylon-string was good enough for Willie, it was good enough for me. I simply adore the tone and character of a nylon-string acoustic.
When I moved to San Francisco in 1994 and started playing everything from country to punk-inspired rock with the Faraway Brothers and Liar, I often wound up using the nylon-string to play it all, frequently through an amp with distortion. To this day, when playing styles ranging from rock to flamenco to blues, I integrate the nylon-string. It's become sort of a signature sound.
How did you develop the other side of your signature acoustic sound on mandolin?
The Faraway Brothers had some gigs in Lake Tahoe in the mid '90s, and [bassist] Ed Ivey brought a mandolin along when we went on a hike. I started messing around with it, and wrote my first song on mandolin at soundcheck that night. I eventually wound up checking out some mandolin greats, including David Grisman and Sam Bush, but I wound up going down the mandolin road simply because Ed had the good sense to bring one that day.
How did that fortuitous moment eventually lead to the wild scenario where your mandolin playing landed you a gig with P-Funk?
Mutual friends connected me with George Clinton for a recording session, and he called me back for another series of sessions. I was playing a nylon-string acoustic guitar on a funky tune, and George came running into the room all excited, shouting, "Gypsy funk! Gypsy funk!"
The next day I dropped by after a gig with my mandolin, which I played for them while they were on a dinner break. When I started playing a riff, George threw his chicken down. "Everybody gather around the mic," he said. "We've got to capture this idea."
He invited me to come play it that night at the Warfield Theatre, and that riff wound up being incorporated into a new arrangement of a song called "Gypsy Woman" on How Late Do U Have 2BB4UR Absent? I connected with them again when my solo tour was falling apart on the East Coast. George eventually pulled me aside and said, "We've got a bunk for you on the bus. Where do I send the checks"?
It's nice to have the distinction of being the first and only mandolin player in P-Funk. [laughs]
What's your primary mandolin?
I recently worked out an endorsement deal with Ovation, so I'm using one of their Americana Collection Pro Series mandolins, which is very nice, with a distressed sunburst finish. They also sent a few steel-string acoustics, so it's the first time I've had one of those in 25 years, and I'm particularly fond of the Elite TX.
But I mainly stick to the nylon-string acoustic, because that's really what I'm into, and my main nylon-string is a LaPatrie, which is a division of Godin. I actually play a Godin A8 mandolin as well, but regarding LaPatrie nylon-strings, I've played many models over the years, including the Etude and the Concert, but the one I play most is a black Hybrid with no cutaway that they custom made for me.
LaPatrie instruments always feel comfortable, and they tend to sound good plugged in because they have fine electronics. In addition to the usual pickup, mine has an internal microphone that I can blend in to get an authentic acoustic sound onstage. Sometimes I simply run it through a direct box, and other times I'll run it through an amp, depending on the quality of the backline provided on a particular gig.
Can you detail the killer resonator that you often play onstage?
That's a James Trussart SteelReso that he customized for me. It has a dual-pickup system. One is a traditional resonator pickup, and the other is a humbucker. A blend knob allows me to dial in any combination.
A resonator with a deep body sounds better unamplified, but mine has a thin body that helps reduce feedback, which is important, because I often play it through loud amplification. That Trussart sounds and looks pretty fantastic. It's one of the top instruments from my collection that I'd save first from a burning building.
You incorporate some rockin' acoustic tones on your AC/DC tribute album Eric McFadden does AC/DC (Acoustic Tribute). How did that record come about?
Bad Reputation is a French label that approached me about doing an acoustic tribute to a band that is notoriously not at all acoustic. I couldn't think of a single instance of Angus or Malcolm Young playing an acoustic guitar track on an official AC/DC studio album, so it seemed fun to see how their stuff would come across in an acoustic format.
"Whole Lotta Rosie" works well as a slide boogie.
I'm a big fan of the original version, and I've been playing that song since I was a kid. The riff is very much like a John Lee Hooker riff, so I figured I'd take it back there by swinging it more like he would. I played it on the Trussart resonator with a slide. I almost never play slide, so I'm not the best slide player, but the fact that there's a lot of out-of-tune slide playing on that is fine with me. I'm sure a few people will cringe, but maybe I derived a small amount of pleasure knowing that.
"Beatin' Around the Bush" is slamming, and it has a similar, yet different sound.
That's one of my favorite tracks from Highway to Hell, because it's a real romp and I felt it translated well when played in pretty much the same fashion as the original, but with a stomp feel on a resonator. On that track I played a full-bodied Trussart resonator that James lent me for the session.
Your cocktail-lounge take on "Have a Drink on Me" is a hoot. Can you talk about how you arrived at that arrangement?
I started out trying a more bluesy tack, but I wasn't quite happy with it. I recorded at Lucky Recording Company in Brisbane, California, working with Travis Kasperbauer and Mikel Ross. Travis prompted me to take it in a different direction, and he might have even used the word lounge.
Considering the song's title, it made sense to go in a Dean Martin direction. So instead of power chords, I went full minor swing, with jazzy chord extensions such as 6ths, 9ths and 13ths on the black LaPatrie Hybrid. Mike Anderson played upright bass, Josh Zee played the first guitar solo, and I took the second one.
Do I hear Django Reinhardt's influence there?
I'm a big Django fan, so you probably hear some of his influence, plus a little Wes Montgomery, and even a bit of Eric McFadden in there as well. [laughs]
You always come across with a cool rock vibe onstage regardless of the material. Do you have any thoughts on how to avoid folkie trappings and rock the planet, even when you're playing Latin-influenced nylon-string guitar?
Rock and roll is embedded in my blood, so I certainly can't live without it. If you didn't have the good fortune of growing up with rock and roll as a religion, then it might be a little more challenging, but there are ways to get there, and it's never too late to get the rock in you.
Maybe the folk players out there could delve into some rock music for a couple of hours a day? There's no harm in trying. Rock can't hurt you, it can only help you. Rock and roll saves lives.
Click here to visit Eric McFadden's website and download music, including Pain by Numbers.
All the latest guitar news, interviews, lessons, reviews, deals and more, direct to your inbox!
Jimmy Leslie has been Frets editor since 2016. See many Guitar Player- and Frets-related videos on his YouTube channel, and learn about his acoustic/electric rock group at spirithustler.com.