Eddie Van Halen's 10 Greatest Recorded Moments
The Guitar Player guide to Ed's most essential cuts.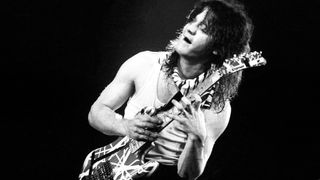 (Image credit: Larry Hulst/Michael Ochs Archives/Getty Images)
In Guitar Player's series of tributes to the late, great Eddie Van Halen, we have spoken to guitar heroes who have blossomed under the influence of Ed's revolutionary playing style. The likes of Joe Satriani and Steve Vai have joined dozens who have testified to his brilliance.
We have spoken to his contemporaries, such as his great friends Steve Lukather and Dweezil Zappa, to try put his gifts into context. We even mounted an impassioned case to persuade Van Halen non-believers, and put into words exactly why Ed's playing was different – why, with his DIY gear mods and inimitable style, he was not just another high-speed player with a bag of tricks.
Now here's the playlist, 10 of the best from the Van Halen canon, the moments that captured Eddie Van Halen's spectacular gifts on record.
10. "Big Fat Money" – Balance (1995)
It's the hardest-rocking track from the Hagar era, with Sammy delivering the kind of reckless abandon that David Lee Roth brought to the band. The solo – played, Eddie told us a few years ago, on a Gibson ES-335 – is perhaps the most un-Eddie-sounding thing he ever recorded with Van Halen.
The tone verges on jazz, but the note selection is pure Eddie. The intro and outro, however, are performed with his more familiar guitar tone and in his classic shred style. The whole song is swamped in great guitar licks and has enough attitude and spirit to counter any charges that Van Halen went soft in their later keyboard-dominated years.
9. "China Town" – A Different Kind of Truth (2012)
The first album with David Lee Roth back in the band was unfairly maligned upon its release for featuring a number of old ideas that the band had tracked as demos before they got their record deal.
An underrated entry in the Van Halen catalog, A Different Kind of Truth contains many examples of classic Van Halen magic, including "China Town," which also allowed Eddie's son, Wolfgang, to demonstrate his bass chops on the intro, where they both play a typical Eddie tapped run together.
Ed's main riff propels the song into a careening double-bass-drum bridge and chorus. After some patented EVH soloing moves, the whole song takes an unexpected lurch into a moment of grunge, then moves immediately into a clean Knopfler-esque chordal break before bursting back into the main double-time feel. Practically a lost classic in Van Halen's mighty body of work, Truth is overdue for critical reappraisal.
8. "Finish What Ya Started" – OU812 (1988)
Whether it was the influence of Sammy Hagar or merely a coincident shift in Ed's musical direction, the Van Hagar era saw the band emphasize a more AOR approach.
That said, the Hagar albums are still awash with many fine moments of guitar brilliance, including "Finish What Ya Started," which features an entirely different side of Ed's playing – a clean-toned, Strat-like sound combined with chicken-pickin' riffs that demonstrated a previously unseen side of his artistry.
The solo takes Eddie's playing into borderline country territory, and almost as if to hammer the point home, in the video for the song he wears a cowboy hat and boots for the break. What's interesting is how expressive his playing is, and with such a clean and unforgiving tone, proving the old adage that tone is in the hands, not the equipment.
7. "Ain't Talkin' 'Bout Love" – Van Halen (1978)
Here's another example of Eddie's ability to weave magic from the simplest of ingredients. "Ain't Talkin' 'Bout Love" is basically two chords, played in a variety of ways to generate continued harmonic interest. The arpeggiated opening riff spells out the pattern, which is repeated in several variations, including via pounding power chords toward the end of the song.
The solo may be the easiest to copy in Eddie's entire body of work, and numerous guitarists have cited it as the first Van Halen solo they ever learned to play. Eddie's confidence in his abilities meant that he was never afraid to play something easy if it was what the song required.
There was no insecurity about maintaining his status as guitar hero numero uno, but then again he was well aware that he had secured his rep as the fastest gun in town.
6. "Dance the Night Away" – Van Halen II (1979)
Ed's staggering abilities as a virtuoso soloist were beyond question by the time of Van Halen's second album, but what wasn't at first realized was how great a rhythm guitarist he was.
The thing that set Van Halen apart from so many of their contemporaries and copyists was that they traded in songs, not just riff-fests and vehicles for showboating shredders.
That's definitely the case with "Dance," a great pop song that has no solos but drips with cool guitar parts. The melodic chordal intro, the tapped harmonics outlining the chords in the chorus – everything here is a cut above the chart hits of the day.
5. "Spanish Fly" – Van Halen II (1979)
Having decimated all expectations of the unaccompanied solo with "Eruption," Eddie took an unexpected left turn into classical guitar. He said at the time that he'd been listening to Spanish flamenco guitarist Sabicas, but Ed "cheated," as he put it, and found a way to reproduce the classic tremolo technique with the aid of a two-handed approach.
Again, what's most striking isn't so much the brilliance of the execution as the musicality it achieved. Eddie's uncanny ability to reproduce the sounds he heard in his head, sometimes by unorthodox means, was the key to his genius.
4. "I'm the One" – Van Halen (1978)
Early in the band's career, Eddie cited his solo on "I'm the One" as his personal favorite, and it's easy to see why. The song rips out of the starting gate with a fantastically fleet-fingered example of Ed's ability to conjure up a unique magic from the same ingredients everybody else uses.
There's nothing remarkable in his choice of notes – rather, it's in the way that he puts the riff together. His dynamically rhythmic approach demonstrates, as Keith Richards once said, that it isn't so much the rock as the roll – the groove – that matters.
As for the solo, unsurprisingly, it's another example of the kind of thing most guitarists would be ecstatic to have come up with even once. For Ed, it was just another day in the office.
3. "Panama" – 1984 (1984)
"Panama" is one of the most satisfyingly straight-ahead, hard-rocking beasts in Van Halen's catalog. The simple chordal riff is typical Eddie, taking basic patterns and turning them into timeless iconic statements via triads, dyads, and syncopated wizardry.
The solo is another masterpiece in state-of-the-art wizardry, followed by some sly sliding riffery on the breakdown under David Lee Roth's spoken interlude, before everything screams back to max for a brontosaurus-sized stomp to the finish line.
For nearly 30 years, 1984 was the last Van Halen album to feature Roth, and "Panama" is one of the tracks that demonstrates why so many were eager to see the lineup reunited. The song has an energy, drive, and sense of fun that was often lacking in the subsequent Sammy Hagar years.
2. "Hot for Teacher" – 1984 (1984)
Eddie called this track "a boogie like no other," and he wasn't exaggerating. Alex's opening drum figure is so rhythmically propulsive that it would take something special to keep the momentum going. What Eddie delivered was a two-handed run that maintained the groove and added a new layer of rhythmic intensity. The moment when Michael Anthony kicks in ramps things up yet another notch.
This is followed by a sudden drop in volume to the fingerpicked riff in A – a line redolent of Billy Gibbons' approach to "La Grange" – which completely alters the dynamics before the intensity kicks back up again.
Van Halen always understood the power of the "light and shade" approach to dynamics and how those contrasts keep things interesting. In "Hot for Teacher," they do it to perfection, with Ed leading the charge.
1. "Eruption" – Van Halen (1978)
There's no denying that "Eruption" is one of the most iconic instrumental guitar works in the rock canon. With it, Eddie didn't just rewrite the book on rock guitar pyrotechnics – he set it ablaze and reduced it to ashes.
While he never claimed to invent two-handed tapping, Ed was solely responsible for it becoming the ubiquitous mainstay of most shredders' arsenals. His whammy-bar dive bombs similarly influenced millions of guitarists and galvanized the entire industry into producing guitars equipped for the new world order of axemanship that Ed instigated.
The essential difference between Ed and every pale imitator was musicianship. He made music, while the bulk of the imitators were doing party tricks with their shred-by-numbers soloing. The genius of his music was in the conception. The execution simply revealed it.
All the latest guitar news, interviews, lessons, reviews, deals and more, direct to your inbox!
Mark is a freelance writer with particular expertise in the fields of '70s glam, punk, rockabilly and classic '50s rock and roll. He sings and plays guitar in his own musical project, Star Studded Sham, which has been described as sounding like the hits of T. Rex and Slade as played by Johnny Thunders. He had several indie hits with his band, Private Sector and has worked with a host of UK punk luminaries. Mark also presents themed radio shows for Generating Steam Heat. He has just completed his first novel, The Bulletproof Truth, and is currently working on the sequel.